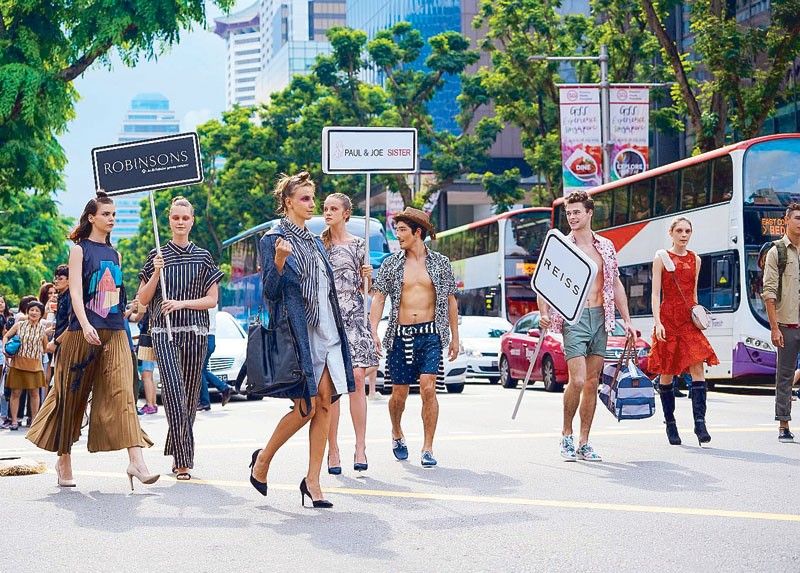 Models walk down the runway on busy Orchard Road wearing local fashion brands to launch the GSS: Experience Singapore.
'If you can't stop thinking about it! buy it!'
Seven minutes past the hour of four in the afternoon of June 21, traffic stopped on the busy, busy Orchard Road of Singapore. The mood was frenetic amidst the sweltering heat. Blasting was the upbeat song 24K Magic by Bruno Mars as a fashion scramble started to take place with 100 models and a flash mob of 100 dancers turning the street into their runway, which was actually a yellow box traffic intersection. Indeed, as the opening song went, "there was 24K magic in the air" when the country's longest-running annual sale known as the Great Singapore Sale was re-launched as GSS: Experience Singapore. The festival sale will end on July 28.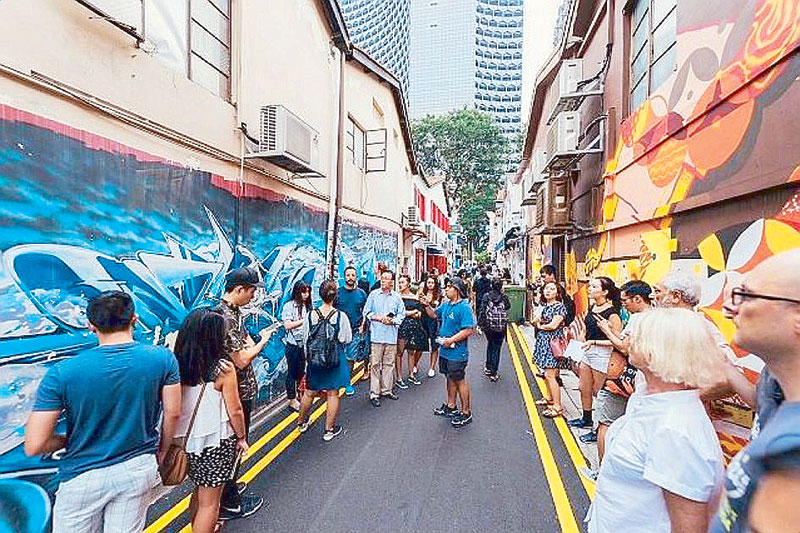 Kampong Gelam.
The fashion scramble on Orchard Road corner Cairnhill Road was done in nine installments, each sequence was executed in 50 seconds. Precision was observed. Models walked down the runway in local fashion brands like Akosee, David's Daughter, Depression, Dotted Line, Echo of Nature, Fatimah Mohsin, Graye, Pedro, Trilogie, Utopia and Weekend Sundries. People on the street gasped, clapped and cheered as they were also privy to the new collections of international brands like Adidas and Under Armour (whose display window at Orchard Central is sleek with animatronic mannequins).
Cars and buses stopped, resuming only after 50 seconds, when models retreated to the sides of the streets to give way to the vehicles. In effect, the flow of traffic was not affected at all. In Singapore, I was told, the red light only lasts for 25 seconds before it turns green again for a few minutes. So, for the fashion scramble, the organizers of the GSS: Experience Singapore was able to haggle with the authorities to extend the red light for 25 seconds more. It worked!
The GSS stands for the Great Singapore Sale, which has won the hearts and, well, wallets, of Singaporeans and other foreign visitors to this "Little Red Dot" since it started in 1994. Only this year, the brand is revivified to become GSS: Experience Singapore to highlight not only shopping for fashion but also for food (ahh, I can still taste that mouthwatering and iconic chili crab and chicken rice), furniture, even salon services and films. It's a retail experience — or therapy, if you so put it — that encourages locals and tourists to take home a slice of Singapore as the spotlight of this festival is speckled on local brands and unique cultural flavors of the Lion City.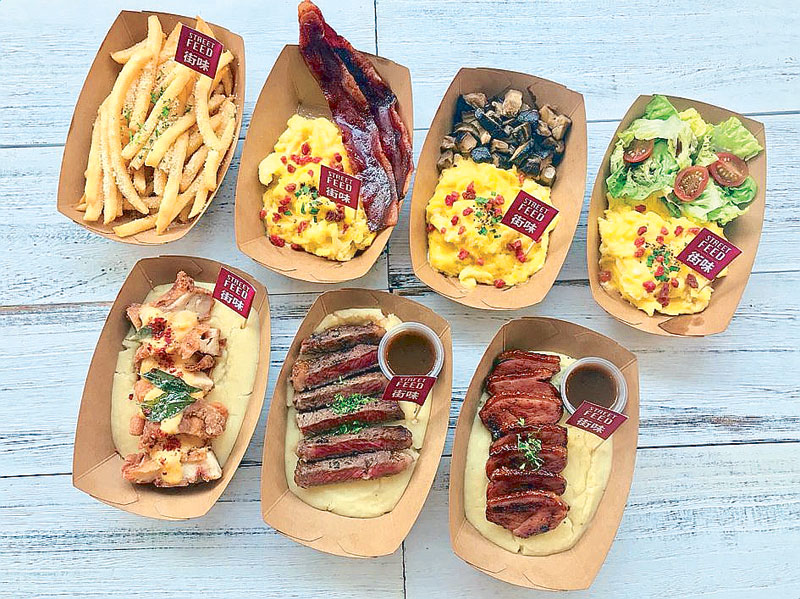 'StreetFeed.'
Because the rebranding says "Experience Singapore," what better way to immerse in this city state than hopping from one pop-up store to another on Orchard Road. On the long stretch of Singapore's version of Makati's Ayala Avenue are more than 40 stores participating in The Great Singapore Street Pop Up. The side streets are transformed into a retail and F&B paradise. You shop, you go hungry, you get both beautiful ends of the experience.
Then there's the Great Kampong Gelam Experience to pay homage to Kampong Gelam, one of Singapore's oldest urban settlements. Arts, culture, cuisine, shopping are all beautifully curated in this area for the historical taste of Singapore. If you're in love with handicrafts and little trinkets Singapore has to offer, you can find them at Kampong Gelam.
Very interesting, too, is The Great Furniture Showcase at Robinsons The Heeren. Head to the mall's fifth floor and be mesmerized with the genuine genius of design houses like 11H, Creativeans, Fraction Design Studio, Modu Designers, Nextofkin Creatives and Oon. I was particularly delighted with the designs of Celine Ng and Kenny Hong, who both participated in the recent furniture show in Milan.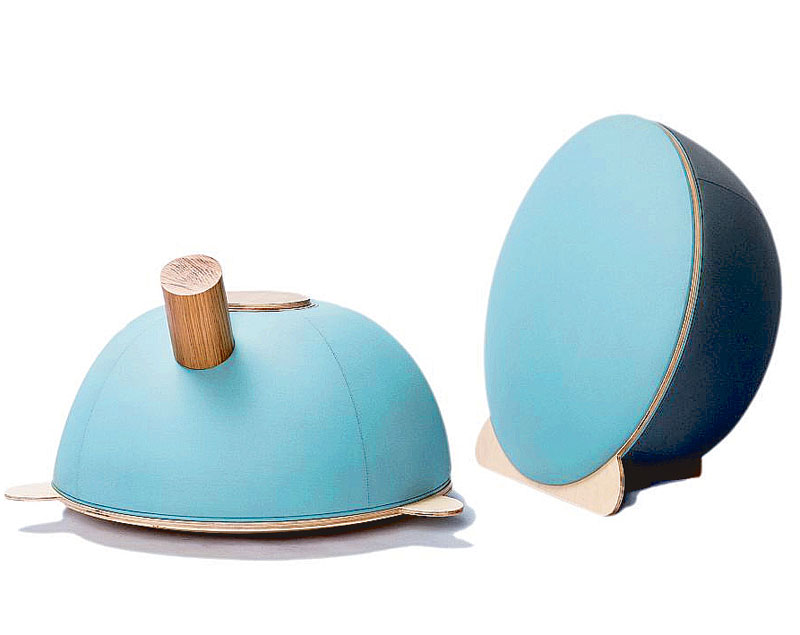 Tu-one and Tu-two are stackable to form a comfortable stool.
Because the festival promises to be a total experience, one ought to submit oneself to The Great Singapore Stories, where one can immerse oneself in a collection of local films and music. My personal take on knowing the culture of a particular country is, aside from the market, its movies and music should also be explored.
Of course, the GSS: Experience Singapore won't be a restructured festival that it is now without The Great Shopping Spree. This treat comes in the form of sales, discounts and special treats to get you shopping and dining all 38 days of the GSS: Experience Singapore.
The GSS: Experience Singapore was officially launched at the beautifully curated Design Orchard, a hub of talented Singaporean designers and artisans, with Senior Parliamentary Secretary Dr. Tan Wu Meng as guest of honor. It is an earnest inter-agency collaboration of the Singapore Retailers Association, One Kampong Gelam, Orchard Road Business Association, Restaurant Association of Singapore, Singapore Furniture Industries Council and Textile and Fashion Federation.
The festival entices one to, of course, shop, because, as the come-on statements printed on free biodegradable shopping bags scream it: "If you can't stop thinking about it, buy it." Or, "Shopping is cheaper than therapy."
Anyway you do it, shop, dine, play, explore and live it up in GSS: Experience Singapore.
(E-mail me at bumbaki@yahoo.com. I'm also on Instagram @bumtenorio. Have a blessed Sunday!)