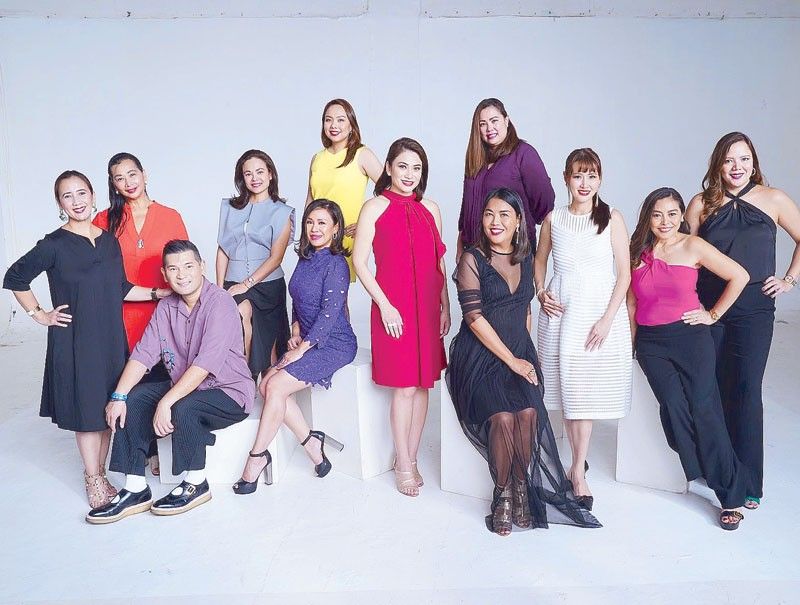 iWantToShare Foundation head Sheila Romero (center) with members (from left) Dey Dimaandal, Aia Santos-Halili, Robby Carmona, Trisha Calma, Monica Dela Cruz, Kathy Ventura, Leah Sotto, Monika Ravanera, Bonnie Tan, Cory Untalan and Talia Asuncion. Not in photo are Pinky Antonio, Mian Alentajan, Carina Ventura and Ronald Pineda.
Photo by MARCHES ANG
Sheila Romero, with resolute will and calm in her voice, asks the members of the iWantToShare Foundation, which she heads, for their opinion on the project they are doing. They are in a restaurant in Makati. On the table are sumptuous dishes. But more sumptuous are the ideas suggested by the team. Sheila diligently takes down notes, adding her own take on the program they will pursue.
At the end of the night, the iWantToShare Foundation is ready for "benefit," an auction of fine art, jewelry and timepieces on July 20 (with a special cocktail preview event on July 13) at the Nex Tower on Ayala Avenue in Makati City. The auction, a project of the foundation and gavel&block of Salcedo Auctions, will benefit the Cancer Institute wing of the Philippine General Hospital.
"In particular, the proceeds of the auction will go to the renovation of the isolation unit of PGH's pediatric hematology-oncology department (in the outpatient area of the Cancer Institute). We will also provide new equipment for the medical needs of 350 kids with cancer in a year," says Sheila, also the chairman of M&S Holdings, the majority shareholder of AirAsia Philippines.
It could have been so much easier for Sheila just to give a check. But she prefers to give her time also and to involve the time of her well-meaning friends who joyfully join her in the foundation.
Having worked and established several foundations before, Sheila knows that humility is part of the game. And she proves that a humble heart that knows how to ask sincerely receives kindness and generosity from others. She's grateful that those who help her have not experienced donor fatigue. In fact, she says, "They are always willing to help."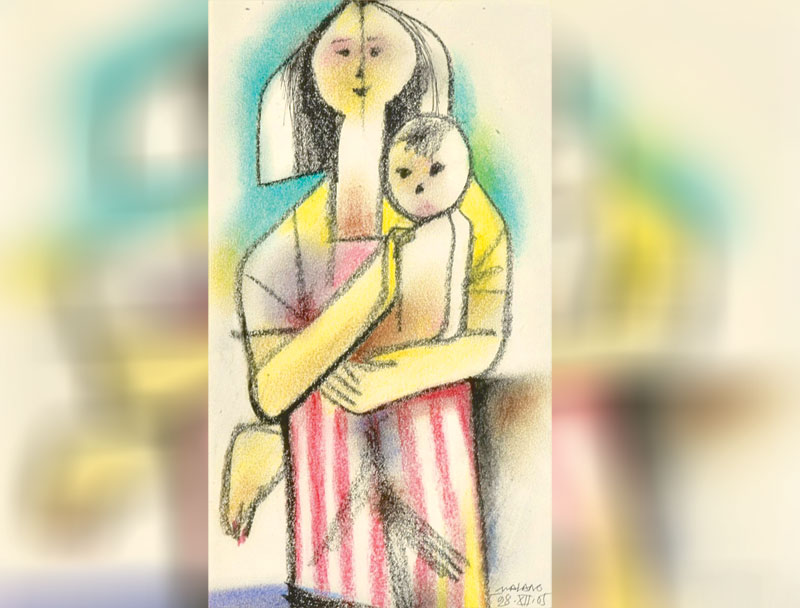 Part of the 'benefit' auction is Malang's Mother and Child.
Sheila says iWantToShare Foundation started with a dream to make positive impact in the lives of the needy. So, in 2013, with the help of her closest friends, the foundation was formed. Armed with the thought that "to whom much is given, much is expected," they started to bring joy, love, hope and help to people in need.
"I knew at that time that I was already surrounded by a solid group of people who would be iWantToShare Foundation's founding members in 2013. They are my closest friends who share the same dream. We had a unified vision to give a part of ourselves to our society in whatever way we can and to be able to influence others to do the same," she says.
She adds, "Over the years, I saw how the hands of God picked the right people to join us in our mission to build a community of sharers and foster a culture of giving among our peers."
To head a foundation is no piece of cake. But Sheila and the members of iWantToShare are determined to fulfill their roles as conduits of kindness. They persevere to kindle their passion every day. Even during holidays "because helping others does not choose time; it's all the time."
"We have become a channel of blessings and what we get back is truly priceless," she says.
Through their collective action, the foundation has had the opportunity to conduct relief operations and medical missions for the survivors of typhoons Maring and Yolanda in 2013. They have given out educational scholarships to deserving students in Philippine Science High School and have supported other charitable institutions such as the Ephesus Shelter for Children, EPCALM-Adult Leukemia Foundation of the Philippines, I Can Serve Foundation that supports breast cancer patients, and Bright Halls Children's Foundation, an orphanage that Sheila also founded. They also have the chance to interact with the community of Agdangan, Quezon in their annual gift-giving program. It was actually their projects in Agdangan — providing bags and school supplies to 600 children — that started iWantToShare Foundation. What started as a simple gift-giving project became a full-blown foundation.
"In December 2016, we partnered with Philippine General Hospital's pediatric hematology-oncology department to fund the medical needs of indigent children with cancer in the outpatient area. The program also supports art therapy classes for the patients and their works are featured in this 'benefit' auction," Sheila says.
Sheila is also excited about the "Shine" event, a once-a-year celebration of the teenager cancer patients and survivors who are students. "Shine" is a prom night where patients and survivors get to walk to the party garbed in gowns donated by designers and Sheila's friends. It is a celebration of their courage and resiliency.
With her many hats as a hotelier, restaurateur and chairman of M&S Holdings, doesn't Sheila get tired of squeezing in time for her advocacies?
"I turn to Corinthian 12: 9 that says: 'My grace is sufficient for you, for my power is made perfect in weakness.'
"When I am feeling tired and weak, I draw strength from Him. Our strength is limited because we are human. The paradox on depending on God is, the more you're weak, the more you depend on Him. And the more you depend on Him, the stronger you become," says Sheila.
So, after going around PGH for several hours and meeting with the hospital experts, Sheila's head and heart race still with the ideas on how else she can help. She knows, too, that there are others who are willing to help.
At the end of the day, she goes home to her family, checks on her kids, plays with Steff, the youngest.
That particular night, after the fruitful meeting at the restaurant, she comes home. She waits for her husband, 1-Pacman party-list Rep. Mikee Romero, who's coming home very late after his trip to Bacolod to administer the oath of some elected local government officials. When he arrives, he gives her a kiss. Sheila responds with a tight hug. She goes to the kitchen to heat his food. And they talk. Mikee discusses with Sheila his accomplishments for the day. Sheila gives Mikee a rundown of the activities to be undertaken at "benefit" auction.
That night, Sheila is confident that the fundraising auction will be successful. After all, every act of kindness is already a success worth celebrating.
("benefit" will auction fine art, jewelry and timepieces on July 20, with a special cocktail preview event on July 13, at the Nex Tower on Ayala Avenue in Makati City.)
(E-mail me at bumbaki@yahoo.com. I'm also on Instagram @bumtenorio. Have a blessed Sunday!)