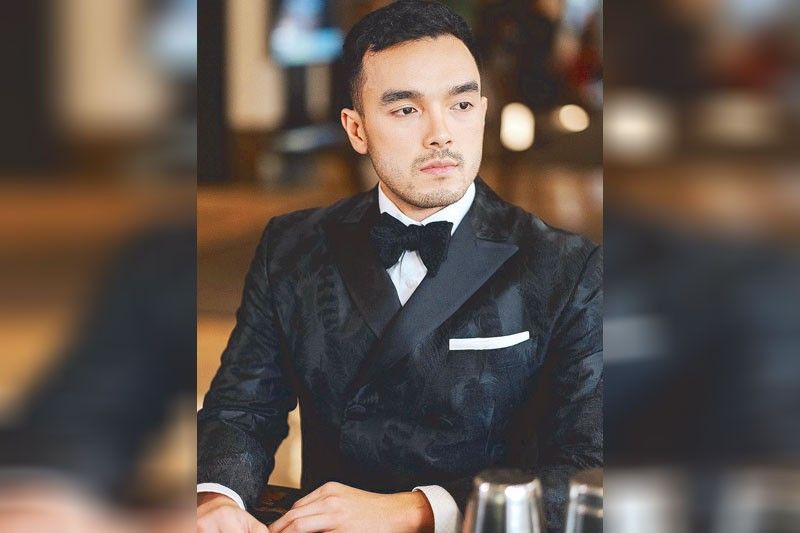 BLACK SILK BROCADE TUXEDO; 100-percent silk bow and 100-percent cotton classic tuxedo shirt.
MANILA, Philippines — The thrill and excitement of getting married is not the monopoly of the bride. The groom, too, gets butterflies in his stomach. Because the minute he waits for his bride by the altar, the groom begins to fulfill his covenant to love her for richer or for poorer, in sickness or in health, till they are old and gray, till forever.
Bergamo, the 33-year-old tailoring authority in bespoke menswear, has had robed too many grooms to count. Every Bergamo groom possesses simple elegance and classic confidence. His gentlemanly ways are heightened by the form and fabric of his suit or barong Tagalog. His sartorial style proves that chivalry is alive — on the day that he will take his bride to the altar and even beyond that.
"For me, a Bergamo groom has only three powerful characteristics: simple, elegant, confident," says Mel Meer, owner of Bergamo. Mel, himself a style savant, lived in Manhattan, New York for 20 years running his own fashion boutique, armed by his experience as a financial consultant, a CPA and an interior designer. When he decided to leave the frenetic Big Apple, he soon established Bergamo in 1986 in Makati City. Since then, Bergamo has become the fashion confidante of every man who wants only his best style, most especially on his wedding day.
"A groom always has his own preference. He has his own taste when it comes to his outfits. What makes a Bergamo groom a cut above the rest is the design of his suit or barong. We focus on the quality of fabric and workmanship. To achieve this, we have the best tailors and craftsmen in town. We continue to train young staff, tailors, sewers for free for them to be expert," says Roland Magalang, executive vice president of Bergamo.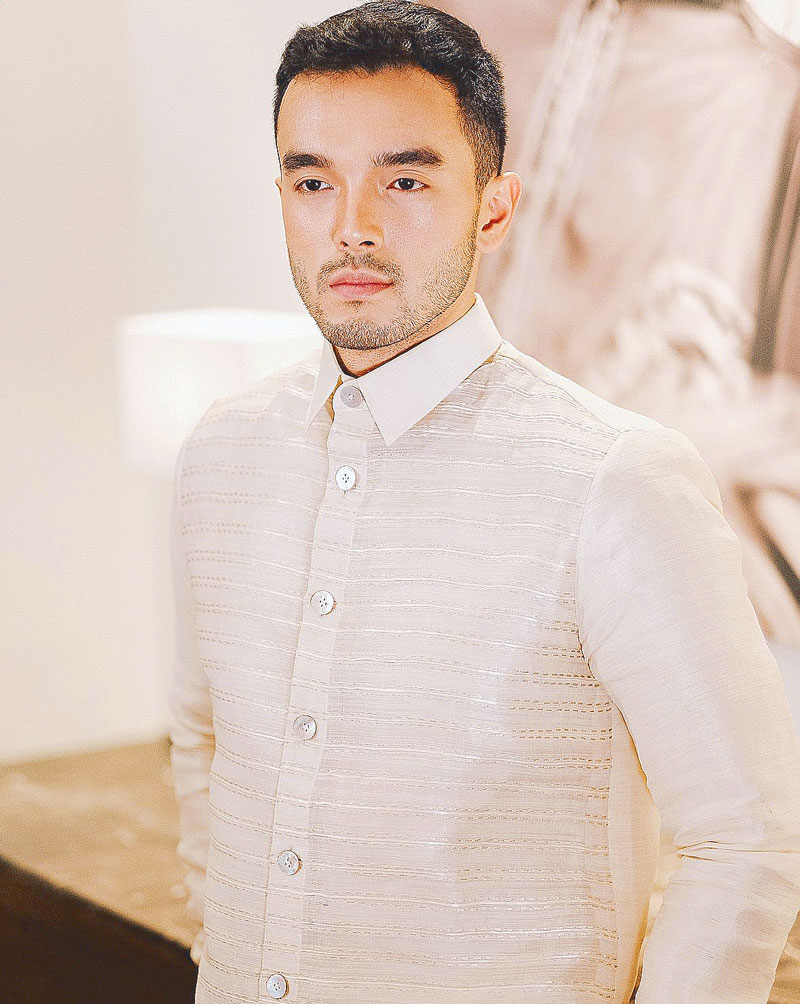 THE CLASSIC BARONG TAGALOG made out of piña pinukpok with soft abaca fiber with cross pattern embroidery.
"We make sure that the materials and fabrics used for the groom's ensemble are always of the best and finest quality," says Mel, who, for four years now, has been active at the yearly Kasalan sa Forbes Park, a mass wedding for the staff of the residents of Forbes Park and Dasmariñas Village in Makati City where Bergamo gives for free the bespoke barong Tagalog of the grooms. Mel's company also gives livelihood to the women weavers of the Banquerohan Resettlement Site Neighborhood Association Inc. in Legazpi City, Albay. They supply Bergamo's need for piña fabric mixed with soft abaca fiber.
For Bergamo's new Groom Collection, Roland says, "Navy suits are a huge trend now. These are the perfect alternative for black ones. They are more vivid and not so ordinary and a bit chic, practical and stylish."
"But the black suit is always classic, of course. A black silk brocade formal tuxedo is also in our new collection. Another line in Bergamo Groom Collection is the piña coat with soft abaca fiber, hand-woven or made by the weavers of Banquerohan."
The Bergamo style philosophy, says Mel, always bears simplicity and good taste. But from time to time, to avoid monotony or banality, a tweak here and there is employed.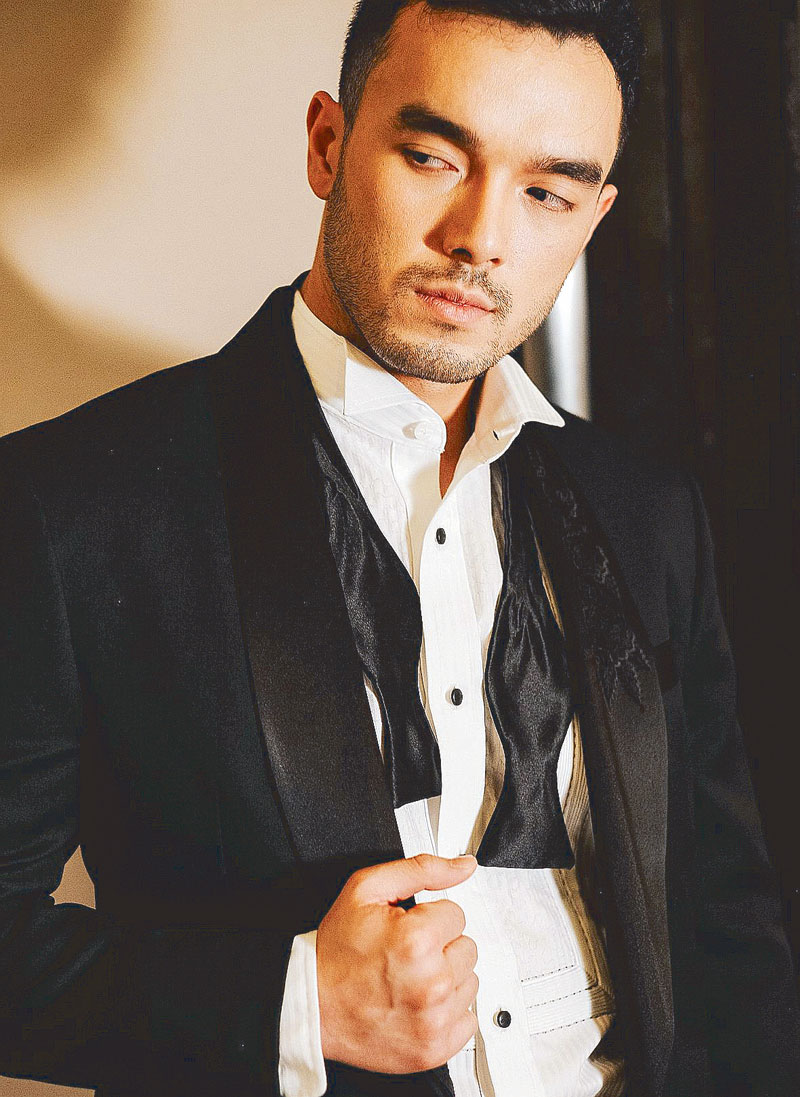 THE AFTER-PARTY GROOM ENSEMBLE. Woolen shawl classic tuxedo suit with embroidery detail on the lapel; 100-percent silk self bow and 100-percent cotton classic tuxedo shirt.
"A man's clothes do not need much embellishment. Our designs are very classic yet updated. From the simplicity of the design, we inject it with the latest style and it's still very wearable. Normally, we start with something simple then we put a little twist on it to make it a bit updated. It could be the shape, the length or even putting simple embroidery. We also modify the cut. That extra twist is the Bergamo flair," says Mel.
The Bergamo groom is ready to walk down the aisle. His confidence is classic, resplendent of a man who is ready to take charge. His simplicity is the elegance in his demeanor, characteristic of how he will serve his wife to achieve a happy, fulfilled life together.
Here comes the Bergamo groom.