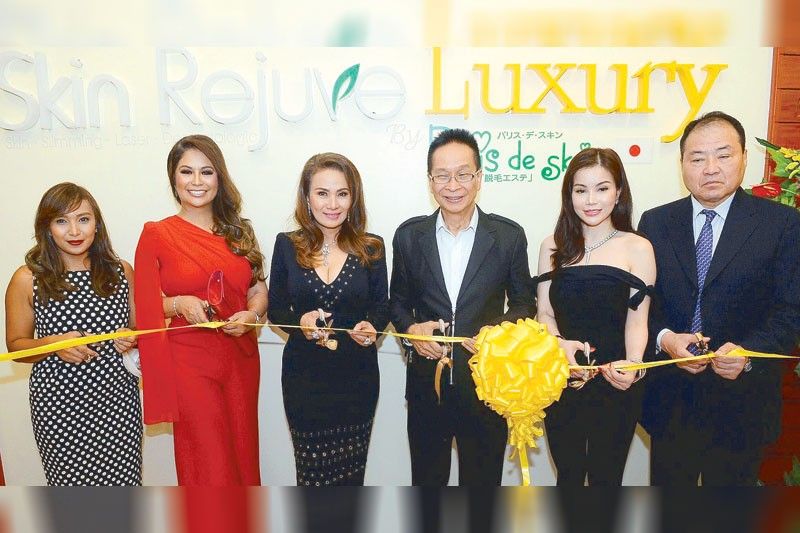 (From left) Jasmin Enclonar, Marlan Manguba, Skin Rejuve Inc. CEO Prescy Yulo, Presidential Spokesperson Salvador Panelo, Skin Rejuve Luxury by Paris de Skin president Catherine Nagai and husband Sojiro Nagai.
"You're never too old to become younger." — Mae West
Residents of Binondo, Manila now have a one-stop shop for beauty and relaxation as the multi-faceted skin care clinic Skin Rejuve Luxury by Paris de Skin recently opened in Lucky Chinatown Mall.
Skin Rejuve Inc. CEO Prescy Yulo and Skin Rejuve Luxury by Paris de Skin and Paris de Skin Japan president Catherine Nagai introduced the brand to guests.
An expert in handling noninvasive procedures and treatments that deliver instant results with no discomfort or downtime, Skin Rejuve boasts 11 branches nationwide and more to come. The brand also prides itself in beauty enhancement treatments done by a board-certified team of doctors and nurses, and is backed up by a supplier franchisor with more than 25 years of experience in the procurement of top-quality equipment and protocols.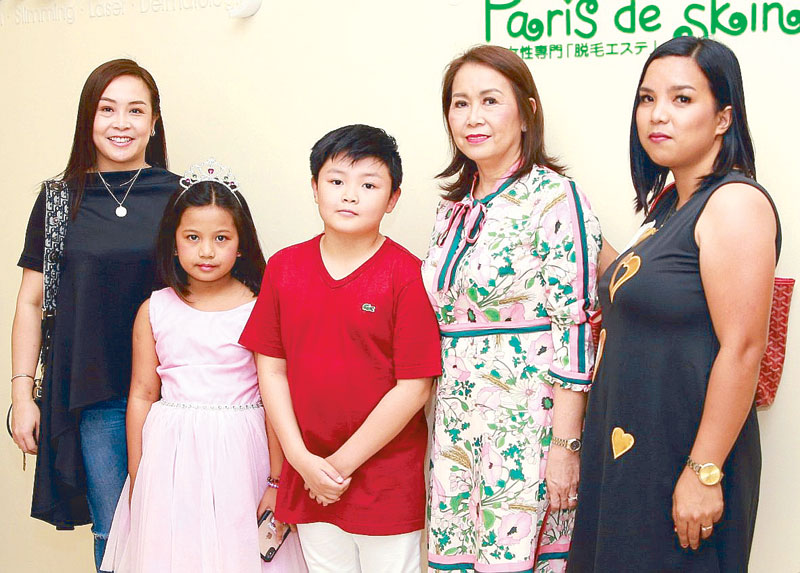 (From left) Cristina Luces, Erika and Ryo Nagai, Lilia Kon and Lyza Velasco.
Congratulations to Skin Rejuve Luxury by Paris de Skin for a successful opening!
(Skin Rejuve Luxury by Paris de Skin is located at Unit B10B, Annex B, Lucky Chinatown Mall, Binondo, Manila.)
GREETINGS
Happy birthday to our celebrator today, Jaja Ledesma.
Advance birthday greetings to Lita Carlos and tycoon Eduardo "Danding" Cojuangco Jr., June 10; Jewelmer SVP and creative director Gaelle Branellec and Mars Lambino, June 11; Lilibeth Virata and Tobias Perry, June 12; Robinsons Land Corp. president Frederick Go, Tony dela Rea and Isel Litton, June 13; Dario Gardini, June 14; Jullie Yap Daza, Sam Eduque, FCCP's Letty Syquia, Michelle Dayrit-Soliven, Margot Fragante, Amalie Azanza, Carrie Bautista and Margot Rodriguez, June 15.
Happy wedding anniversary to Joe and Marivic Concepcion, June 15. May you share many, many more cherished years together.
So, how was your week?
(For comments and inquiries, please e-mail me at jjlitton@indanet.com.)