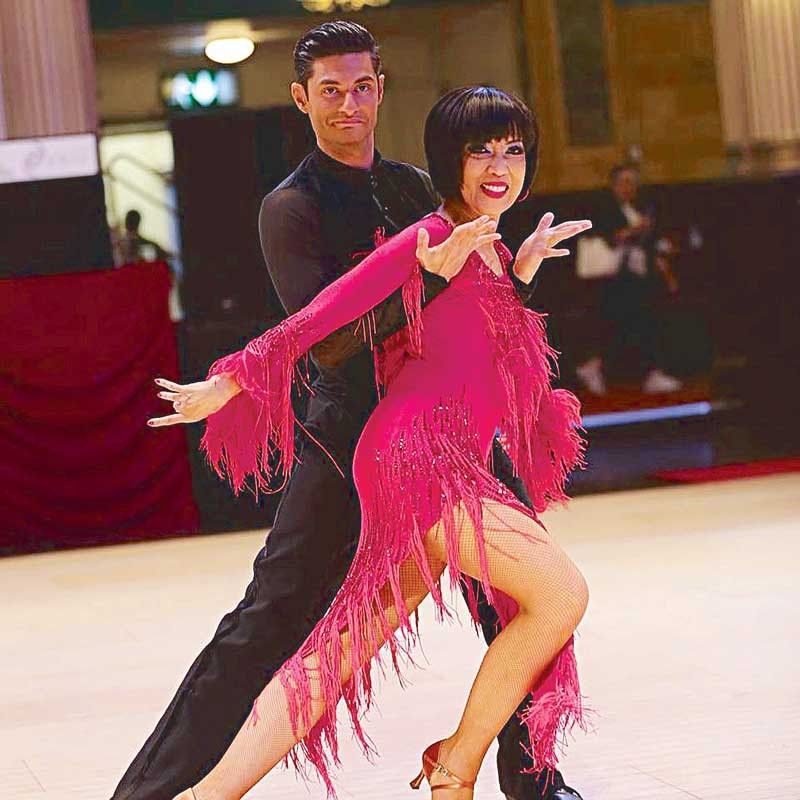 The move that made Rica Zamora and Sinisa Vasic bag the Pro-Am 2018 Blackpool Latin Champion.
'Don't let that old woman in'
Many times, it is in reinventing oneself that one finds fulfillment in life. It is sometimes in breaking away from the daily grind that one stumbles upon magic.
Rica Zamora, a septuagenarian, found that magic on the dance floor. Since then, she has waltzed her way to happiness "every day of my life."
In 1980, Rica, from the well-to-do Zamora clan of Manila, moved to the US with her three children (ages seven, six and three). Rica, who took up Accounting at Assumption College, worked at the World Bank in Washington, D.C. for 28 years as a resource management officer and as a consultant for another five years.
One day, while contemplating on how else to put meaning in her life, something that will challenge her both in body and mind, she thought of dancing.
"In 2000, I started taking dance lessons at Arthur Murray and Fred Astaire for social dancing. After a couple of years of social dancing, I wanted something more challenging and something more meaningful," she begins.
Her love for ballroom dancing would take another spin when she met world champion dancer Sinisa Vasic in 2008. That year, Vasic, a Blackpool Latin finalist, was recruited from Italy to teach ballroom dancing in the US.
"I was his first student in America and the rest is history. He opened the world of competitive dancing for me at the age of 61," says Rica, who is a first cousin of Philippine floral architect Rachy Cuna.
"My instructor, Sinisa Vasic, is the founder of SIVA Dance in the DC and Northern Virginia areas. For six consecutive years, he was awarded United States Dance Championship top overall teacher and top studio in its size class," Rica informs.
Rica's love affair with ballroom dancing has produced many awards for her. She earned the following titles in Pro-Am Latin category (chacha, samba, rumba, paso doble and jive): 2017 United States National Open to the World Latin Champion; 2018 Blackpool Latin Champion; 2018 Millennium Dancesport Latin Champion; and 2018 Embassy World Champion.
"In every competition, I strive to raise my personal bar to do better than the previous one," Rica says.
"Sinisa never stops working on me, on his choreographies. (And his choreographies) keep on growing, maturing like living things. That in itself is another challenge, which needs focus and determination. Muscle memory has to take over for me to be able to emote, feel the music and dance freely without thinking of the steps," Rica says.
Ballroom dancing for Rica takes a more meaningful stance as she finds the correct balance between her goals and reality.
"As I get older, the risk of injury becomes higher. I should stay physically fit and flexible and mentally sharp and focused," she says.
Rica adds, "Staying physically and mentally fit at any age can be challenging, but also extremely rewarding. As you grow older, it is important to listen to your body. Eating healthy, exercising regularly, and watching your weight are all vital to being physically fit.
On the dance floor, Rica admits she goes on a trance. A jamboree of emotions somersaults in her system — joy, longing, freedom, jubilation. "While waiting for my heat to come up, I get very nervous but the minute I step on the floor, nerves vanish. I focus on Sini, feel the music and dance like I own the floor — it's my space and I own it!" she says.
"Dancing is a life of glitter and glamour where it takes me to another world. It makes me feel alive and vibrant. With a smile on my face, I always look forward to another day at the studio," adds Rica, who wants to inspire sexagenarians and septuagenarians on the need to reinvent themselves.
Rica is unstoppable when it comes to her craft. Why does she keep on dancing?
"For a simple reason — to not let 'that old woman' in!"
* * *
(For your new beginnings, e-mail me at bumbaki@yahoo.com. I'm also on Twitter @bum_tenorio and Instagram @bumtenorio. Have a blessed Sunday!)