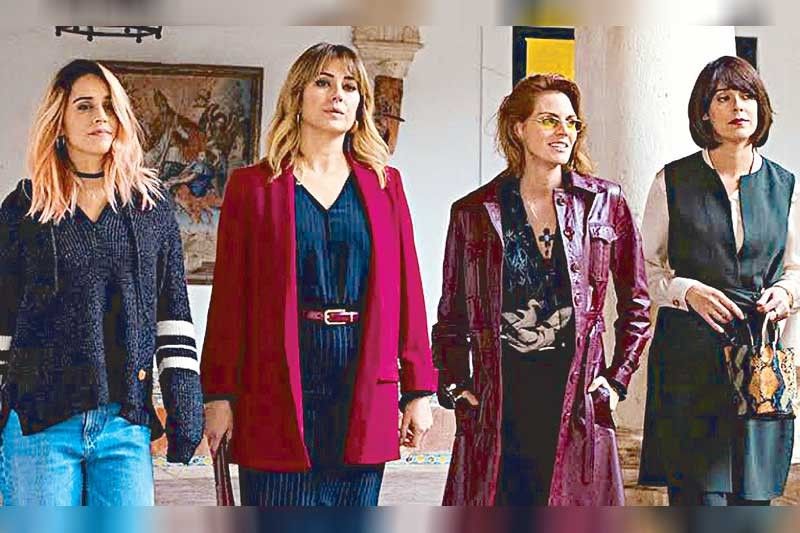 The four sisters of the Spanish entry Despite Everything.
We grizzled veterans of TV viewing often bewail the programming of the popular streaming services, feeling there's a bias towards the young adult, and even younger, viewers. Most of the original films and series seem to revolve around dating, teenage romance, or fantasy and horror. Where are those originals that have a 40- or 50-something as the central character; and not just parent to, mentor of, or adviser? So I headed to Netflix to see what on its current listing would qualify as more mature selections:
Wine Country — Six close friends head to Napa to celebrate the 50th birthday of Rebecca (Rachel Dratch). Directed by Amy Poehler who stars, this could be Amy's answer to all those Adam Sandler male-bonding comedies. There's even a Tina Fey cameo as the woman who owns the B&B the girls booked in Napa, and gives the funniest bad pep talk imaginable. Maya Rudolph also stars, along with noted comedy writers who now get a chance to work in front of the cameras. Highlights include a dildo smorgasbord, songs like Eternal Flame and tracks from Xanadu, and a hilarious set piece of duelling cliches pitting our six 50-something against millennials. A tad uneven in parts, and the comedy isn't that consistent, but it serves its purpose.
Despite Everything — This Spanish Netflix Original is about four sisters and their respective genealogy, which becomes an issue after their mother passes away. Seems their mom was far more adventurous than they could have imagined and their father isn't their biological dad. To earn their inheritance, the mom asks the sisters to each seek their biological fathers, and come to terms with this reality. It's the piling on of ridiculous circumstances and situations that gives this film its brio. There is a strong teleserye element to the treatment, but it is entertaining, and has its heart in the right place.
Dead to Me — This made-for-Netflix series is my favorite of the three, thanks to a great script, and compelling acting. Starring Christina Applegate and Linda Cardellini as two women who meet when both attend a grief counseling support group. It's sardonic, biting and ironically funny. At one point, it becomes a buddy film like Thelma & Louise; but with one a recent widow who's obsessed with finding, on her own, the hit-and-run driver who killed her husband, and the other a very unhinged character who lied to get herself into the grief group. There are twists and turns to keep this series buzzing, and the discoveries in each episode will keep you riveted to the screen.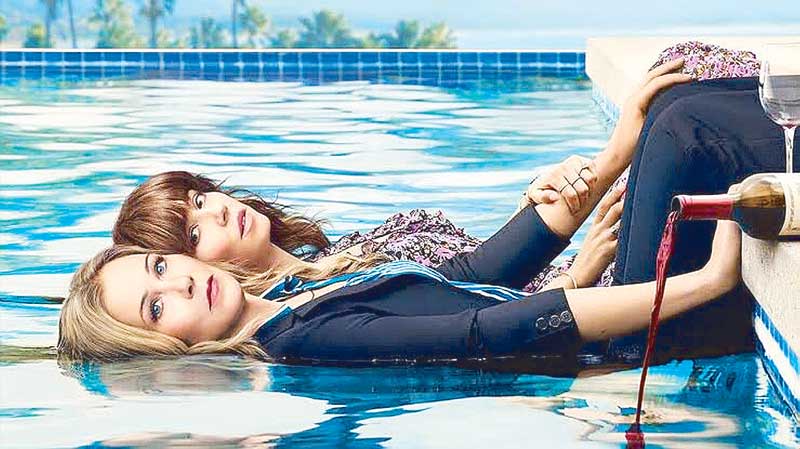 The two lead stars of the funny and disturbing Dead to Me.
And here's a tip: ABS-CBN's iWant TV and Amazon Prime have more balanced programming, with sections devoted to content of a more mature nature. iWant is, of course, dominated by Filipino content, while Amazon Prime has an extensive collection of indie films with racier subject matter. Worth a look into, if you find you've exhausted Netflix's range of selections.
The use & misuse of social media...continued
Seems my last Wry Bread column about the "selling" of ourselves on social media ruffled a few feathers; as self-awareness and looking objectively at oneself in the mirror are not necessarily the easiest of things to do. As the picture I painted wasn't all that complimentary, the more we tend to get defensive. But in truth, I wasn't casting some moral judgment, or saying it was wrong to go "public setting" with letters and missives intended for one specific person, such as wife, girlfriend/boyfriend, or child. All I was commenting on, and observing, pertained to the diminution and redefining of what "privacy of communication" means in this age of social media — and if that's the fact, so be it.
Bottom line, and I discussed this with my sons one Sunday, what do you call addressing a message to one specific person, than sending it in a manner where possibly thousands get to read it before the person it was meant for even gets to see it? Seems to me that looks, feels and smells like we're after public approval, validation and a pat on the back, playing to an audience; more than simply eliciting a reaction from the person we're writing the message to. I'm not saying that's necessarily wrong, but merely establishing a statement of factual intent. And yes, it is a wry observation of how we conduct ourselves within the realm of social media nowadays. And I'm the first to admit I've often been "Guilty as Charged."
The democratization of communication, thanks to social media, is a glorious thing. The benefits are endless, and we've seen how it has steadily become our go-to for information and news. But there is a side to it that has impacted on our standards of social behavior, and especially our notions of privacy. Is it an inevitable price we have to pay? To answer that, we each have to make our own choices.