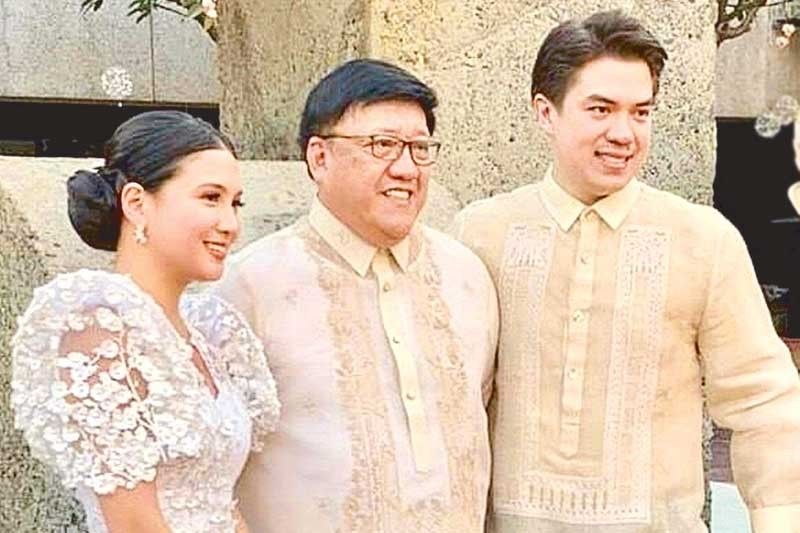 Justice Andy Reyes (center) with the newlyweds Isabel and Mark San Diego.
"Where there is love there is life." — Mahatma Gandhi
Louie and Chuchi Villar tendered a despedida de soltera for their youngest daughter Isabel Villar at the Philippine International Convention Center in Pasay City.
The meaningful occasion was followed by an elegant civil wedding ceremony between Isabel and Mark San Diego, which was held at the courtyard.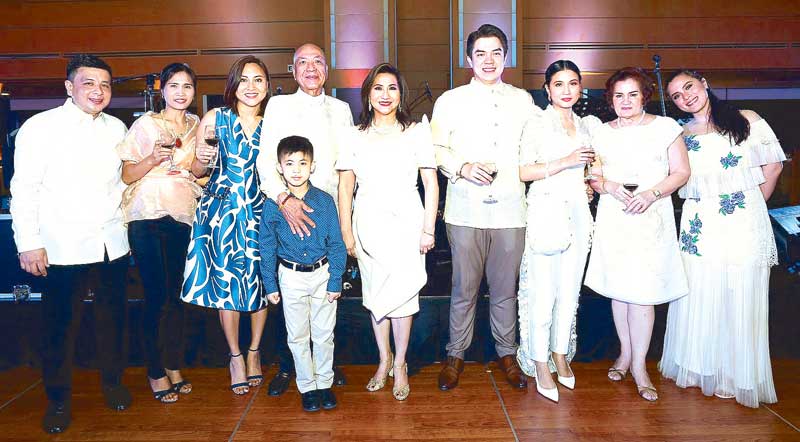 The newlyweds with (from left) Jogee Arellano, Elizabeth Umbao, Tricia Villar-Arellano, Diego Arellano, parents of the bride Louie and Chuchi Villar, mother of the groom Liz San Diego and Claudine San Diego.
Guests present at the Filipino-themed affair donned modern Filipiniana as they enjoyed the elegant décor and gastronomic delights.
The couple and their guests were also serenaded with Tagalog songs as they celebrated the beautiful love between the newlyweds.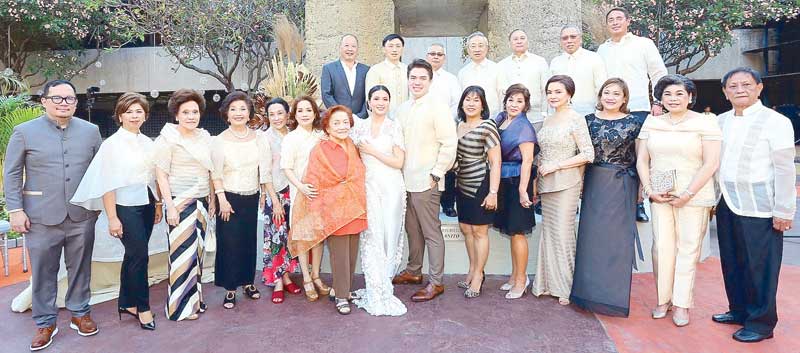 The newlyweds with (front row, from left) principal sponsors Mark Reyes, Lalaine Regino, Cita Lesaca, Letty San Diego, Vicky Rufino, Cynthia Albano and Flora San Diego, Gilda Lucena, Chay Rodriguez, Milo Bondoc, Sari Tan, Tanini de Leon and Eddie Serrano; (back row, from left) principal sponsors Eric Roxas, Jojo Lee, Neri Dionisio, Tony Cotoco, Patrick de Borja, Ding Santico and Mrk Kooijman.
Congratulations and best wishes, Isabel and Mark!
Greetings
Happy birthday to our celebrators today, May Neri, Susie Madrigal Bayot, Carolina Cruz and Marita Pascual Nuque.
Advance birthday greetings to Gloria Rodriguez, May 13; Ching Montinola, Lizette Cojuangco, Vicky Garcia and Becky Garcia, May 14; Mari Lacson and Chit Lijauco, May 15; Rosarito Agustines, May 16; Zita Feliciano, Alice Reyes and former DILG secretary Rafael Alunan, May 17; Toni Gregory Palenzuela, Amado "Boy" Santiago, Swatch Philippines' Virgie Ramos and Grace Palma-Tiongco, May 18.
Happy wedding anniversary to Mikki and Belle Litton Buñag, May 15. May you have many, many more years of wedded bliss.
So, how was your week?
(For comments and inquiries, please e-mail me at jjlitton@indanet.com.)