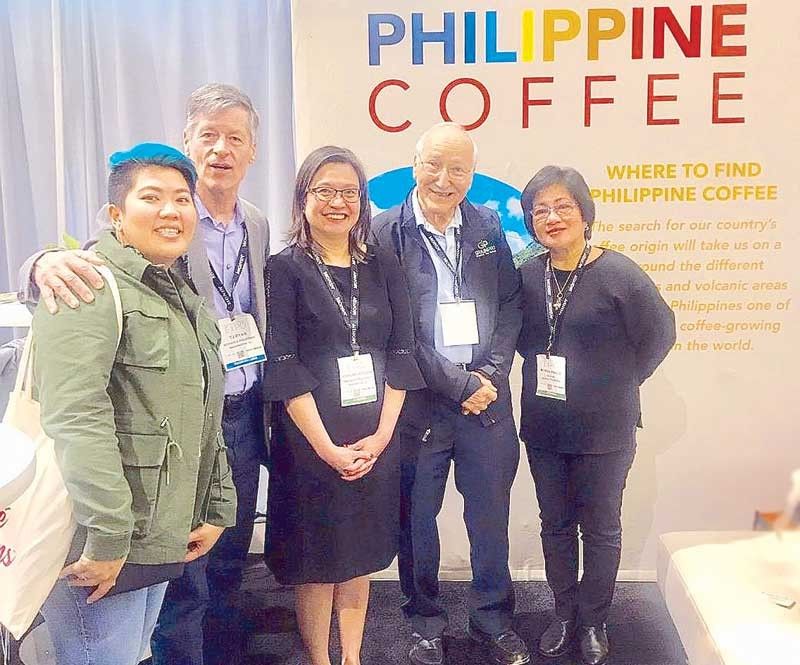 Philippine Embassy Agriculture Attaché Dr. Josyline Javelosa (center) with (from left) Commune Cafe in Makati's Rosario Juan, PhilCafe Project chief of party TJ Ryan, Grainpro president Phil Villers and Department of Trade and Industry-CAR regional director and national coffee coordinator Myrna Pablo.
Philippine coffee perks up Boston expo
One of the most popular beverages all over the world today is coffee, valued as a $20-billion industry in terms of export alone. People from all walks of life enjoy its different variants, hot or cold, thanks in large part to coffee shops that have turned coffee drinking a lifestyle trend especially among millennials.
At the recent Specialty Coffee Expo held at the Boston Convention Center in Boston, Massachusetts, the 12 Arabica and 12 Robusta coffee selections that won during the 2019 Philippine Coffee Quality Competition (PCQC) were featured and showcased. The Philippine booth generated a lot of interest, with visitors and guests excited to learn that our country produces superior quality coffee.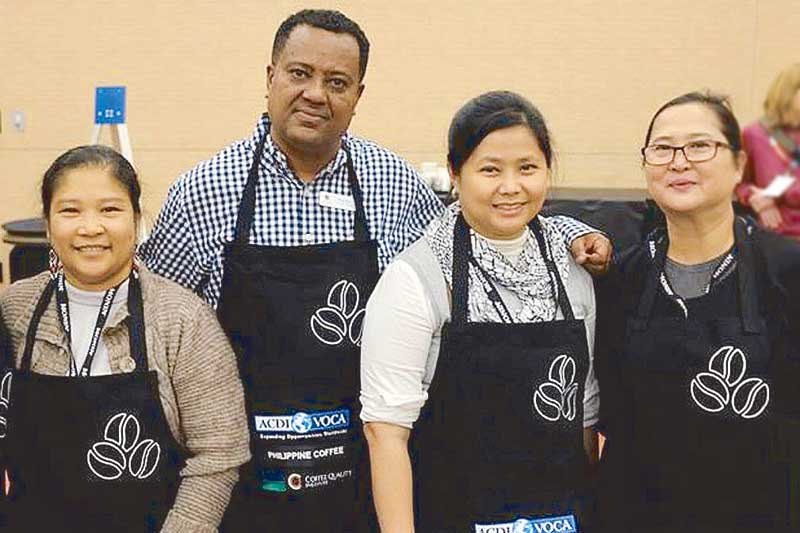 Cherry Cruz, owner of Barista and Coffee Academy of Asia (rightmost) teams up with the Coffee Quality Institute and ACDI-VOCA to hold the cupping session of the 2019 PCQC coffee winners during the Specialty Coffee Expo in Boston.
The annual expo attracts over 13,000 attendees composed of producers, importers, baristas and professionals across the industry, coming from more than 75 countries. It is the largest coffee event in North America featuring hundreds of exhibitors showcasing innovative and cutting-edge products, and competing for various awards during the event.
San Francisco-based Coffee Quality Institute (CQI) instructor and 2019 PCQC head judge Trish Rothgeb introduced the Philippines' winning coffee selection as having new flavors with fruit notes that are tropical, sweet, fragrant and exciting.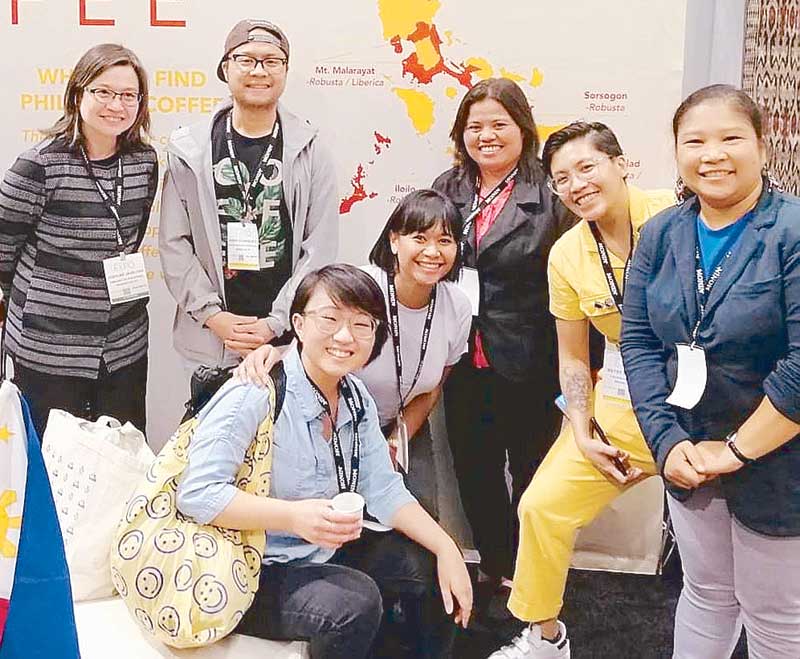 Brooklyn-based Mt. Province Café owner Ray Luna and San Francisco-based Andytown Roasters' Corazon Padilla (second and fourth from left) visit the Philippine booth.
According to CQI senior advisor and Coffee Cuppers Handbook author Ted Lingle, the PCQC judges did a good job in scoring the coffee. The winning coffee lot for the Arabica category in the PCQC competition in Manila was from the farm of Marivic Dubria of the Balutakay Coffee Farmers Association from Davao del Sur, while the winner for the Robusta category was Bukidnon's Millennium Multi-purpose Cooperative farmer Lorna Libante.
Dubria was thrilled to see visitors of the Philippine booth enjoying her coffee, and is looking forward to helping fellow farmers produce more quality coffee as specialty coffee can command higher prices.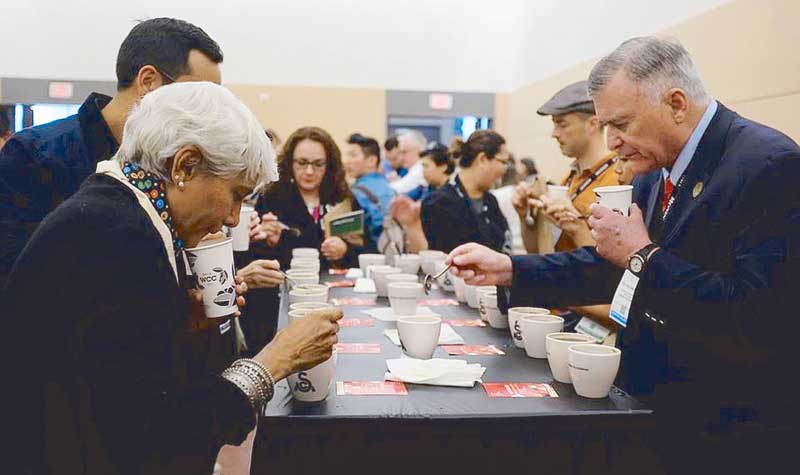 Asia's 'First Lady of Coffee' and Coffeelab Limited president Sunalini Menon of India (left) with CQI senior advisor Ted Lingle (right) were among the guests who joined the cupping event in Boston.
Charito Puentespina of Puentespina Farms, producer of the international award-winning Malagos Single-Origin Chocolates, was also in Boston to show her support for the Philippine booth. The booth was hosted by the Agricultural Cooperative Development International/Volunteers in Overseas Cooperative Assistance, an organization that implements the US Department of Agriculture-funded Philippine Coffee Advancement and Farm Enterprise (PhilCafe) project. Puentespina Farms has also begun planting coffee, seeing the vast potential of specialty coffee locally and abroad.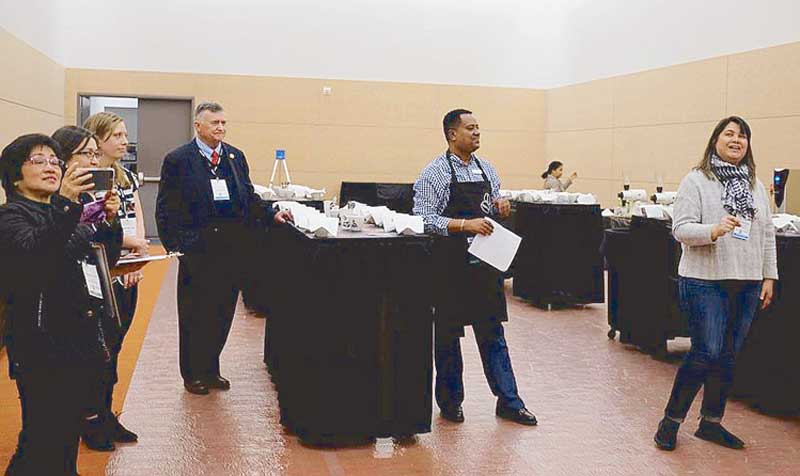 2019 PCQC head judge Trish Rothgeb (rightmost) introduces the 12 Philippine Arabica coffee winners and the 12 Philippine fine Robusta winners.
The Philippine Embassy in Washington's Agriculture Attaché Dr. Josyline Javelosa, who led the delegation to the Specialty Coffee Expo, expressed her appreciation for the USDA-supported PhilCafe project as it works with the Philippine government and private stakeholders to elevate the profile of Philippine specialty coffee in both the local and international market through quality and marketing improvements.
The Philippine specialty coffee sector is a promising investment opportunity with its bright market prospects, Javelosa said.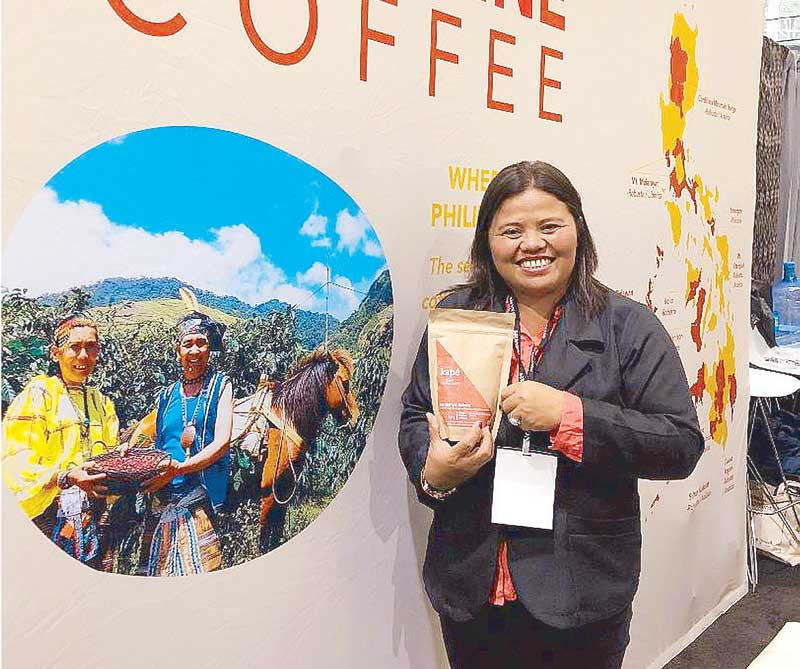 Davao del Sur coffee farmer Marivic Dubria.