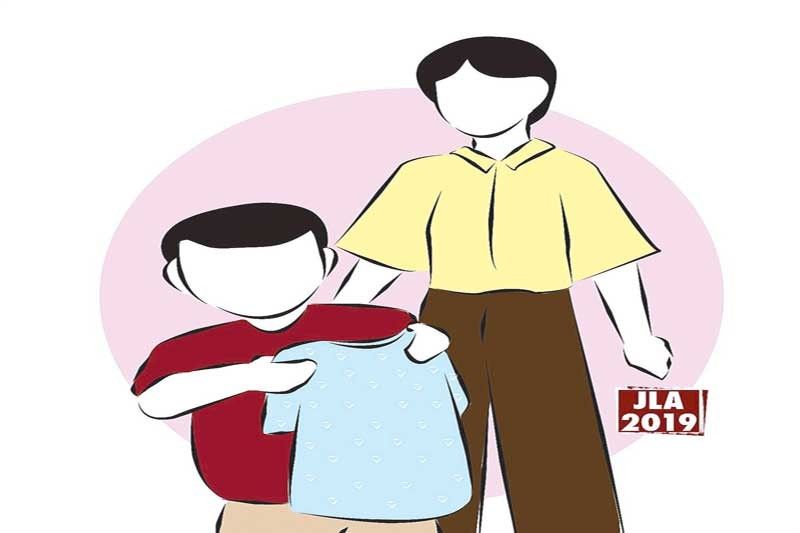 My most memorable moments with my mother
I still remember the date: Dec. 22, 1977. I was six years old. My mother brought me to "Disneyland."
It was my turn to have a brand-new shirt that year for Christmas. The years that past were all about hand-me-down pants and shirts. Being the middle child, I was always at the receiving end of my older brothers' clothes. The shirts they wore for Christmas the years before were the shirts I wore for that Christmas. We were made to understand that such was the case because money was hard to find for a farming family like ours in Gulod.
But that day, I woke up early. I had a jamboree in my heart.
I was a plump kid in the '70s. My mother said in jest that I should lose a little weight so when I sat on her lap when we rode the jeepney to Calamba public market, it would be easier for her. I didn't lose weight but my mother still lovingly wrapped me in her embrace as I sat on her lap on our way to Calamba. I could have occupied a space in the jeepney but that would mean an additional fare. And my mother did not have that in her purse.
After two jeepney rides, we arrived at the market. The sidewalks that led to the clothes section were dotted with vendors selling tinapa and dried fish. My little hand clutched my mother's.
"Huwag kang bibitaw sa akin (Don't lose your grip on me)," my mother instructed me. The early morning scene in the market was frenetic. It was organized chaos as men and women with children in tow were doing their shopping for Christmas. Some carried legs of ham. Others had sando bags bursting with apples and oranges. My mother and I were bursting with joy.
We stopped in front of Zenco Footstep, whose display window had shoes winking at me. "Not now. Not this Christmas," my mother told me, nipping in the bud my salivation for new shoes that I saw in the store. (Later on, one day of summer in 1984 after my Grade 6 graduation, my mother accompanied me to Zenco Footstep to buy me a pair of brand-new white Grosby shoes that had Velcro straps. It was the pair I used in high school — the first ever new shoes that I owned.)
The public market of Calamba was busiest during Christmastime. It was my first time to be there. My mother cautioned me that it was common for children to get lost in the market because of the throng of people.
"In any event that we lose each other, God forbid, find your way here," she instructed me in the vernacular as she pointed to the red circle in the signia of Zenco Footstep. "I will meet you here." I did not lose my way because I did not let go of my mother's hand. And she made sure to hold on to me as tight as she could.
"Every street and every corner that you see, try to remember them," she told me as we inched our way to the stalls that sold clothes. (My mother also taught me to remember dates that I thought are important to me. Aside from her children's and grandchildren's time and date of birth, my mother, to this day, has the uncanny ability to remember the exact date when we had our first black-and-white TV set, when the construction for our concrete house started and ended, the first time we had gripo [faucet] that replaced the poso [deep well], among others.)
When we got to the clothes section, I found a mound of shirts in one of the stalls. My joy was uncontainable. My six-year-old heart was dancing, prancing, levitating. I did not know Disneyland yet that time but it was the feeling that I got. Even beyond that. My spirit was on a flying trapeze.
"Choose the size that fits you. Make sure it fits you because we will not be able to afford to come back to this stall," she told me as she watched me ensconced in pure joy.
There were children's pants that danced in the breeze from the wooden hangers. I did not mind them. My mother specifically told me we were in the market to buy only a shirt — my shirt. In my mind, I already had a pair of pants and shoes, the ones worn by my Kuya Ronnie two years ago. My brothers' clothes for Christmas that year were a repeat of what they wore the year before.
From the mountain of clothes I picked a light-blue shirt dotted with small emblems of Superman. I handed it to my mother. She gave it to the lady vendor.
"Bente, suki," the vendor said. My mother unearthed a folded P20-bill from her purse. It was hard-earned money. I felt special. I was very happy. It was all my young heart could feel that time. And my 47-year-old mind remembers the joy to this day.
Off we left the store. My little hand clinching my mother's. My other hand holding on tightly to a sando bag that had my Superman shirt.
It was a most memorable memory afforded to me by my Supermom. That moment has never stopped my heart and mind to fly.
* * *
(For your new beginnings, e-mail me at bumbaki@yahoo.com. I am also on Twitter @bum_tenorio and Instagram @bumtenorio. Have a blessed week. Happy Mother's Day!)