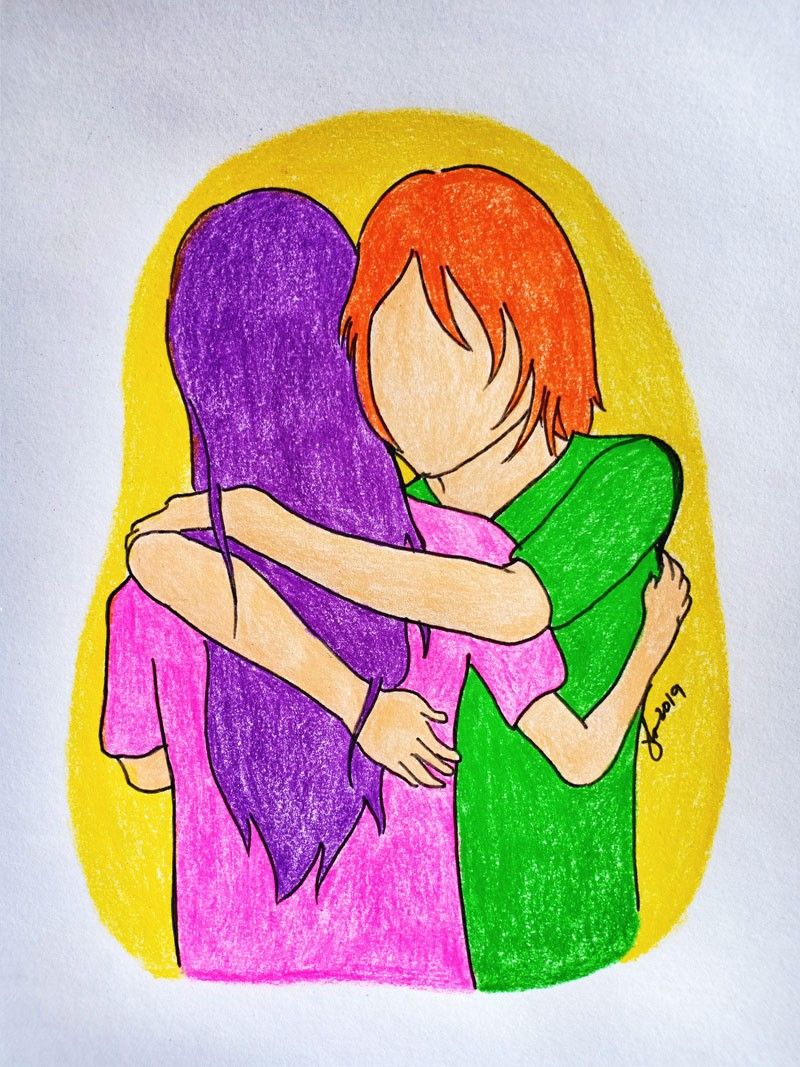 Forgiveness and asking for forgiveness are crucial elements in reconnecting and reconciling with an estranged family member.
Illustration by Jaymee L. Amores
In any family, members have their own differing views over certain matters; hence, disagreements, arguments and/or fights are not uncommon. Persistent disagreements may be divisive and sometimes may lead to social isolation or estrangement of the disgruntled family member. In some families, their quarrels even reach the barangay desk, the fiscal's office and even the courts.
Forgiveness and asking for forgiveness are crucial elements in reconnecting and reconciling with an estranged family member. Parents play a key role in facilitating the reconciliation of their children who are in conflict with each other by stressing to them that they, after all, belong to one family and that each one of them is equally important to their parents. All parents would always want to see again the unity and harmony of their family.
It is not that easy to reconnect. If you fail to reconnect once, you have to try several times to get in touch with the estranged family member until he or she agrees to talk it over with the entire family. Reconnect by calling, texting, writing or even by visiting the estranged family member. It is essential to hear out the reasons why he or she distanced himself or herself from the family.
Find out what was the root cause of the problem. Was it sibling rivalry or jealousy or some other reason like a perceived favoritism on the part of a parent or both parents? Was it because one of the family members got the commission for a sale of a real estate property and the other member did not? Or does the estranged family member possess narcissistic personality traits like having a sense of entitlement that all of his or her siblings must follow his or her recommendations and that he or she cannot entertain the opinion of the other members of the family?
Another way to reconnect is by inviting every member of the family for lunch, dinner or even an outing. A venue outside the home can create a relaxing atmosphere where the family can enjoy talking with each other and catch up on their lives. If your family is fond of dancing, find a place where all of you can enjoy dancing together.
Sharing your hobbies with each other is another activity that can be helpful in enhancing social interaction. Of course, the best way is when all of you have a common hobby. Engaging in sports or traveling may also be a bonding activity.
To better understand an estranged family member, put oneself in that person's shoes. This will make one comprehend why the family member acted that way. Don't be judgmental. Then recall and analyze the past incident and your role in the family's disharmony. What did you say or do to escalate the family feud? Were you the nagging member or the one who seemed to enjoy when the other family member got reprimanded or shamed?
It is important to remember that you must try to see the effects of the altercation on the rest of the family. The parents and the children all need peace of mind and respect for each other.
Peace of mind, respect for one another and family harmony can be achieved when there is a time and place to listen to each other, a time to understand the problem, a time for compromise, a time for give and take, and, of course, a time to ask for forgiveness and to forgive. Keep in mind that forgiveness and asking for forgiveness are the essential factors in reconciliation.
Holding on to grudges can be an overwhelming emotional burden and will definitely escalate the family rift. What happened in the past is over. Perhaps, now is the time to bury these prolonged grudges and create that chance for a possible family unity.
(For questions on love, looks and relationships, e-mail this author at nina.halilijao@gmail.com. Happy Easter to all!)