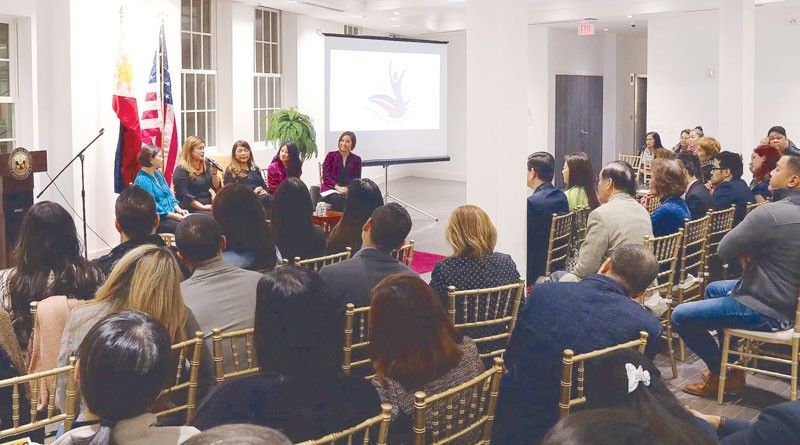 The panelists (from left) Sew Magarbo owner Precious Lopez, Cristina Sison of Compass Realty and president of PACC-DC, Aranza Communications president and CEO Sonia Aranza and personal training studio The Worx by Maia owner Maia Paglinawan Carney with moderator Joni Rayos Samilin, owner of personal and professional development business Influencer Mindset.
Metro DC Fil-American businesswomen inspire others
It's encouraging to note that more and more women are taking on leadership positions in business, getting hired as CEOs of Fortune 500 companies like IBM and Oracle. More importantly, an increasing number are putting up their own businesses and becoming their own bosses.
Just recently, the Philippine Embassy in Washington, D.C. partnered with the Philippine-American Chamber of Commerce Metro Washington DC (PACC-DC) to organize a panel discussion titled "Filipinas in Business: Making Mindset Matter" held at the Embassy's Chancery Annex.
The discussion brought together a group of inspiring Filipino-American women who have dared to venture on their own and become successful businesswomen in their respective fields: Precious Lopez, owner of sewing business Sew Magarbo; Cristina Sison of Compass Realty and also the president of PACC-DC; Sonia Aranza, president and CEO of Aranza Communications; and Maia Paglinawan Carney, who is at the helm of personal training studio The Worx by Maia.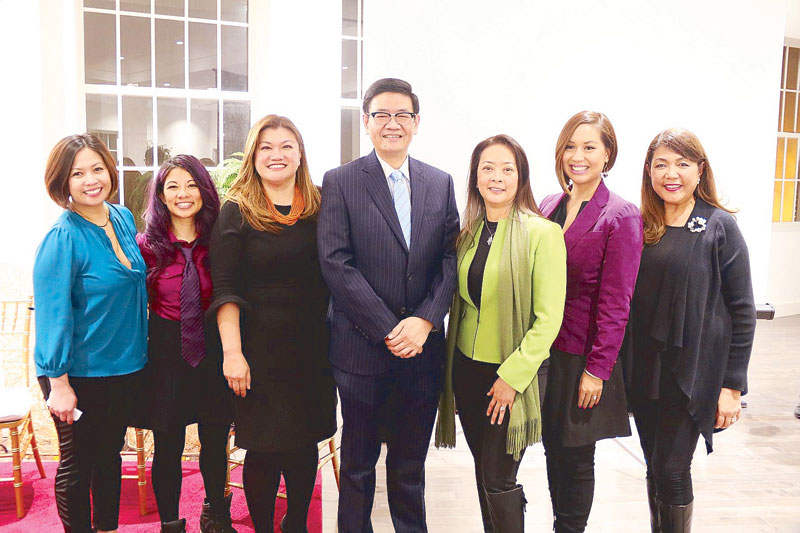 Philippine Embassy Deputy Chief of Mission Patrick Chuasoto (center) with (from left) Precious Lopez, Maia Paglinawan Carney, Cristina Sison, Olma Inocentes, Joni Rayos Samilin and Sonia Aranza.
Moderating the discussions was Joni Rayos Samili, owner of personal and professional development business Influencer Mindset. Acting as host was lawyer-entrepreneur Olma Inocentes of OMLLI Group, LLC.
The ladies talked about the challenges they faced and how they were able to overcome these hurdles, inspiring the listeners in the process. They also shared the inspiration and motivation that gave them the impetus to put up their businesses, and the experiences that empowered them to become trailblazers in their respective fields. They also shared their thoughts on mobilizing the community into promoting diversity and inclusion in businesses, how to promote more investments to the Philippines, and what advice to give those who are just starting in business.
Precious Lopez put up her sewing business in 2010 with the goal of teaching fine arts skills to young people. Unlike other sewing studios that only teach, she instills passion for the craft in her students while utilizing the latest in sewing techniques and technology. For Precious, genuinely caring for clients is important in order to develop a lasting relationship with them.
With over two decades in the residential real estate business, Cristina Sison of Compass Realty has closed over $300 million in transactions and has developed loyal clients who call her the "cream of the crop" and rely on her skills and experience to guide them in real estate transactions from beginning to end. According to Cristina, dreaming big and taking risks are par for the course when one wants to put up a business.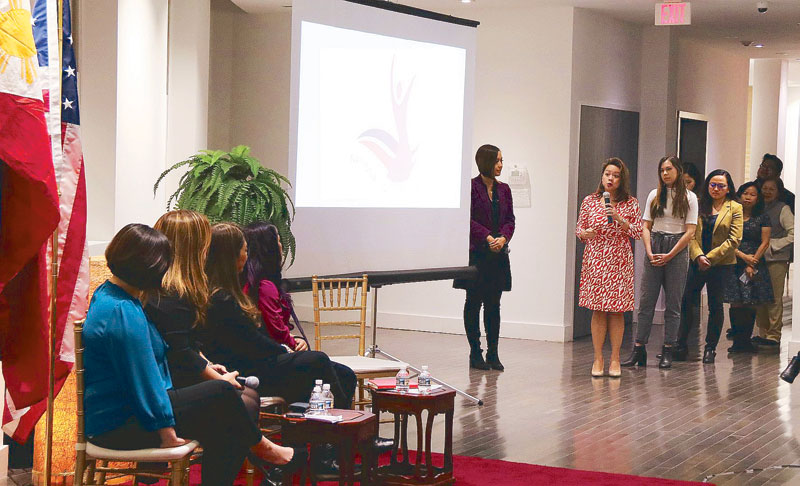 Members of the audience line up for the Q&A session during the panel discussion.
A trusted advisor who could execute legally mandated diversity training to address landmark discrimination cases at several large corporations and government agencies, Sonia Aranza — who has two master's degrees from the University of Hawaii and the American University in Washington, D.C. — has made a name for herself as an experienced speaker on national and international platforms. Going outside one's comfort zone is important, Sonia shared with the audience.
Born in the Philippines and raised in a traditional family, Maia Carney has been breaking traditional feminine stereotypes, signing up for every kind of sport such as wrestling, much to the chagrin of her family who found out about it when she made the nightly news as part of a wrestling team. Her personal training studio, The Worx by Maia, does not only provide workout trainings and programs but becomes a venue for instilling confidence and providing empowerment to people.
"Contributions of women in business are more widely recognized now than at any other time in modern history. And the truth is that when women participate actively in the economy, and on terms equal to those of the men, the rest of society stands to benefit, particularly in achieving good governance, economic growth, poverty eradication and environment sustainability, among others," Philippine Embassy Deputy Chief of Mission Patrick Chuasoto concluded.