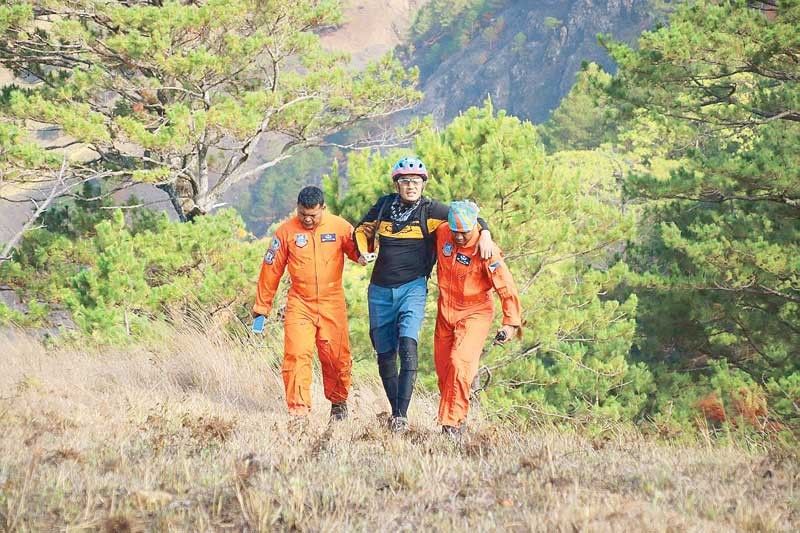 Boli Bolintiam was rescued by the Philippine Air Force after missing for two nights and three days in Mt. Ugo.
Photo courtesy of Philippine Air Force
A biker goes missing for two nights and three days in Mt. Ugo in Itogon, Benguet.
Faith can move mountains. Faith can also find one who is lost in the mountain.
Joseph "Boli" Bolintiam, 41, with joy in his heart and a spring in his step, loaded his loaned electric mountain bike on top of the four-wheel drive off-road vehicle of his biker friend who picked him up in his house in Quezon City late night of Wednesday, March 13. With his biker friend was a Canadian guest biker. Two other biker friends arrived. Past midnight of March 14, Boli kissed his wife goodbye, and after saying a group prayer, the five bikers headed to Baguio City, and then to Kayapa in Nueva Vizcaya.
They planned a day tour of Mt. Ugo, starting from Kayapa trail and ending at the Itogon, Benguet side of the mountain. Boli, a seasoned biker, was to lead the tour. He had been to the trail of Mt. Ugo twice before. His companions, except for one biker friend, were first timers to Mt. Ugo.
When they reached Kayapa, a three-hour drive from Baguio City, all five men registered at the municipal hall. From the jump-off point, they pedaled their way to the biking trails of the mountain around 12:30 p.m. of Thursday. They expected to return at 5:30 p.m. on the same day at the Benguet periphery of Mt. Ugo.
Hitting a fork
Boli, who works in the sales department of ESPN 5, was Biker 1. He stayed close to Biker 2, the Canadian. The three other bikers were behind them. They were joined by a local guide on foot, who was highly skilled in fast-paced walking to catch up with bikers pedaling at 10 kph.
"We must have been biking for 20 minutes already when we hit a fork. The local guide told us to take the trail to the right. I told the Canadian biker to stop first to wait for the rest of the group. When it took them a long while to catch up with us, I figured they experienced a mechanical failure," Boli recalls.
Being the leader of the group, Boli went back to check on the rest of the bikers. He did not find them on the trail. He went back to where he left the Canadian biker. He was not also in the spot where he left him. He also began to look for him.
Cellphone signal in the mountain was beyond bad. Luckily, by 2:17 p.m., Boli was able to call one of the bikers. He told him he was lost. But he also told them the guest biker was also missing and he should be found no matter what. "Lose anyone but the guest biker," Boli remembers telling the group. In search of the guest biker, he found a skeleton of a hanging bridge and drove under it just to follow the trail — to no avail.
By 2:47 p.m., Boli made another call and found out that the Canadian guest had been found and was now with the group. Boli was ecstatic for a life saved. His joy, however, began to dissipate when he couldn't find his way back to the group. His group looked for him. Boli looked for his group, too. The local guide even went back to the fork but Boli couldn't find his way to the fork. He traced the trail — but it was all too different now because of the recent forest fire that erased many parts of the trail.
He says, "By 5 p.m., it was beginning to get dark. I had to look for a shelter. I decided to go off track, went down the mountain until I found a stream."
Boli was lost.
Solace by the stream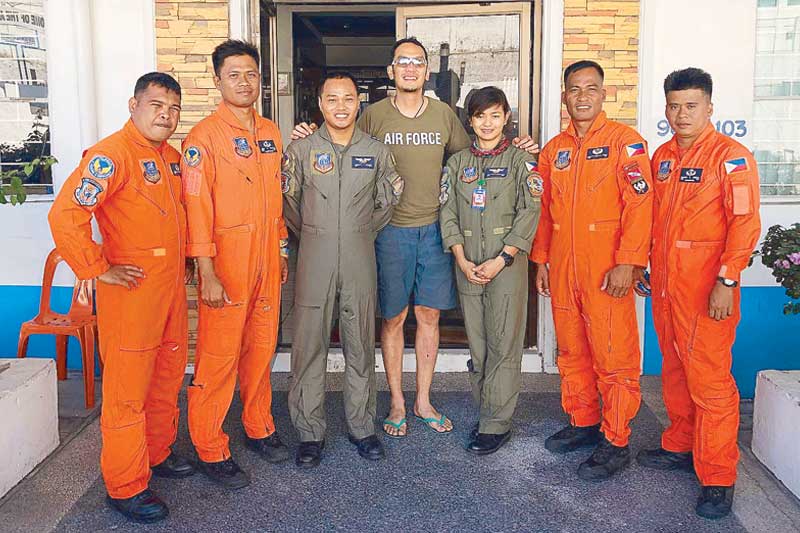 Boli with some of his heroes when they arrived at Villamor Air Base. (From left) PAF Staff Sergeants Rogelio Pangilinan and Joey Sanchez, Capt. Aarjaye Escote, First Lt. Loraine Faurillo, Staff Sergeants Carmelo Conrad Cambi and Dancon Pascual. Photo by Büm Tenorio Jr.
Boli parked his bike and found shelter under the canopy of a tree. When night dropped its cloak, there was total darkness by the stream. No stars. The reed-thin drizzle persisted through out the night. Boli got from his red backpack a black garbage plastic bag — which he intended to use to collect trash in the mountain — to cover his 6'1" frame.
"I only had two big Jelly Ace, a piece of Halls candy and my bladder (a Coleman water container) in my day pack. Everything else, including my flashlight, was in the other bag, which I left in the car. For that night, while fearing hypothermia, I ate one Jelly Ace. And I prayed," Boli says.
Boli, a devout Catholic who also practices qi gong meditation, survived the night. He prayed to God to keep him warm. He prayed to God to keep his wife and their three children safe. He was worried that they were worrying about him.
Unknown to Boli, his group mates never stopped looking for him. Unknown to Boli, his wife and their village friends, high school and college friends, including the UP Los Baños Communication Arts Society, were not only praying for him but they were also coordinating with their connections in the LGU, private sector like Philex, to aid in his rescue. His high school friends and their husbands and wives even tracked where Boli exactly was when he made those two calls from the GPS tracking device that Boli and his wife uploaded on their individual phones before the trek.
Finding a house with a red roof
"Come Day 2, I was trying to go up but the bike was heavy (50 lbs). Maraming baterya ang bike but there was no trail. I gave up biking," he says.
Boli gathered all his strength to navigate the mountain. He climbed cliffs. He fell a few times, sustaining a few scratches on his legs. He crossed another stream with a pool of clear water. At the end of the stream, there were water falls. Like a scene from a fairy-tale book, he thought to himself. It was hypnotic, he says. But he made a conscious effort not to stay too long by the stream.
By midday, the scorching rays of the sun seeping through the forest, Boli, while at the foot of a cliff, saw a small house with a red roof. One side of the house was made of bamboo slats, the other side had GI sheets. For two hours, with his borrowed bike in tow, he made his way to the house by climbing cliffs, holding on to vines and roots of trees, holding on to his dear life.
The padlocked house had an extended awning that housed a makeshift kitchen and a bamboo bed. At the bamboo bed he spent his second night. He turned on his phone from time to time to check for signal — in vain.
"I will be found. God is good and God will send people who will find me. My faith became stronger. I had the courage to muster my fears. I will be found," Boli recalls telling himself.
With faith, his worries dissipated. The harrowing experience became an experience of submission to God. (He also prayed that God would help him deliver his apologies to his family and friends he inconvenienced while he was lost.)
He adds, "I just know there is a God who will save me and keep me away from harm and danger. I think of my family — my wife and my three children — and I am strengthened to see another day."
That night, on the bamboo bed, Boli counted the stars. They shone bright. He ate his last Jelly Ace. All throughout the day, he contented himself drinking water from his container, which he refilled from the stream. He did not see fruits or wild berries — not even a single individual — along the way. At 7 p.m., after praying, he fell asleep, soundly, for 11 hours.
Befriending seven cows
At 6 a.m. of Saturday, March 16, Boli woke up to a new day. He left his bike at the side of the house with a red roof and walked a distance. He spotted a clearing above him. There must be phone signal there, he thought to himself. A cliff had to be navigated to reach the clearing. He made it there anyway. He rewarded himself with breakfast: Halls candy. The yellow wrapper he kept in his pocket.
At the clearing he prayed with eyes closed. He saw seven cows when he opened his eyes. He approached them and talked to the cows aloud.
"Cows, please help me to be found. Please, please." As if there was divine in the bovine, the cows stared at Boli.
A little past 8 a.m., he turned on his phone. Full signal with only six percent battery life. He called his wife. She was crying on the other end of the line.
"Honey, honey, praise God you are safe. Don't leave the clearing. A rescue chopper has been looking for you. Save your battery. Don't leave the clearing. Stay put," Boli's wife told him in between sobs.
Finding Boli
The search and rescue chopper of the Philippine Air Force had been circling Mt. Ugo for one hour and 15 minutes already. It was only allowed to fly for one hour and 30 minutes.
At the nick of time, with only 15 minutes left, PAF Capt. Aarjaye Escote, his co-pilot First Lt. Loraine Faurillo and four other men of the rescue team spotted Boli.
"But what we noticed first were the cows. Then we saw a man with a stick, jumping and jumping. He was waving his shirt. He fit the description of the missing biker. We found him," Escote tells Allure.
Boli was found.
And he is alive to tell the miracle of his faith. He is alive to tell the miracle that is his life. *
(For your new beginnings, e-mail me at bumbaki@yahoo.com. I'm also on Instagram @bumtenorio. Have a blessed Sunday!)