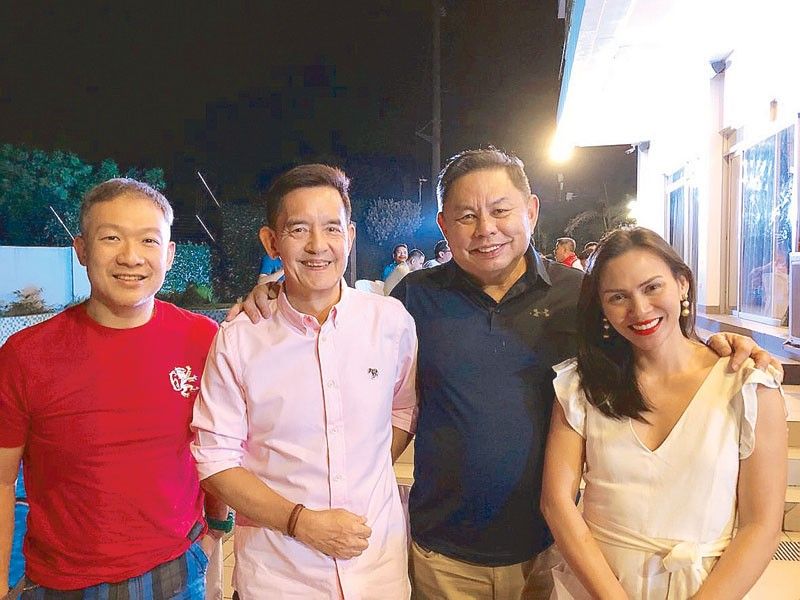 At Dioceldo Sy's 61st birthday weekend party (from left) Emil Yap, your columnist, the birthday 'old boy' and Issa Litton.
For some 61-year-olds, it could be about slowing down, basking in "senior citizenry," and riding into that glorious sunset of our lives. But Ever Bilena boss Dioceldo Sy doesn't subscribe to any of that.
Far from slowing down, he's learned to share the load, and thus have the opportunities to embark on new business ventures and sports advocacies close to his heart, and has even taken on a new exciting life role.
Rather than making it a one-day affair, Dioceldo turned his March birthday into a weeklong slew of activities and celebrating. Far from slowing down, he's revving up, and it looks like 61 will be a window of new beginnings.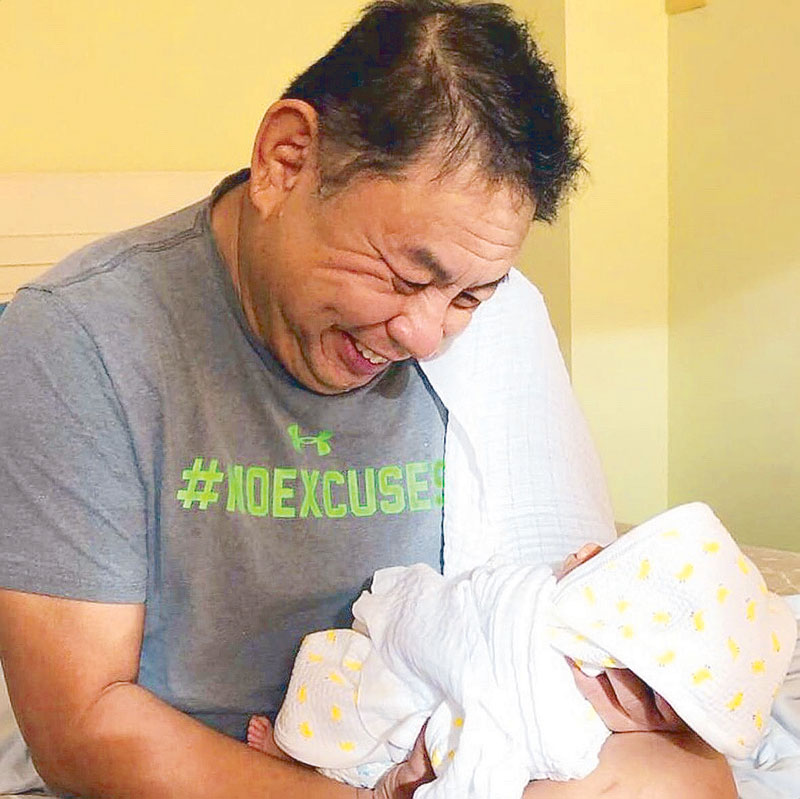 The lolo and his apo, who I re-christen 'Junior Dioceldo'.
I've known Dioceldo for some 30 years now and watched him grow Ever Bilena and Blackwater to the powerhouse brands they are now in cosmetics and personal care. So, it was wonderful to see him that Saturday night at his residence, enjoying his birthday with family, close friends and his PBA Blackwater team. Among the guests that night were SM's Herbert Sy, Willy Marcial of the PBA, San Miguel sports director Alfrancis Chua, Gelo Serrano and Emil Yap of the Manila Bulletin. The mood and ambiance was one of relaxed, comfortable celebration — casual with a capital C.
Asking Dioceldo what challenges still face him and what keeps him excited, he had this to say, "Ever Bilena is stable now and will continue to grow with my daughter Denice (Sy-Muñez) at the helm. I'm excited to expand to other businesses. There's iECO, an environmentally sound enterprise promoting sewage and waste treatment via thermal burners that offer odorless, smoke-free incineration; there's the developing construction business via office towers in Arca South, and I'm in discussions with my Malaysian partner to open up Philipp Plein and Roberto Cavalli retail fashion stores at Solaire."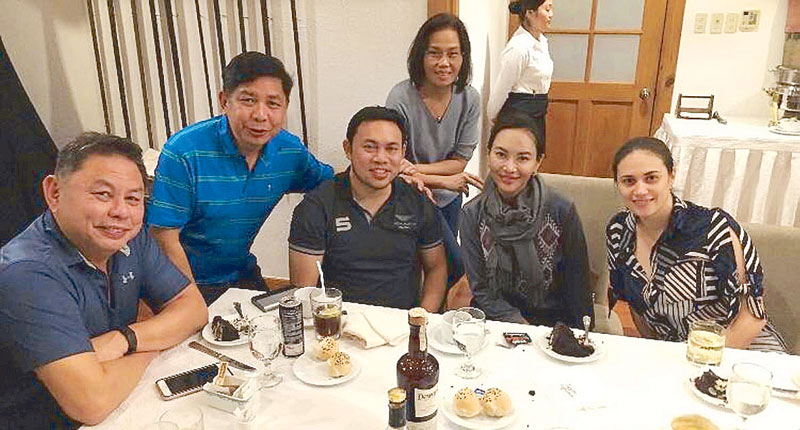 From earlier in the week, spending Dioceldo's birthday with a golf tournament he helped sponsor for lupus awareness. (From left) Dioceldo and Silliman Sy, Public Works Secretary Mark Villar, Leah Sy, Justice Undersecretary Emmeline Aglipay-Villar and Christine Codrington. Photo from Dioceldo Sy's Facebook page
It's not popularly known outside the sporting world but Dioceldo is the chief backer of the PBA Perlas, our Women's Basketball National team; and the NU Women's Basketball team that accomplished a five-peat and has won 80 straight games. Dioceldo's pipe dream is to have the Perlas win the first gold medal for the Philippines in basketball, and they'll be competing in the Southeast Asian Games late this year. Sports development and creating Filipino pride are two things very dear to Dioceldo's heart.
To achieve this in other sports, he's also supporting athletes Jazmine Alkhaldi, our best female swimmer, sending her to a 45-day training camp in Spain, Italy and Germany. A two-time Olympian, Jazmine is preparing for the upcoming Southeast Asian Games as well. Dioceldo manages 19-year-old Carl Jammes "Wonder Boy" Martin, touted as the next Pacquiao and current WBA Asia Bantamweight and WBO Oriental Asia Bantamweight title holder. With an 11-0 professional record, 10 by knockout, Martin is one important face in the future of Philippine boxing. Manolo Angara, a 14-year-old future tennis star, and now a member of our Junior Davis Cup Philippine team, similarly gets support from Dioceldo.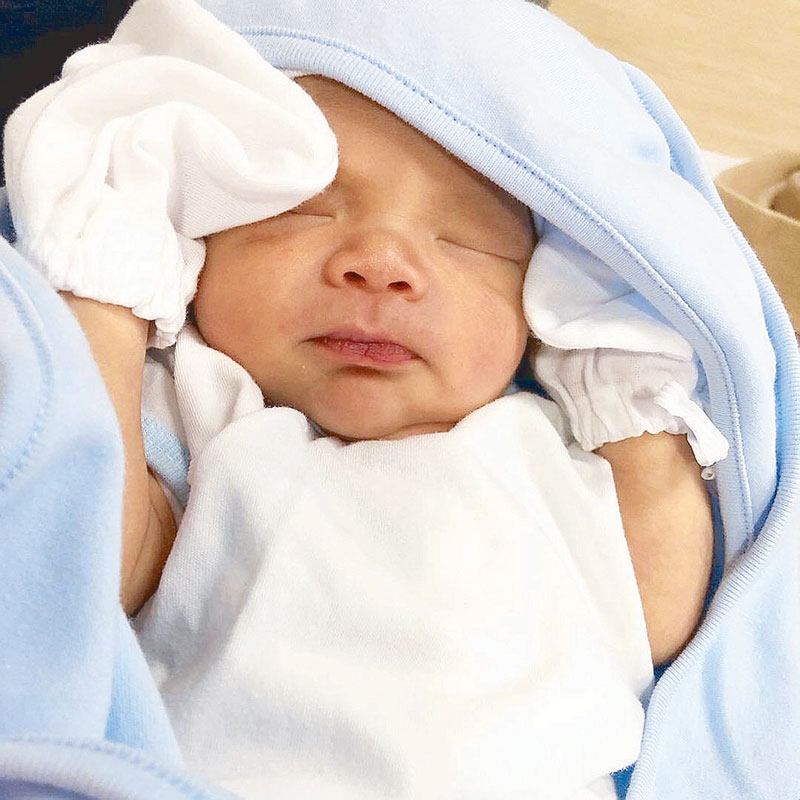 The new apple of Dioceldo's eye, grandson Jake Dean or JD.
And I know this one is a long-shot dream of Dioceldo: to develop the next world-class Filipino tennis player. The first time I met Dioceldo was at the Philippine Plaza tennis courts in the early 1990s — and yes, that's how long ago it was, as those courts used to occupy the area where the Sofitel Philippine Plaza Tent now exists. We'd play with Raul Panlilio, and decry the weird bounce of the metal grill surface of those courts.
I made mention of the new role in life Dioceldo now enjoys, and for him this is the ultimate, best birthday gift ever — to be Lolo Dioceldo to his very first grandchild, Jake Dean Sy-Muñez, born the second week of February. I understand from mother Denice that Dioceldo has turned fierce guardian, creating hard and fast rules for anyone planning to visit JD. I joked with Dioceldo that the young parents may have christened him JD for Jake Dean, but it really stands for Junior Dioceldo, and he loved that.
Happy, happy birthday, Dioceldo! It's great to see 61 is just a number in your eyes; and rather than slowing down, you're making 61 a signpost for fresh starts and exciting new things.