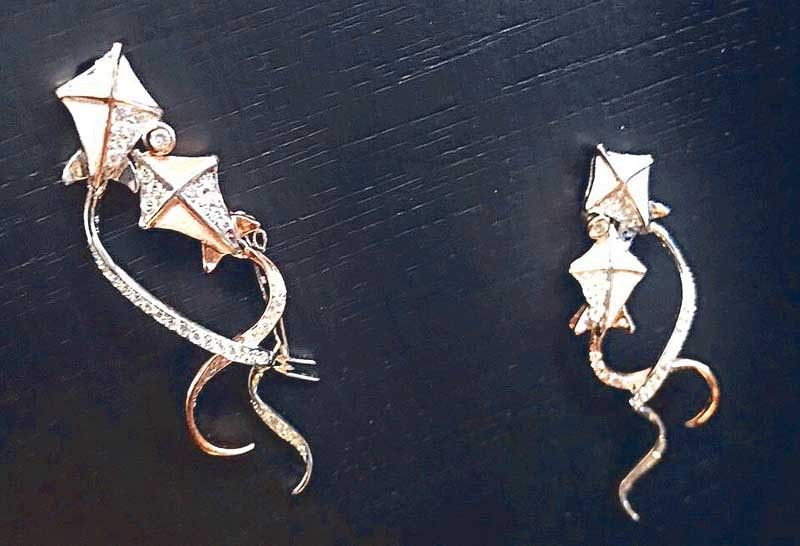 The unique Kite earrings; a sampling of how the collaboration has yielded pure magic.
The Outstanding Young Men awardee Michael Cacnio's pieces of brass sculpture occupy a special place in our local art landscape as he took everyday objects — swing, ladder, kites and balloons — and turned them into elements of his art. Celebrating his Malabon childhood, his art has struck a chord with most of us, making us reminisce, wax nostalgic, or happily dredge up memories of better days — the carefree innocence of our youth.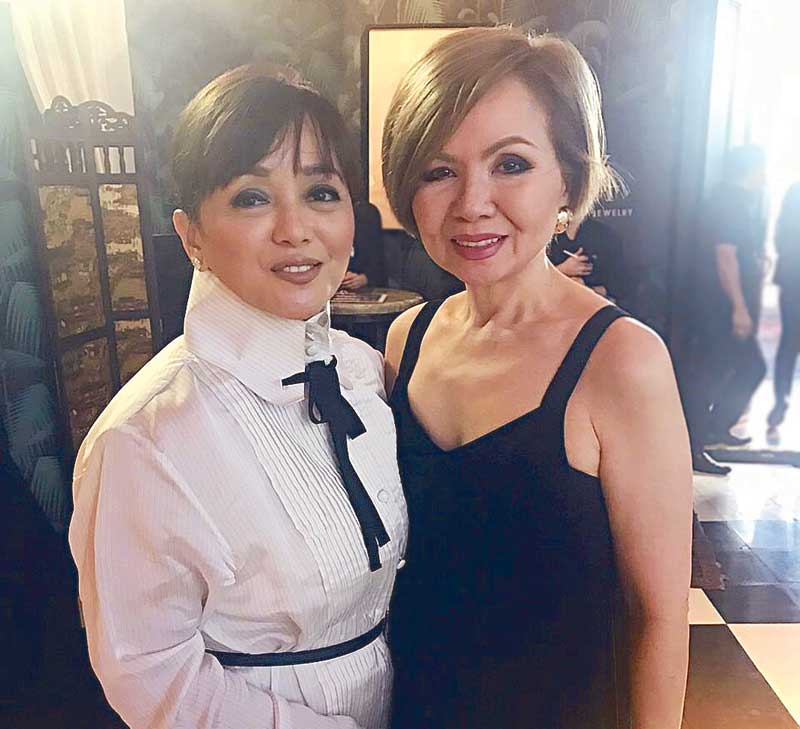 JMA Jewelry founder Suzette Malig-Ayson with Duday Tuason.
So it was with great interest that I viewed his latest collaboration, that with his good friend, jeweler Suzette Malig-Ayson. Her JMA Jewelry has taken the best of Cacnio's iconic pieces of sculpture and turned them into jewelry crafted with 18-karat gold, diamonds and precious gemstones. The playful and whimsical character is still there, but it's been transformed into pieces that you don't have to collect and place on a stand, or as part of your home's interiors. Now, you can don these pieces as wearable art. And they all form part of a Gunita collection.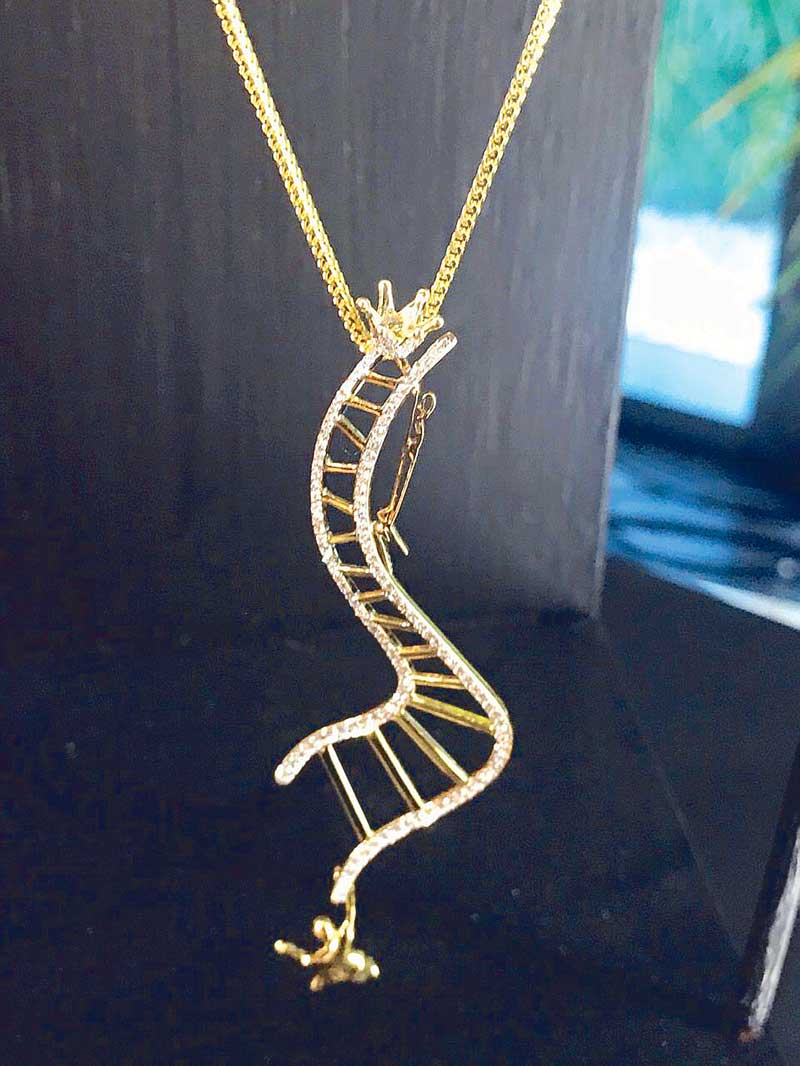 The iconic Cacnio ladder with children playing as part of a necklace.
It's a 15-piece collection, where each piece is one-of-a-kind. And that's so important as these are such distinctive pieces, it's great to know one will not be bumping into anyone wearing the exact same pieces. As Michael himself explained, "I've always dreamt of making the Michael Cacnio piece wearable. This is a big accomplishment for me as an artist, for Michael Cacnio to be not only identified in the field of sculpting but in jewelry as well."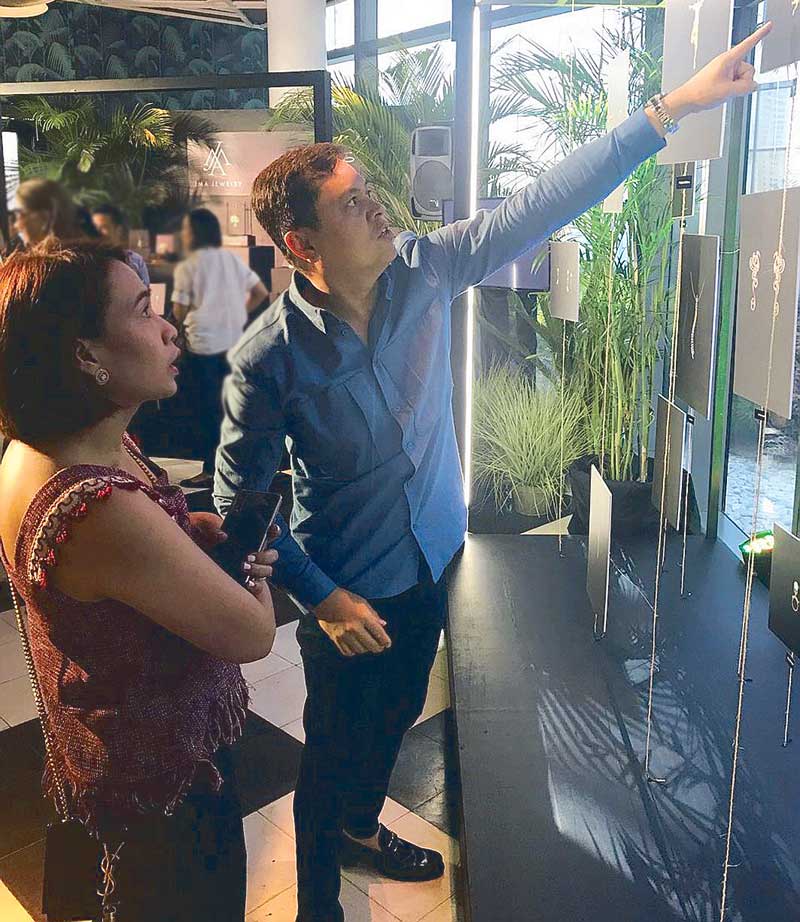 Michael Cacnio going over the designs for near-future development.
As for Suzette Ayson, the challenge was how to craft the pieces in such a way so that like the pieces of sculpture, they would imply movement — in Cacnio's pieces, when there's a swing, the person's back is bent or when holding several balloons, the one holding them is standing on the tips of one's toes. "Our goal has always been to breathe that same life into these much smaller creations."
And the collection is an unqualified success!