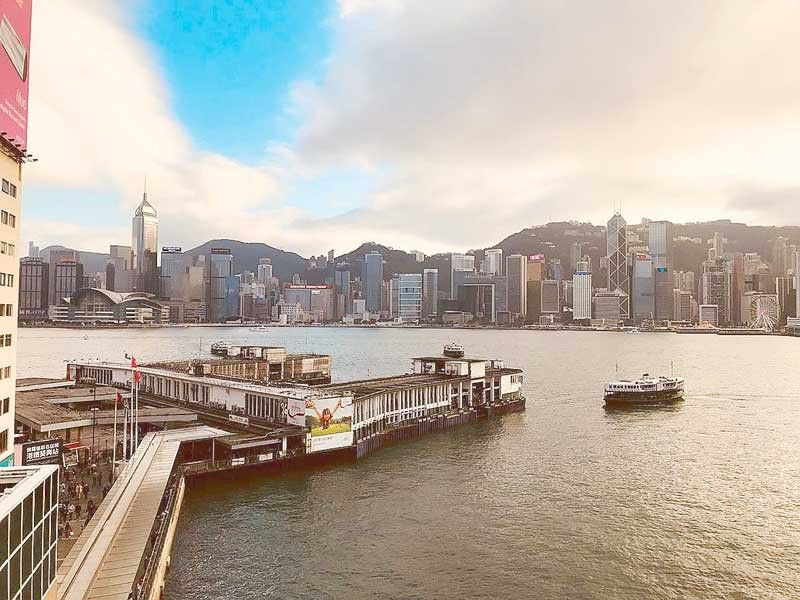 The iconic view of the Star Ferry and Victoria Harbour from the rooftop level of Ocean Terminal.
A Hong Kong state of mind
For a good number of Filipinos, myself included, Hong Kong will always occupy a special place in our treasure chest of memories as the first foreign destination we traveled to or frequented in our youth.
I can still remember the first trip we took to Kowloon along with the family and our Chinese amah and how, instead of taking a plane, we took an American President Lines passenger service ship that docked right at where the Ocean Terminal now stands. And that must be one subliminal reason why every time I go to Hong Kong, the sight of the Star Ferry Station will always be something that triggers an intense rush of nostalgia in me, as it was one of the first sights I viewed as my father would declare, "We're now here in Hong Kong," over half a century ago.
Staying at the Prince Hotel, or any of its sister hotels, the Marco Polo Hong Kong and Gateway, is always a pleasure on my visits there nowadays. After all, one aspect of any stay there entails shopping, and who doesn't love to find it right there at your hotel's doorstep — all along Canton Road's Harbour City and Ocean Terminal. To add to the whole "significance" factor, it was with the Marco Polo Group that my middle boy Matteo interned with during the last quarter of 2017 for his Hospitality Management course at Enderun, and he was billeted at the Prince during his internship.
Speaking of the Ocean Terminal, if you're not some creature of habit traveler (dining and visiting on replay mode each time you revisit a place), then head to the Ocean Terminal to make some culinary discoveries at its new Extension (OTE). On the suggestion of Marco Polo's director of communications Samantha Poon, I headed there on my last visit recently and was happy to have done so.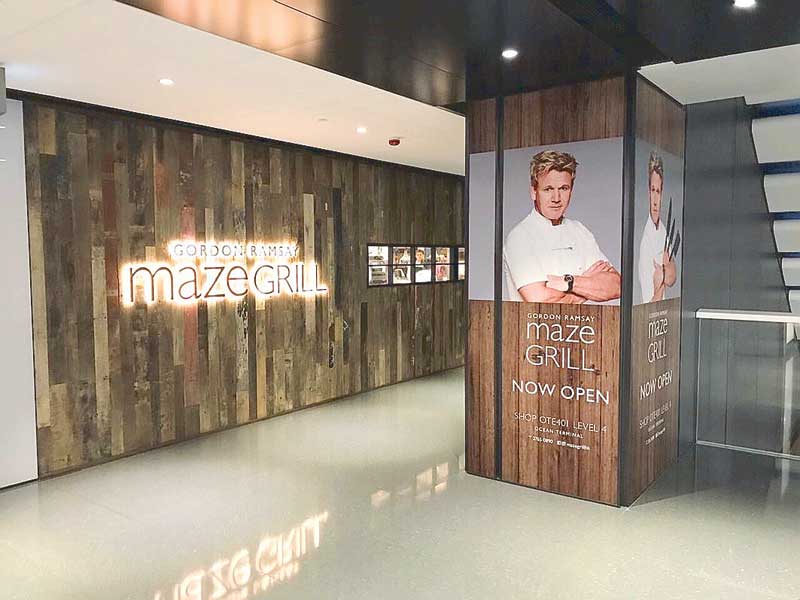 Gordon Ramsay's Maze Grill at the Ocean Terminal Extension.
Xihe Yayuan was our first "discovery," and the Peking duck was a delicious indulgence carved up in a ceremonial manner that made a change from the traditional way we'd been served the dish. The condiment tray even included a mustard that we usually got with the restaurant's crispy pork belly, and it worked wonderfully with the duck skin.
Two floors above Xihe, also at the OTE, is Gordon Ramsay's Maze Grill and I loved our lunch of his renowned Beef Wellington. As advertised, the crust was expertly flaky but firm and toasted, and the beef was a delicious deep pink color. Also loved the scallops with jalapeño, green apple and coriander. OTE is basically four floors of restaurants and eateries, and it's also where you'll find the Hong Kong branch of Artisan de la Truffe Paris, known for doing great, subtle things with truffles.
To this day, Filipinos love traveling to Hong Kong, and if you want to walk along a street, and constantly hear Filipino being spoken, Canton Road and Ocean Terminal are good bets. Over on the Hong Kong side, the IFC Mall and its Shake Shack on the Rooftop plaza is another ideal place to play "Spot the Pinoy." I'm not joking — some members of the Shack staff are Filipino, and you're liable to bump into someone you know getting his or her Shack hamburger fix before SSI opens its first Philippine franchised outlet at Central Square BGC. Right across the entrance to the Prince, you'll find The Cheesecake Factory — too sweet and rich for my taste but a perennial go-to when Filipinos travel to the US, so don't be surprised to find them making a beeline for the HK branch.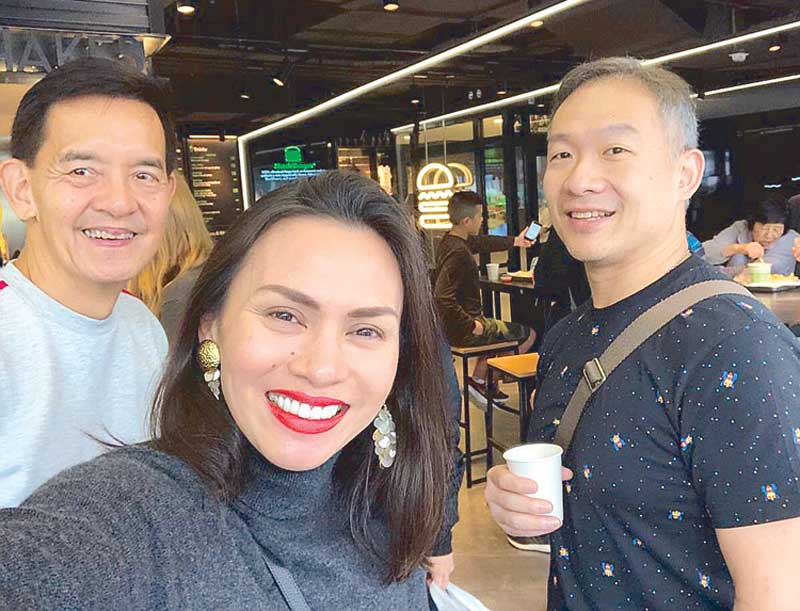 Spotting friends at Shake Shack IFC Mall, Hong Kong, your columnist, Issa Litton and Emil Yap.
Bangkok, Osaka, Tokyo, Seoul, the Maldives — these are just some of the Asian destinations that have been in vogue for the Filipino traveler over the last few years. And while it seems that Hong Kong is one of those gasgas destinations nowadays, like I said, it occupies a special spot in my memory banks, and seeing those Star Ferries dock and depart is always a heartwarming sight.
Everything you always wanted to know about sex...but were too young to ask
Streaming on Netflix now is a hilarious, ribald coming-of-age comedy series titled Sex Education. The premise of the narrative is quite simple — Otis Milburn (Asa Butterfield) is an awkward teenage virgin who lives with his single mom, Jean (Gillian Anderson, yes of X-Files fame), a sexually active sex therapist. He studies at the local secondary school and is cajoled by cool rebel classmate Maeve (Emma Mackey, who looks like a young Margot Robbie) and gay best friend Eric (Ncuti Gatwa) to channel his mom and be the sex guru for the teenagers in his school, who are experiencing their own issues with their libido, sexual preferences and awakening.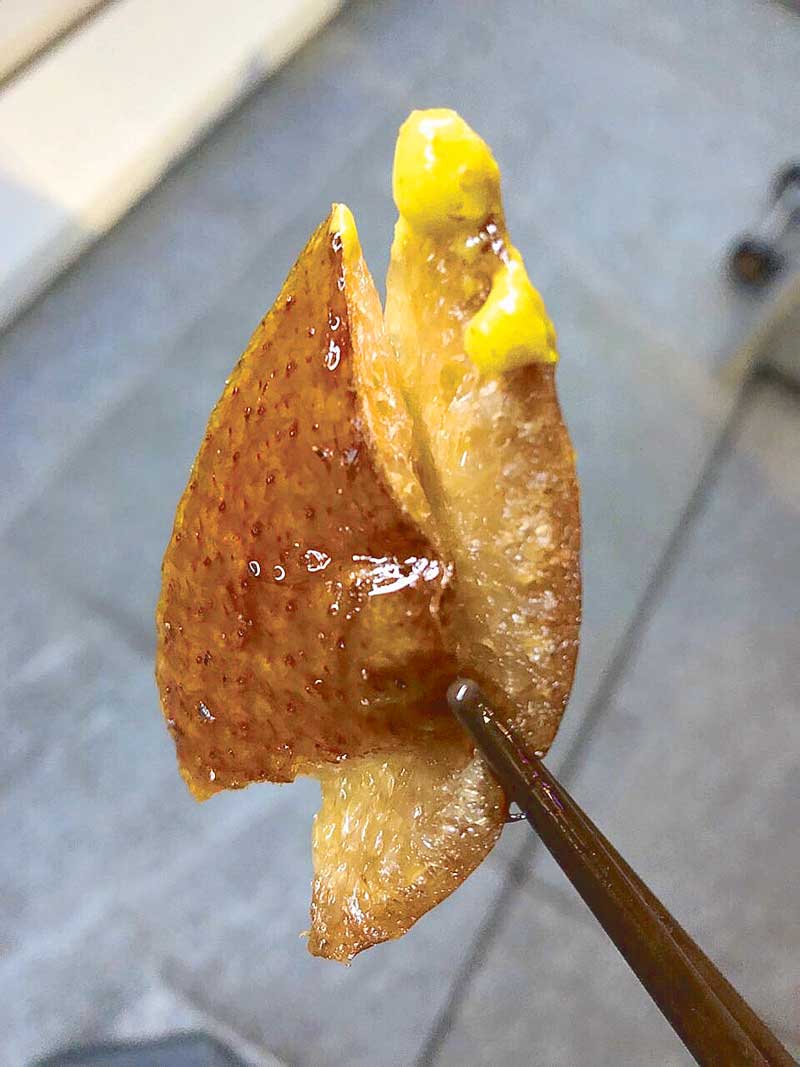 One variant of the Xihe Yayuan Peking duck.
Be forewarned that this eight-episode English production kicks off each episode with a rather raunchy vignette that had the censors scurrying to give the series a 16+ classification. But the opening sequences belie the compassionate and tender treatment given these real-life moral and ethical issues of sexuality that kids today often have to face on their own. And I love how the series point out that each adolescent will have his or her own pace of "awakening."
Gillian Anderson is a hoot as the sex therapist who can't handle relationships herself, and constantly interferes in her son's life. And you'll love the inversions and twists to the tropes of the John Hughes films, which the producers have said this series is a loving tribute to.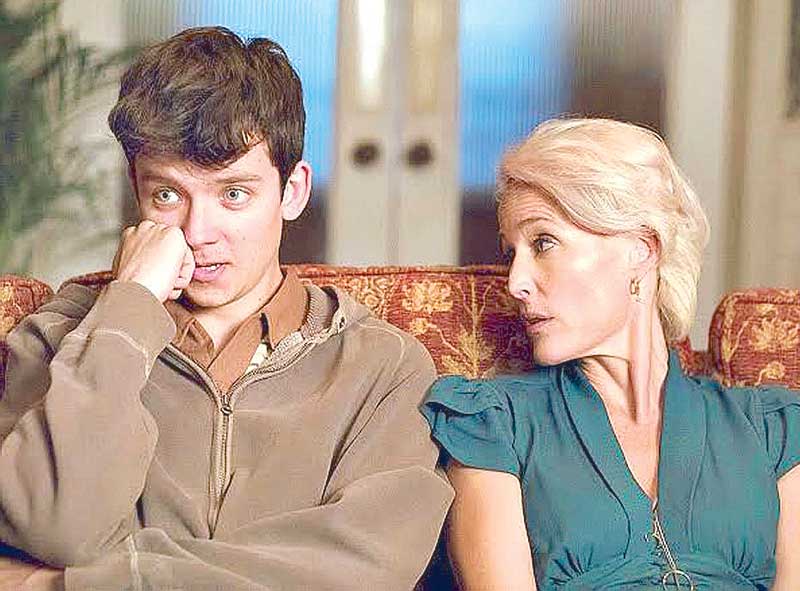 From Netflix's Sex Education, Asa Butterfield and Gillian Anderson.