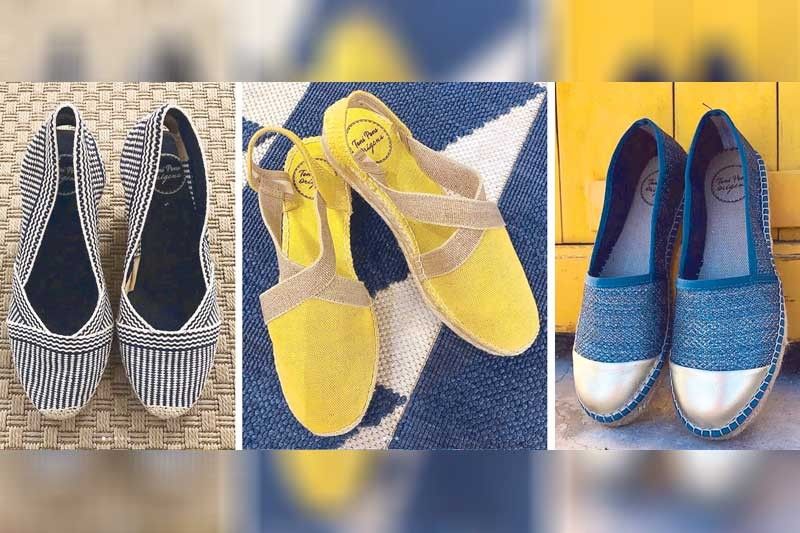 (From Left) : Navy blue and white stripes wedge, Mango yellow cross-front flats, Denim blue with metal tip slip-ons.
If you still remember your old pairs of espadrilles from your teenage years, you will definitely appreciate this iconic footwear brand from Spain — Toni Pons.
During a trip to Barcelona, businesswoman Gigi Reyes spotted the Toni Pons flagship store at the famous shopping street La Rambla. Smitten by the store's classic and colorful shoe designs, Reyes quickly purchased a few pairs and in the course of the trip, found that they were not only incredibly stylish but also super comfortable.
Upon arriving in Manila, Gigi consulted with her friends and partners, Yvonne Camacho and Carmen Santos, about bringing this amazing brand home to the Philippines. The ladies were awarded the exclusive distribution franchise for the Philippines and thus, Toni Pons Manila was born.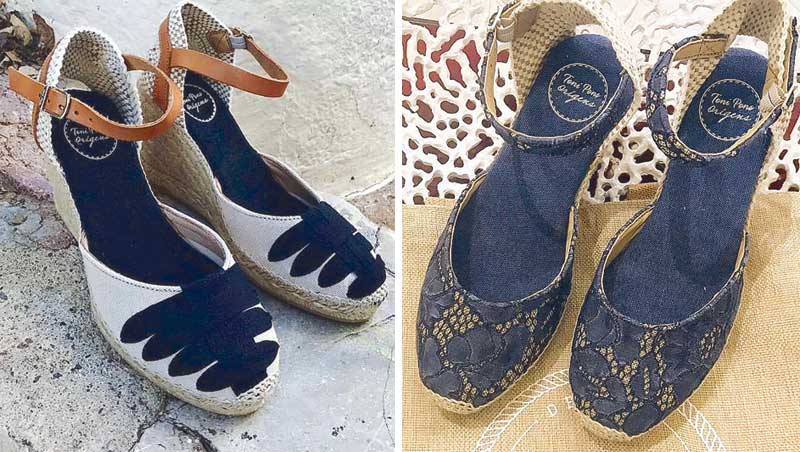 (Left) Port 7 Design. (Right) Tan wedge espadrilles with black lace.
Toni Pons is a Spanish footwear brand, which makes alpargatas or espadrilles of the highest quality. The brand was founded by Antoni Pons Parramon in 1946 in the small village of Osor, just outside Girona. Today, the company is headed by grandson Jordi Pons, who was instrumental in updating the brand for its 70th anniversary in 2016. He also leads the company's international expansion to establish presence in all continents. In 2018, Toni Pons joined the online market with a brand-new website and built a new 3,000-sq.-m. logistics center in Girona to support this growth.
The first retail outlet of Toni Pons Philippines opened in August 2018 at a bridge way kiosk on Level R2 of Power Plant Mall in Makati City. It was met with enthusiastic reception from the local market. This success led the partners to find a permanent home for Toni Pons Philippines.
"Toni Pons shoes are made for the active, modern woman who is filled with a sense of fun but who always wants to do so in style. They are perfect for ladies who lunch, soccer moms, coffee companions, the list goes on! The best part is that these shoes pair so perfectly with jeans, cut-offs, peasant skirts. Wearing them raises your level of stylish whimsy a thousandfold." Camacho shares.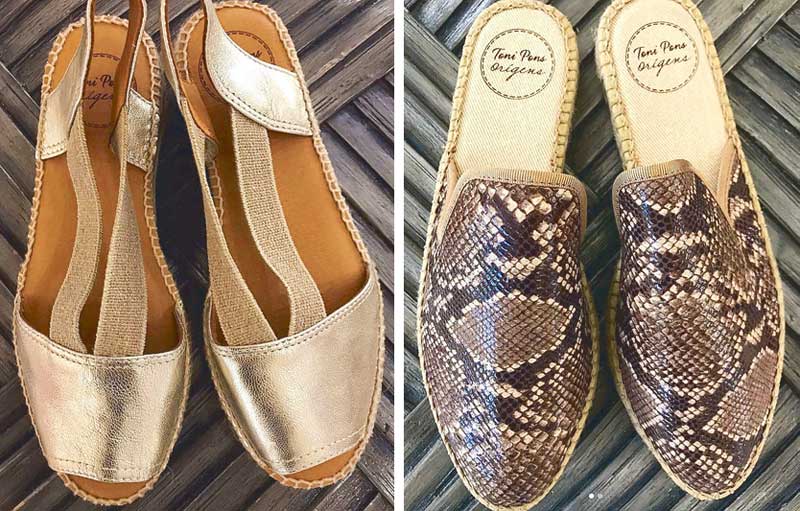 (Left) Metallic espadrilles. (Right) Faux snake skin slip-ons.
Toni Pons' latest outlet is located at Nest Home store at 40 Jupiter St., beside the Paseo de Roxas gate of Bel Air Village, Makati. The store is open Mondays to Saturdays from 10 a.m. to 7 p.m. Also, visit its soon-to-be launched website (www.tonipons.ph) and register your e-mail address to receive the latest promos and discounts. *
(Toni Pons may also be reached through Toni Pons Manila on Facebook and @tonipons.ph on Instagram. For inquiries, call 0966-8935498 and 0917-8752343.)