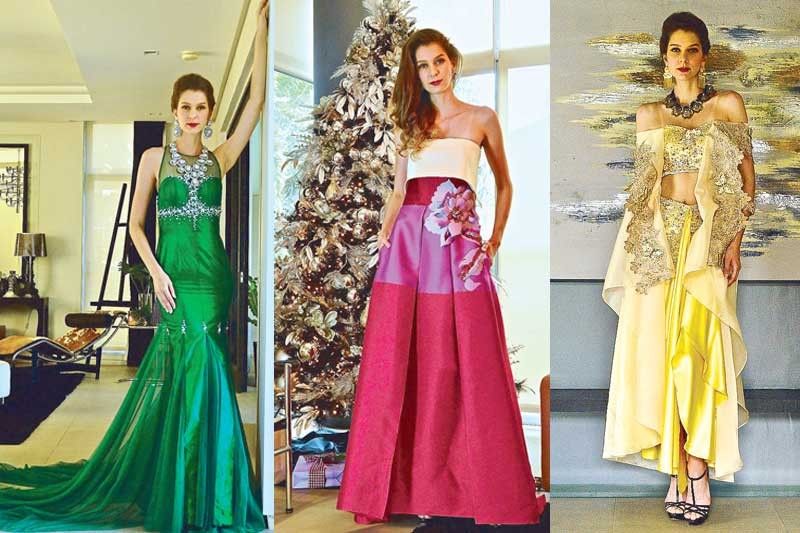 (From Left) HRM MODA. Serpentine gown in Indian raw silk with bias cut insertions and long back tail of soft tulle embellished with Swarovski crystals and emerald stones. REM DIVINO. Gown made with gazaar fabrics in five color combinations, accentuated with 3D floral appliqué as accent. DAN CADIZ. Three-piece ensemble in charmeuse and diamond organza with gold corded and metallic lace embellished with crystals pearls and beads.
December is THE season of festivities! Lunches with the ladies, merienda with the family or formal evenings with friends, Christmas season is a time to celebrate!
Uptown/Downtown reached out to five seasoned couturiers and asked them to showcase their latest creations that promise to make you stand out from the rest of the holiday crowd!
HRM Moda
HRM Moda is the fashion house of Hen Mangahas. Mangahas established his atelier in 2014 after spending more than a decade in the Gulf region. He focuses mainly on formal and bridal gowns and has since maintained a loyal following. Among his celebrity clients is Miss Universe 2016 Iris Mittenaere of France who wore Mangahas' crystal-studded royal blue gown during one of the pageant's events.
(Unit B, Real St., Zapote Rd., Las Piñas City. Contact no.: 0947-1719999.)
Rem Divino
Rem Divino is best known for having worked as a designer for then President and now House Speaker Gloria Macapagal-Arroyo where he created major pieces such as GMA's final State of the Nation Address gown, her ensemble during her visit to the Vatican and her gowns during her dinners with the royal family of Spain and Japan.
Divino left for Dubai at the tender age of 19 and worked for the fashion house of Balqis for over a decade before returning and setting up his atelier in BF Homes, Parañaque City.
Apart from former President Arroyo, Divino's clients include Ilocos Norte Rep. Imelda Marcos, "Asia's Queen of Songs" Pilita Corrales and internationally celebrated pianist Ingrid Santamaria.
(45-F Aguirre Avenue, BF Homes, Parañaque City. Contact no.: 0916-6934446.)
Albert Gonzales Fontanilla
A graduate of Industrial Engineering from Mapua Institute of Technology, Fontanilla started paying his dues as an assistant designer to Danny de la Cuesta and Bobby Novenario. Fontanilla then spent several years working as a fashion designer in Dammam, Saudi Arabia, Dubai, UAE and Abu Dhabi. In 2013, he returned home and established his atelier. He is a member of the Fashion & Design Council of the Philippines.
(Shop A, Ground floor, San Pedro Bldg., President's Avenue, BF Homes, Parañaque City. Contact no.: 0956-1827788.)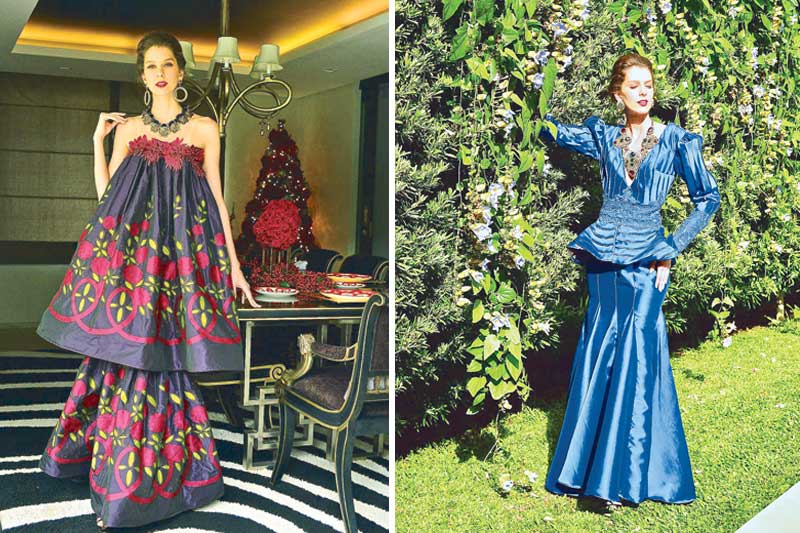 (Left) ALBERT FONTANILLA. Two-tier sheer deep mauve silk taffeta with bold thread embroidered hemlines, sprinkled with bronze crystals. (Right) FERDIE SAYO. Deep V-neck serpentine gown with pintuck details on the bodice, sleeves and peplum accentuated by corded lace on the waist and hem of the sleeves.
Ferdie Sayo
After 14 years working as a designer for the royal family in Qatar, Sayo decided to come home and establish himself as a formal gown and wedding ensemble couturier. Sayo promptly set up his shop in Imus, Cavite and has since enjoyed a steady, loyal following from women who look for chic, soft and ultra-feminine designs.
(Unit 301, Costa Grande Bldg., Palico I, Aguinaldo Highway, Imus, Cavite City. Contact nos.: 0977-4156344 and 0939-9393694.)
Dan Cadiz
A graduate of Slims Fashion and Arts School, Cadiz worked as assistant designer to senior designers Ching Santos and Bobby Novenario before branching out as an independent couturier. His experience as a fashion designer in Dammam, Saudi Arabia has given him a keen grasp on the execution of opulent designs that demand heavy crystal and beadwork.
(Rebecca St., BF Homes, Las Piñas City. Contact no.: 0922-8362213.)
Photography by Joanne Zapanta-Andrada • Makeup and hairstyling by Rey Legarda (0917-5378053) • Model: Debora Melo (Reign Models Management) • Special thanks to Tessa Alindogan