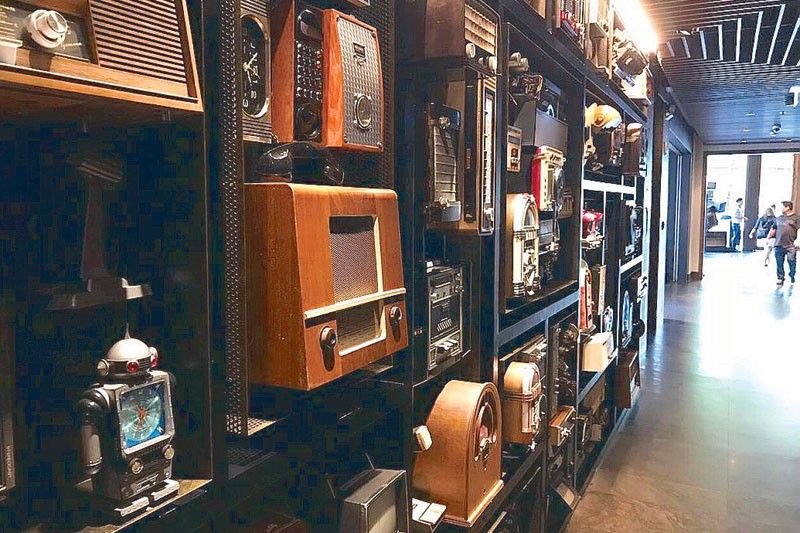 Hotel Indigo's 'Wall of Technology.'
Loving Bangkok...begrudgingly
For the second time in eight months, I found myself in Bangkok. And I must confess it's now my favorite ASEAN city to visit — and it earns that status for a myriad of reasons, some even conflicting ones. Much as I hate to admit it, it's an abject lesson in what Manila should be aspiring for, and it's frustrating to see that we're so close, and yet so far. This results in me having something of a love/hate relationship with the city.
As a metropolis, Bangkok is bustling, it's chaotic, the traffic rivals ours, the contrasts within the city exacerbate the class divide, but somehow, it rises above that all, and it works. And this "working" happens despite the political upheavals and constant infighting. Yes, there is a king to call for national unity and rally around but it goes beyond that in terms of seeing that progress and concrete development goes on in spite of all the disturbances that could stymie the steady growth. For that, I'm seriously envious.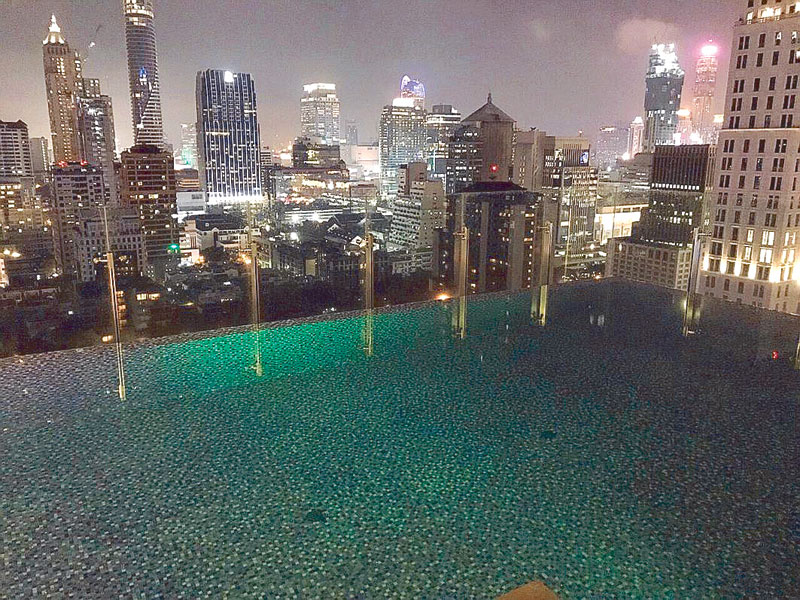 The Bangkok skyline view from Indigo's 24th floor pool.
After all, Thailand is a country that in 2017 recorded over 35 million visitors — of which 21 million went to Bangkok -— while the Philippines "celebrated" the 6.6 million we had in 2017. In 2016, and on to 2017, Bangkok actually overtook London as the No. 1 most visited city in the world in Mastercard's Global Destination Cities Index — with Paris, Dubai, Singapore and New York trailing (Seoul, Kuala Lumpur, Tokyo and Istanbul round up the Top 10, if you were wondering). This tourism within cities is vital for economic growth, as money is being spent on lodging, food, shopping, and more. But as you can imagine, to be competitive, you need infrastructure, accommodation, air connectivity, access and policy enablers all working together to make the city experience of tourists something they value so they return, or help via word of mouth.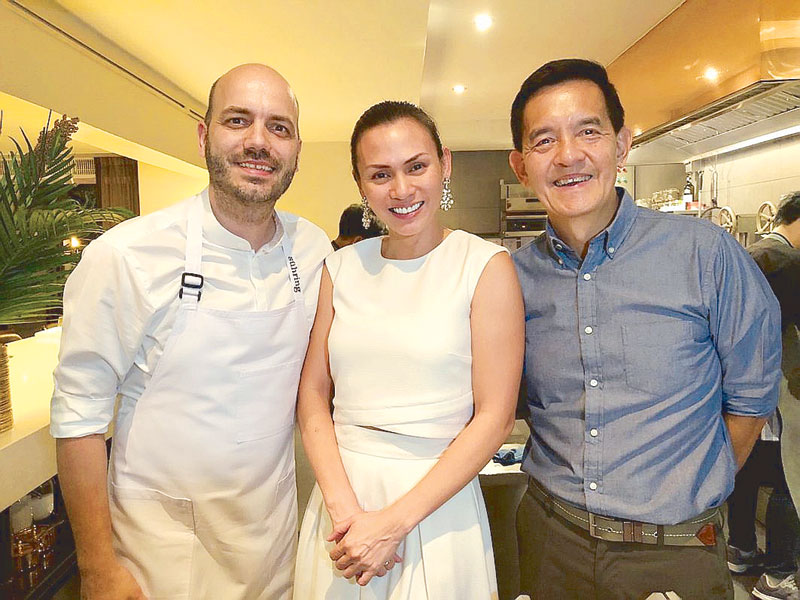 Chef Matthias Sühring, Issa Litton and the author at Sühring.
Think about it, the Top 10 Most Visited Cities of the World, and three of them — Bangkok, Singapore and Kuala Lumpur — are ASEAN cities. And during my three-day stay in Bangkok, I could understand why it's such an attraction for visitors. This time, I tried out a new hotel — Hotel Indigo. It is on Wireless Road, a short walk from the Ploenchit BTS Station of the Sukhumvit line, and the Central Embassy Mall. It's part of the IHG (Intercontinental and Holiday Inn are the more popular IHG brands), and the Indigos are hip boutique hotels that borrow local flavor from whatever city it's in to create ambiance. I loved its lobby, where you could find a tuktuk and a wall I dubbed "The History of Technology."
If you peruse the Top 10 of Asia's 50 Best Restaurants, don't be surprised to find that three of the 10 are to be found in Bangkok. Truly, Bangkok has evolved to be the culinary capital of Southeast Asia and visitors descend to the city with the intention of dining one special night at any of the top-flight restaurants that exists within the city.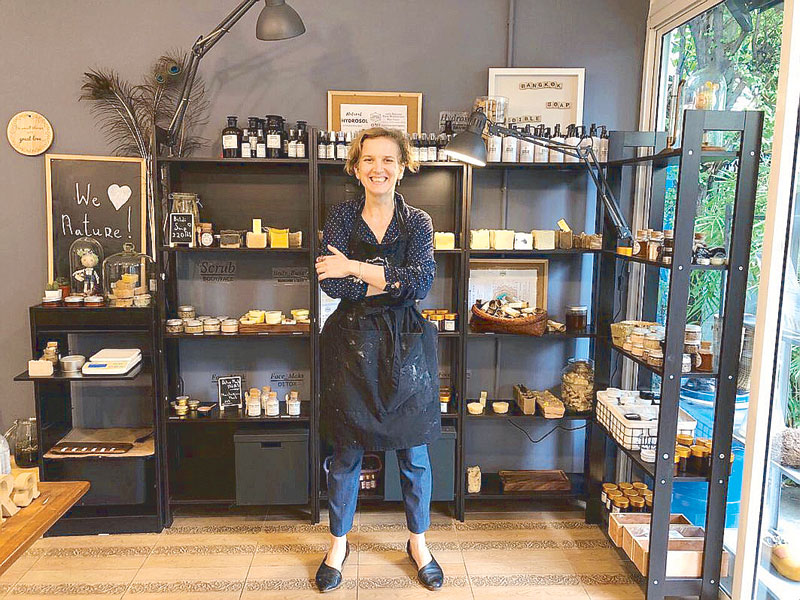 Maria Kalita at her Bangkok Soap Opera shop.
Sühring was our choice stop this visit (I loved Paste and its heirloom Thai cuisine the last time) and I can't recommend Sühring enough. Yes, it's German cuisine but forget your concept of pig knuckles, sausages and beer as this is a refined, delicate, subtly balanced version of German food. Run by twin brothers in a garden house found in a residential neighborhood, the 13-course degustation dinner was out of this world!
Shopping in Bangkok can cover a broad cross section of tastes and preferences. There are high-end malls such as Siam Paragon and Central Embassy, and mid-priced ones such as Terminal 21. And there are specialty stores and little shops that are written about, and ready to be "discovered." This trip, it was the Bangkok Soap Opera, owned and run by Ukrainian Maria Kalita. Her retail philosophy is that quality soaps and related products using the best ingredients don't have to be expensive, and her mission is to pass on her knowledge via workshops. She's also a staunch believer of sustainability and recycling.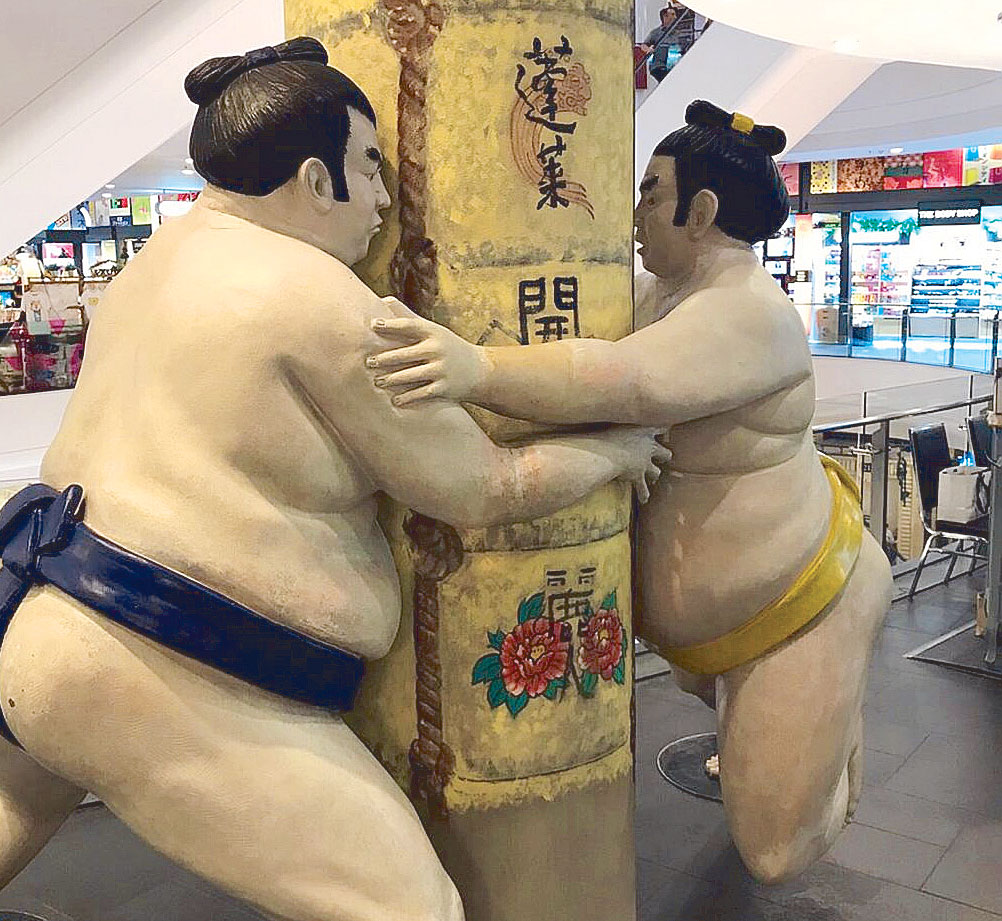 At Terminal 21 Mall, the 'Japan' floor and its pillar.
Getting around Bangkok via the BTS (the Bangkok Mass Transit System, an elevated rail system) is a breeze. It's clean, efficient, safe and dependable with so many foreign tourists can be found taking the train to avoid the traffic below. Whether you're heading to the Chatuchak Weekend Market up North of the city, or any of the other tourist attractions, the BTS is there as a reliable mode of transport. And while I'm certain it's not perfection, it ably satisfies a need, and does so in a way that foreign visitors find suitable.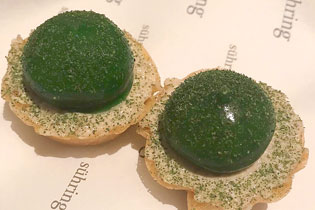 Sühring's Chicken Salad with the flavors of lettuce and greens bursting in your mouth when you bite into the green orb.
And you can see how the ever-changing cityscape is developing. New areas of gentrification and commercial expansion are on the rise, and my big regret lies in how we're running out of excuses in terms of getting our act together, and competing with the likes of Bangkok, Singapore and Kuala Lumpur. I know our children, and our children's children, deserve much better. *