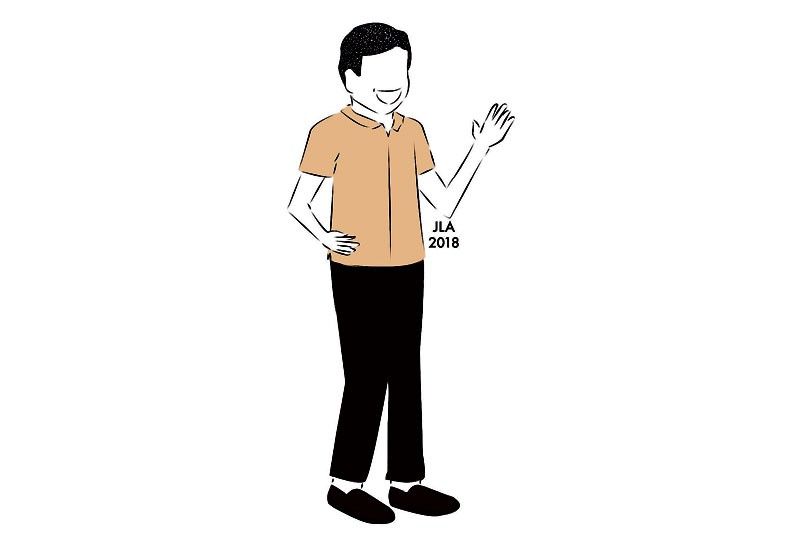 Illustration
by Jaymee L. Amores
This is a story about faith — in God, in human beings, in an institution. And how one precious life was saved. The same life that is celebrated to this day.
My youngest brother Rod earned the moniker "PGH" when he was three years old. In April 1979, he was brought to the Philippine General Hospital (PGH) because he was in severe pain. His alabaster skin was pallid like the ash in our makeshift stove after the firewood was spent. His almond eyes were devoid of expression. His nimble limbs were weakened. His stomach was bloated — that was where his pain was emanating from. He was loquacious but that time he barely talked. His form of communication was through squeals. He was in pain.
Our cousin Bulek was kind enough to drive Rod, accompanied by Nanay and Tatay, to PGH from Gulod. Nanay cracked open her alkansiya, a dried bamboo node where she kept her extra coins, so there would be money for gasoline. Along the way, prayers were mumbled. Hope floated even in the brink of uncertainty. It was summertime, the favorite season of my father, and he knew that everything would be bright and dandy for his youngest son.
Rod was given immediate attention in the hospital. My parents had faith in PGH. They knew that the doctors at the state-owned tertiary hospital were the best and no matter how critical was the condition of Rod, he would be saved.
The two operations done on Rod were successful but Rod's recovery was slow. So slow that he stayed in the ward for almost four months.
According to my mother, Rod's medical case had something to do with his colon. (This prognosis was very much different from the barrio folk belief that he swallowed a coin that caused his stomach to bloat.) She might not understand the medical jargon but her heart understood how Rod was cared for. She remembers the doctors telling her that there were abscesses inside Rod's stomach and they were all taken out.
My mother does not remember the medical term but to this day she remembers how cordial the doctors were. She remembers how the medical team that attended to Rod made her feel. She felt her son was cared for, loved, attended to. The concern of the hospital staff was not only given to Rod, it was also extended to her.
When a few times she needed to cough out money for Rod's medicine to be bought in a pharmacy outside the hospital, a couple of doctors reached for their own pockets so she could buy the medicine. And a "beautiful nurse with expressive eyes" thought her the way to SWA, which, my mother said, was the social welfare arm of the hospital.
Nanay was the one who was always there beside Rod. My father had to be home in Gulod most of the time because he needed to farm for our daily sustenance. My eldest brother Ronnie, 13 then, would also help in tending to his three other brothers at home by going to the lake to fish so we would have food on the table. For a month or two, I was separated from my brothers because, at barely six years old, I had asthma and I needed to be taken care of by my Tita Itang in Putol, a barrio 30 minutes away from Gulod.
Every Wednesday, a group of women from our neighborhood would visit Nanay and Rod in the hospital. These women rented a jeepney to fulfill their devotion to the Virgin of Baclaran Church, which was near PGH (traffic jam was unheard of during that time). Before going home from the church, they passed by the hospital to keep my mother company even for a while. They brought her food and biscuits. A few times, they brought new, thick and sturdy cardboards that became my mother's makeshift bed. My mother, not alien to hardship, did not complain about sleeping on the pavement. She was focused on her son's welfare.
After four months in PGH, Rod was discharged but was not charged with even a single centavo. He was smiling. The lilt in his voice was heard again. He was still pale but a tint was shyly making a presence on his cheeks. His hair with natural blonde streaks had regained its sheen. His eyes glowed. He was filled with life.
As my mother's way of thanking God for sparing the life of her youngest son, she went around the barrio asking for money so she could raise a little amount for the church and have a Mass offered in thanksgiving.
When Rod was well enough to play around the neighborhood, a lot of people called him PGH. He just smiled, as if being called such was a badge of honor. In fact, it was. Since then, Rod has become the family's "PGH."
Almost 40 years later, Rod is now a sprightly public school teacher. The two long lines of scars on his right abdomen area are proofs of answered prayers. They are proofs of faith — in God, in a community, in doctors, in PGH.
(For your new beginnings, e-mail me at bumbaki@yahoo.com. I'm also on Twitter @bum_tenorio and Instagram @bumtenorio. Have a blessed Sunday!)