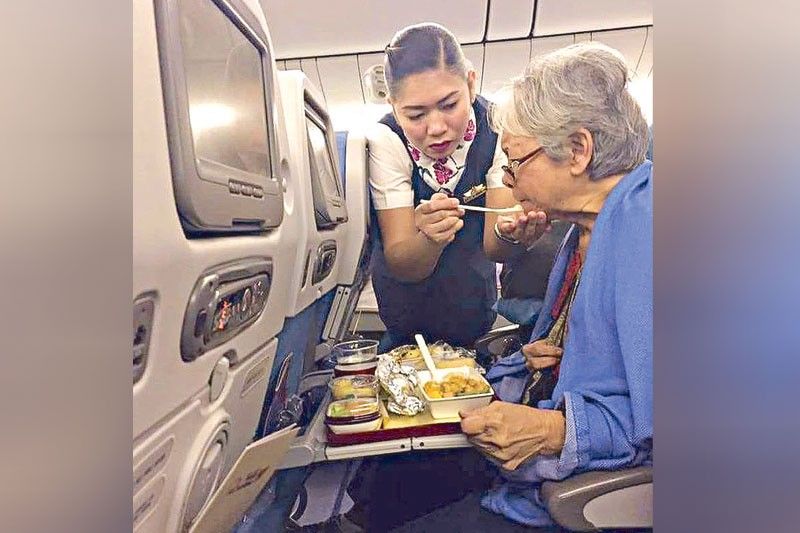 PAL flight attendant Chet Encarnacion attends to an elderly passenger during a Manila-Los Angeles flight.
Photo from Rina Sheryl Estabillo-Dajao's Facebook
'Senior moments' are 'special moments' at PAL
MANILA, Philippines — The beauty of the Philippines is not only in its natural resources. It also shines through the hearts of people who care for others — especially for Senior Citizens.
In celebration of Grandparents' Day today, the four-star national carrier Philippine Airlines will unveil a package of products and services, some existing and some new, geared towards ensuring that its Senior Citizen passengers will have a comfortable and stress-free travel experience.
The special privileges include 20-percent discount and VAT exemption for domestic flights; online booking and check-in; special meals, including pre-cut meals; curbside drop off and pick up points.
They will also enjoy priority check-in and immigration lanes; courtesy waiting areas and seats; special wheelchair assistance from departure to arrival; priority boarding; wheelchair-friendly airport terminal transfer buses; and courtesy area for baggage retrieval.
PAL chief customer experience officer Jessica Abaya says, "PAL values all our passengers, especially those who need special assistance, our Senior Citizens and PWDs. Their needs are our priority.
We want to make their travel experience comfortable and delightful. We continually stress to our front liners the importance of bringing to life PAL's service culture of Buong Pusong Alaga, Walang Katulad na Pag-aruga."
Abaya says its Senior Citizen-passengers can now avail themselves of special meals to suit their dietary requirements with the option for soft-diet or pre-cut meals. She advises passengers to declare their meal requirements and other requests for assistance during booking/reservation or at least 48 hours before travel.
Curbside drop off and pick up points, priority check-in lanes, courtesy areas and seats, priority boarding lanes can be seen easily as PAL set up easy-to-spot signage. At the baggage claim, specific areas are dedicated to Senior Citizens for the convenient retrieval of their luggage.
Abaya adds, "Our direct flights to the US, London and Australia are convenient and popular among our Senior Citizen passengers. They also appreciate the special care our cabin crew provide them during their flight, assisting them to go to the lavatory, stow their bags, help them with forms, etc."
Senior Citizens can avail themselves of a 20-percent discount for ticket purchases of domestic flights in line with the Senior Citizen Law.
On Grandparents' Day, PAL partners with Bo's Coffee at the NAIA Terminal 3 and Mactan Cebu to provide Senior Citizens free chocolate chip cookie for every coffee bought.
"As the country's 4-Star national carrier, we provide our travellers a heartwarming experience to remember. We bring comfort and convenience to those who need them most," Abaya says. *
(For more information on these offerings, passengers may log on to www.philippineairlines.com and visit "special passenger handling.")