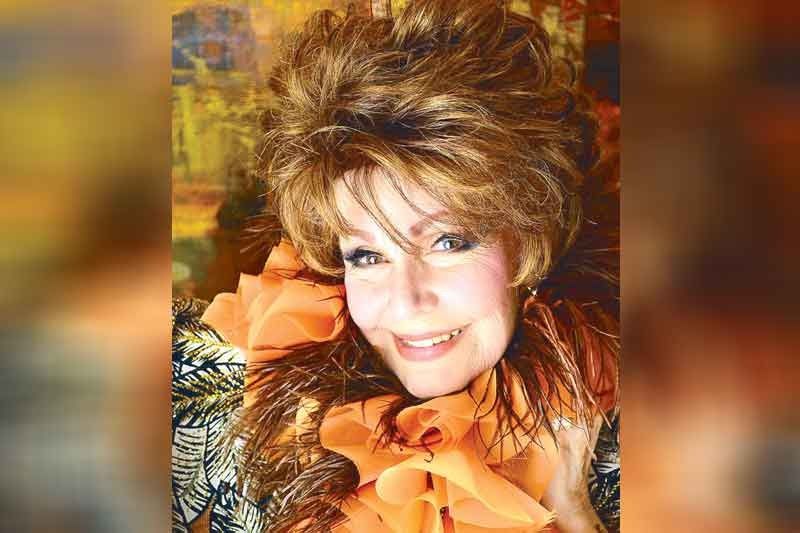 'Asia's Queen of Songs' Pilita Corrales in a ruffled cape by Fanny Serrano.
Pilita Corrales: Lessons on being forever young
With Pilita Corrales, what you see is what you get. The woman does not put on any airs. Today, she is chatting animatedly as her dear friend and long time makeup artist Fanny "TF" Serrano works his cosmetic artistry on her for this Uptown/Downtown shoot.
TF is a master of visual transformations with a reputation for being able to create aesthetic miracles on even the homeliest of women. But in Corrales' case, TF merely enhances the fine facial structure that the Asia's Queen of Songs has been born with.
It is amazing how this grandmother of seven can exude so much youth and vibrancy. So infectious is Corrales' joie de vivre that within minutes, everyone in the room, from designers to household staff, is laughing and chatting with her as though they had known each other for decades. So, what is the secret to Corrales' evergreen appeal?
Loving what you do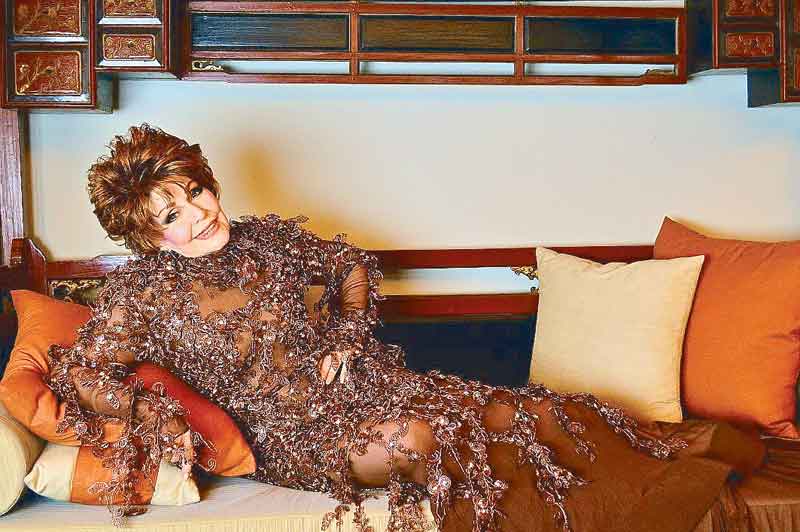 Rust-colored gown with vine and leaf cut-outs by Fanny Serrano.
Corrales has been entertaining audiences both in the Philippines and abroad since 1950s. "I love what I do," she shares. "Entertaining people is more than just a job for me. If I go one week without singing or acting, I start to get restless. I am lucky because whereas some people only know how to act and others only know how to sing, I am able to do both. And so more avenues are open to me and I am able to reach more people, young or old doing both crafts. It is important to have a purpose and have something to look forward to. In my case, much of what I look forward to is my work."
Connecting with people
Whether it is with her small circle of friends (she counts actresses Gloria Romero and Susan Roces among her industry intimates) or with her fans, Corrales tries to share who she is and make people feel comfortable around her. "There have been times when people had made assumptions about me. Take for example those times when I am singing and I see couples in the audience. Now, you know that many of my gowns have long slits that show off my legs. Sometimes, I notice that the wives are uncomfortable. They assume that their husbands would give me undue attention. Well, these are the women that I go out of my way to engage with during the show. By the end of the evening, these women are all smiles and are happy to have been with me," she reflects.
Stay relevant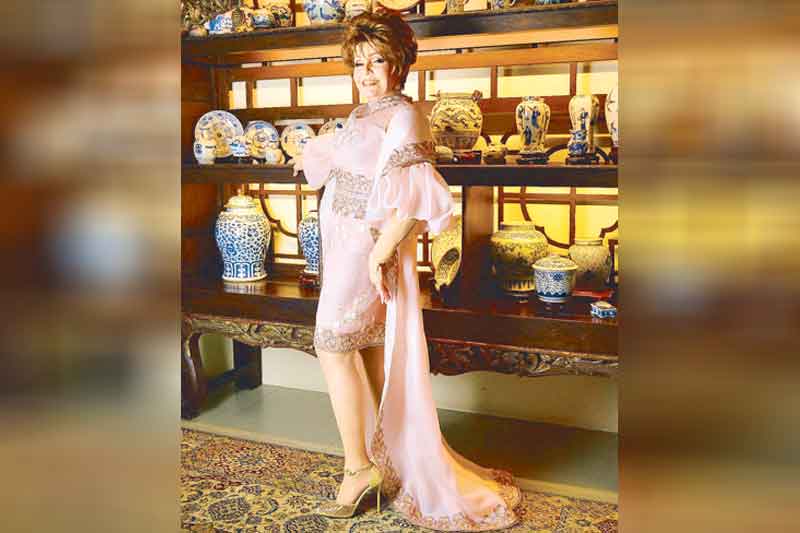 Soft pink dress and opera coat with floral appliqué detail by Rem Divino.
The only thing that is permanent in life is change and if one is to stay relevant, one has to adapt with the changing of the times. Pilita is no stranger to this.
"How people interact with each other is different now than before, and I am not talking just about the way social media has taken over in this digital age. Even during shows, there is a clear departure from how things were done in the past. Before, you could just stand on stage, sing your songs and that was all that was expected of you. Not any more. Audience members want to be engaged. They want to be part of the show because I think deep inside, everyone wants to be on the stage. I totally understand this and I happily indulge them. Also, one has to learn to adjust to the various demands of an audience. If my audience are the seniors, then I have to dig deep into my repertoire of classics. If I am singing to an audience with a wider age demographic, I have to add contemporary songs. So in the middle of a classic, I segue into Despacito! The crowd loves this!" she shares.
Age is just a number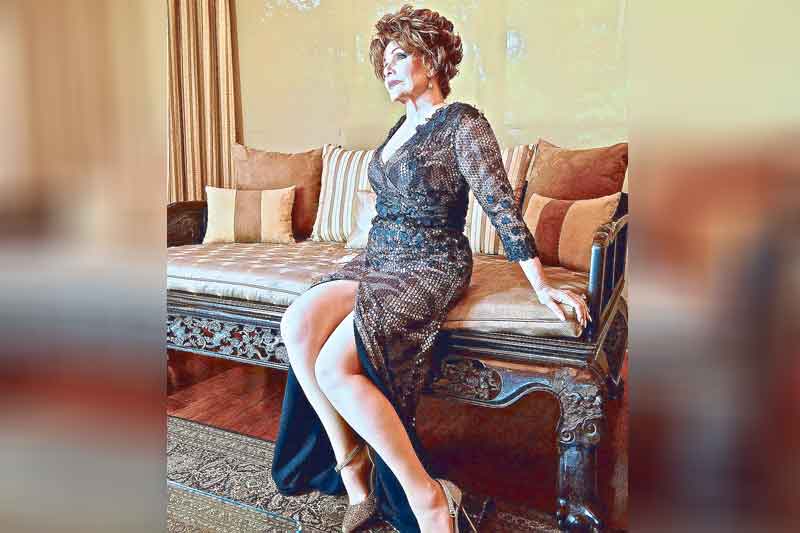 Black and purple sequined gown with appliqué by Rem Divino.
"People love to ask how old someone is. Well, I just tell them that one is as old as one feels and as far as I am concerned, I am 42 years old because that is how old I feel!" Corrales laughs. "I have no interest in dressing up like a teenybopper. But neither am I going to dress up frumpily because of the perception that seniors should dress this way. I express myself through my clothes."
Be grateful
For her final, most poignant advice to staying youthful, she shares, "Have an attitude of gratitude. I have gone through a lot in my life. But I have been able to get through many hurdles because I have a resilient character fueled by the fact that I know I have a lot to be thankful for. I have my lovely family and close friends. I have been given the opportunity to make people happy. This is a life to be grateful for."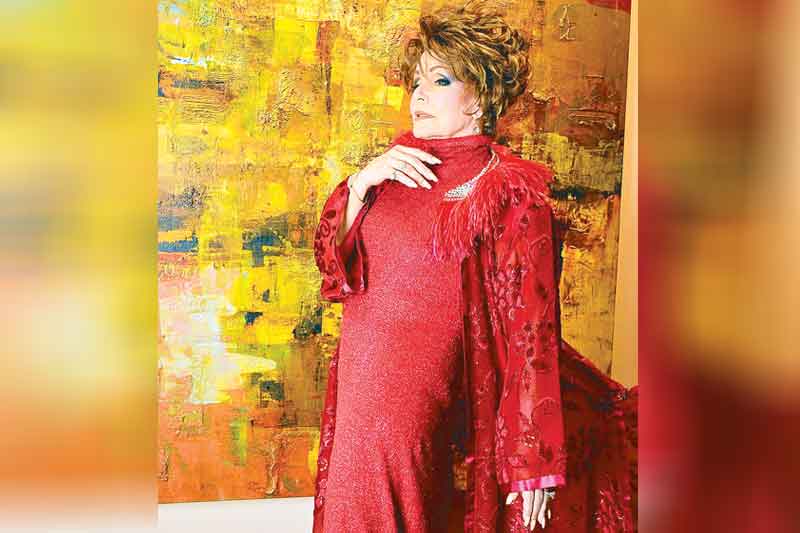 Dramatic red gown with matching feathered opera coat by Fanny Serrano.