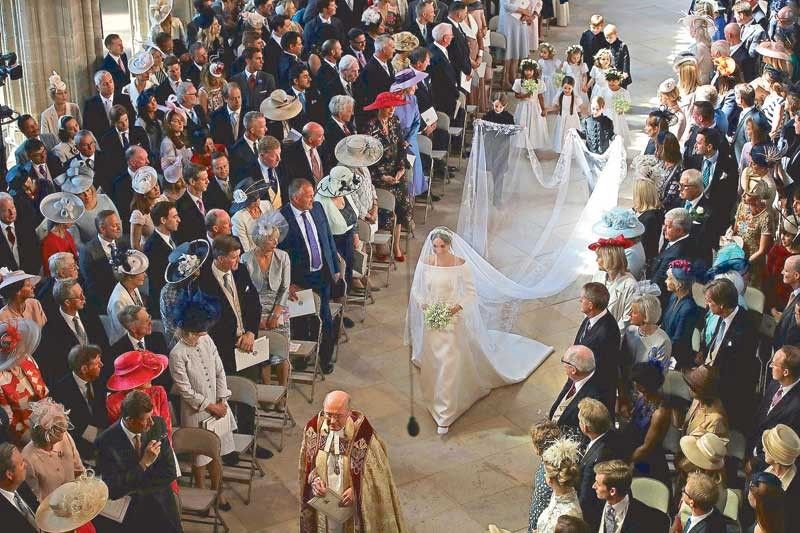 Meghan Markle walks down the aisle of St. George's Chapel at Windsor Castle.
AFP
'I believe that her wedding gown will signal a return to minimalism and subtle elegance.' — Rajo Laurel
Millions of people around the world were glued to their screens as Suits star Meghan Markle walked down the aisle to marry Prince Harry.
Markle wore a boat-neckline wedding gown designed by UK couturier Clare Waight Keller of Givenchy. It is an elegant creation of pure white silk, which had a 16-ft.-long silk tulle veil. Workers reportedly had to wash their hands every half hour to keep the tulle and threads of the delicate veil in pristine condition.
Uptown/Downtown reached out to several of Manila's top designers to get their insights on the new Duchess of Sussex's gown and to find out how this choice of ensemble would influence the choices of brides for 2018 and 2019.
Lulu Tan-Gan
Meghan will definitely set not just a trend but a statement. Her gown is a good example of a wedding gown meant for church weddings. Something more relaxed, revealing or red carpet glam, is more suitable for the reception. For skin-revealing gowns, they are best for resort weddings.
Jojie Lloren
I really hope it created a lot of impact, so that simple wedding dresses will become a more popular choice for brides.
JC Buendia
Meghan chose the right style of wedding gown. It was refreshingly simple and was meant not to outdo the gown the Duchess of Cambridge wore seven years ago.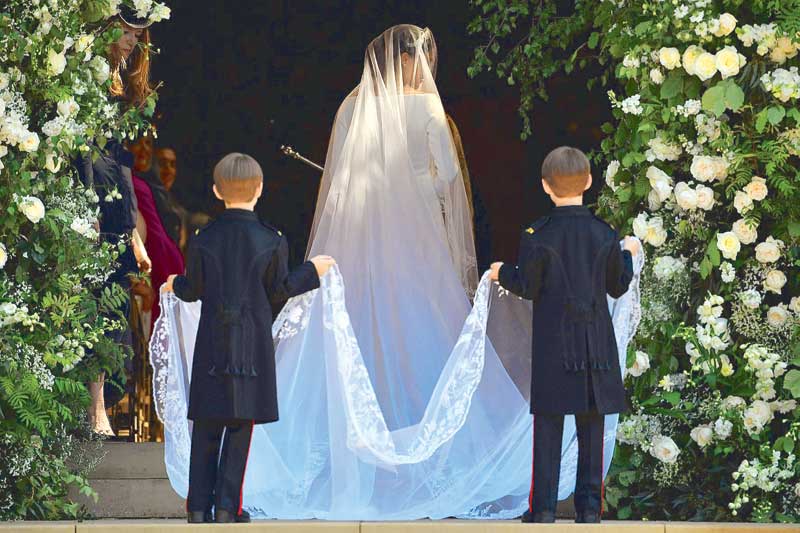 Meghan Markle's 16-ft.-long silk tulle veil, held by pageboys Brian and John Mulroney, is adorned with embroidered flowers representing 53 countries in the British Commonwealth. AFP
Trained fashion eyes would know that behind the simplicity of the gown were skilled couture hands. A gown in pure silk without boning and cut on the bias is most difficult to sew.
I see a renaissance, simple and feminine lines (think Hubert de Givenchy, Inno Sotto and Mike de la Rosa), which in the past decade was eclipsed by voluminous and ornate wedding gowns.
Luis 'Chito' de los Santos
Meghan Markle's gown was like a new flavor to a classic recipe. I liked the no-frills and no-frou frou style. I hope women all over the world, especially Filipinas, take this as an influence and an inspiration for their dream wedding. It takes a confident woman to wear a bridal gown like Meghan's — so simple yet so elegant.
Rem Divino
The gown was evocative of the Duchess of Sussex's personal style; that of an assured woman who knows and understands what she wants and who she is. In fashion sense, the outfit has the DNA of bygone couture in the tradition of Balenciaga. It is of a cut silhouette that relies on precision cutting technique and execution lost in today's designers' mettle of slapping lace and beads, rather than using intelligence and craftsmanship.
Rajo Laurel
I found the dress very tasteful and appropriate. At first glance, I was awed, underwhelmed with its simplicity and I thought that it was loose on certain areas. However, the more I looked and stared at her wedding gown the more I found it beautiful and elegant. I particularly loved the veil. I thought that this was the piece de resistance! I loved the meaning of each of the floral embroidery on the base of the veil. I loved how it cascaded and provided just the right amount of drama as she entered the church.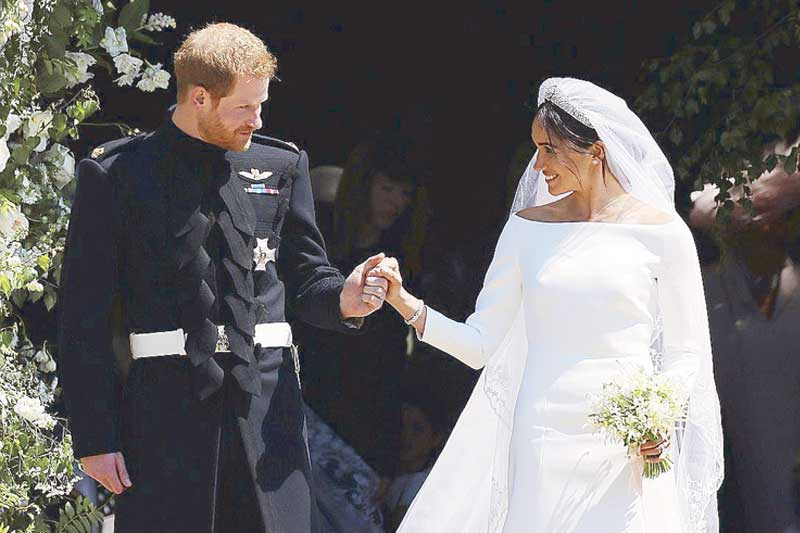 Prince Harry and Meghan Markle, Duke and Duchess of Sussex. AP
I believe that her wedding gown will signal a return to minimalism and subtle elegance. This mindset will definitely make an impact on future brides. I, for one, have always been a firm believer in "less is more" so this is truly a welcome direction in bridal design.
Patis Tesoro
It's nothing new, the preference for stark simplicity. It suited the bride and made her stand out. Designer is House of Givenchy, which is an old designer. Influence? Maybe brides will choose this but you really have to have the finest material. Until the next flavor of the month.
Ronaldo Arnaldo
In my opinion, Meghan chose to wear a very simple yet classic bridal gown to erase the public's notion that a royal wedding is all about pomp and pageantry, but in essence, a celebration of something pure, which is love! The wedding dress itself is a reflection of this purity. That's why she opted for a very minimalist creation from the house of one of the most renowned purist designers, Givenchy. The wedding ensemble was conceptualized in absolute good taste. From the choice of silk fabric, the bateau neckline, the three-quarter sleeves and the slim silhouette all complement the svelte figure of the bride. And with the long and delicate floral embroidered silk tulle veil, it's perfect!
Only a bride as secure and confident as Meghan would prefer to wear a sleek but tasteful style for a grand wedding. She knows that her choice will be history and that if you look at her wedding pictures 50 years from now, they will be just as beautiful as they are today. Maturity in taste dictates that the fairy-tale princess is just for children. The style will have a tremendous impact on the global bridal trend. However, given the Filipina bride's penchant for princess or Cinderella type of wedding gowns, I don't think Meghan's style would be a hit locally. But for a very discerning few who are in the same taste wavelength, let me remind them that the style may look simple but it would require the skills and technique of a master couturier! A wedding gown devoid of embellishments should fit perfectly and that seams should lie flat on the figure. A toile (trial piece) is a must before the actual garment. Any shortcut would result in an ill-fitted poor version. It is actually easy to do a fully-embellished gown for it hides all the imperfections.