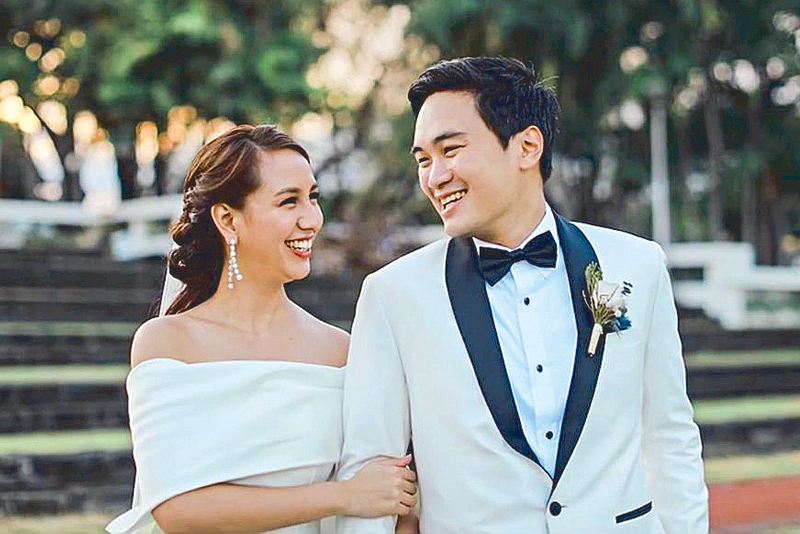 The happy newlyweds Patricia and Stevie Uy.
When their firstborn son Stevie was finally ready to propose marriage to the girl of his dreams, Patch, the excitement of my dear friends Martha and Nori Uy could not be contained as they have been praying for this moment for years.
Martha fondly recalls the day in 2011 when Stevie said he wanted them to meet someone. "This is serious," Martha told her husband Nori. "Because nobody introduces anybody to the family unless he is serious."
Patricia "Patch" Feliciano lost her father when she was 16 years old. She is an obedient child and a good student, who persisted in her studies and graduated magna cum laude. Upon hearing this, Martha was enthusiastic in meeting Patch. "What a jewel! I would very much like to meet her, Stevie."
When Nori and Martha first met Patch during a dinner, they were so enamored by her from the very first day. "Keep her. Keep her, Guapo," said Martha to her son. Even Stevie's siblings Sarah and John were likewise charmed by their future sister-in-law. "We really admire how Patch is a creative and innovative thinker, so passionate about books, so good with kids and people," said John, who is also Stevie's best buddy.
Patch describes her loving relationship with Stevie as one big adventure. After six years of going steady, Stevie was ready to propose to Patch. Martha and Nori were so excited.
Stevie, together with his brother John, planned an exotic wedding proposal in Anilao, Batangas on a diving trip. The plan was to hide the ring in a conspicuous place about 30 feet under water. As a group, the family would be diving, with Patch supposedly soon discovering one clam had the engagement ring. Unfortunately, this elaborate plan did not push through due to certain circumstances. So, the family had to resort to Plan B.
In June 2017, Martha and Nori had just arrived home from a vacation in the US to visit their only daughter Sarah who is studying there. Subsequently, they called for a dinner at home because they had not seen their two boys and Patch for quite sometime. Also present at the dinner was Patch's amiable mom Amy Feliciano.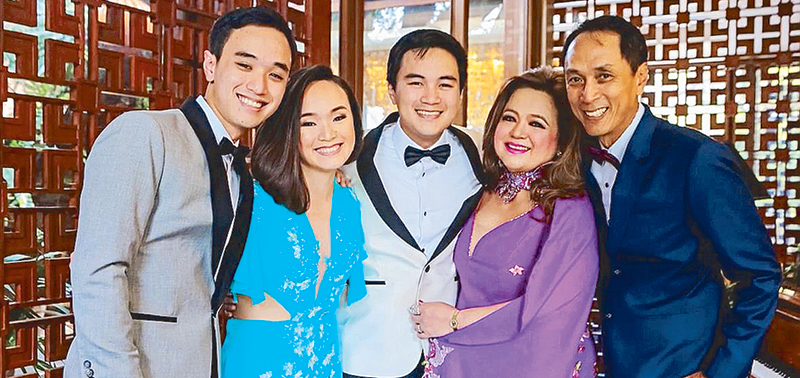 The joyful Uy family: John, Sarah, Stevie, Martha and Nori.
Martha bought Patch several dresses as her pasalubong. As part of the plan, she asked Patch to try all the dresses and wear one to fit their colorful dinner theme. While Patch was trying on the dresses, Nori, Stevie, Martha and Amy distributed amongst themselves small posters that had one word per sheet and a picture of the couple in the background. They lined up around the table and hid the poster behind them.
When Patch and Martha arrived, they sat down at the festive table. Martha blindfolded Patch and dressed her with a flower crown on her head. She also asked Patch to hold a fan in her hand for good measure explaining that it was a Mexican fiesta-style celebration, with Martha saying it was also a game. Eventually, they asked Patch to take off the blindfold. Patch gasped as each member of the family held up a poster that read "Patch, will you marry me?"
"Patch joyfully accepted Stevie's family's proposal. After saying yes, she laughingly asked, 'So, this is the game? I like this game!' The couple kissed, then hugged each other for a very long time. Everyone was deliriously happy," recalls John, who was also Stevie's Best Man.
On a dewy afternoon of March 8, in a lovely garden wedding at the Manila Polo Club, in the presence of family and friends, Stevie declared his promise of love to God to keep his bride forever. Patch lovingly responded, "My dearest Stevie, the best thing that I will ever do in my life is to love you. I promise to choose you always, to celebrate and appreciate you for who you are and for who God is molding you to be. I promise to respect and honor you. To support and encourage you to reach for the dreams God has called you to fulfill. In all seasons, I promise to stand by you and pray for you in love. When times are tough, I promise to stay. I promise to forgive and to follow God over my selfishness. I promise to open and seal every day with a kiss in good times and especially in difficult times. Whatever may come, my confidence is in God's faithfulness in our lives."
Everyone at the wedding was so happy and felt the overflowing love in the beautifully orchestrated wedding celebration — from the verdant ceiling tops of the ballroom and the gorgeous floral-themed tables, all the way to the most joyful dance floor, where the guests enjoyed the music of the band and the energy of dancing! The couple was so thankful and appreciative of everyone who made their special day a great one.
At this point, Stevie raised his glass to thank his mother-in-law Amy. "I would like to assure your family that I will take care of your daughter and put her needs above mine. I love her. I would like to thank my family and everyone else, the crew and staff, photographers caterers and videographers, and all those who made this wedding happen." With a gentle smile he said, "Thank you, my beautiful wife Patch, for loving me and supporting me, for being right here by my side."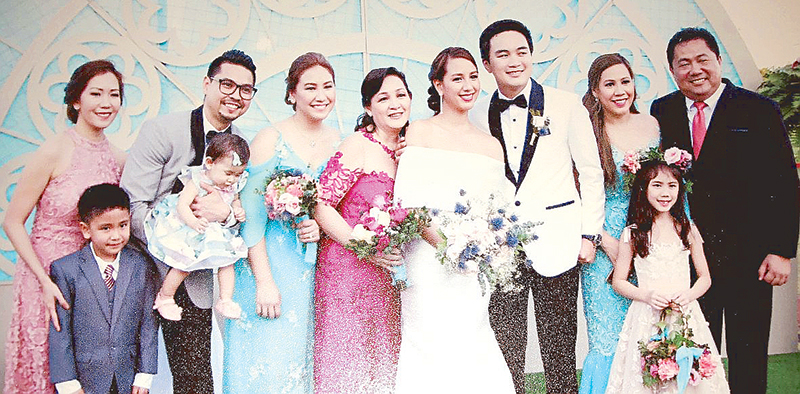 The newlyweds with (from left) Malou, Rohan, Elise and Gen Gerard Feliciano, Jennifer Feliciano-Hern, Amy Feliciano and Angelica, Ysabella and John Gregory Palanca.
Patch was likewise profuse in her thanks. She said, "I want to thank everyone here who came out especially those who traveled all the way to be with us today. Thank you for giving us your time. I would like to thank my family, my mom, my dad who is in heaven, and my older siblings, all of whom didn't marry until I graduated from college because they put me through it. I wouldn't be where I am today if it weren't for you. Thank you very much for your sacrifices for me.
"I would like to thank Stevie's family for being so kind and generous to me. I am really blessed to have met Stevie and his family. None of this would have happened if not for sisters Ina and Tanya Manalaysay who introduced Stevie and me to each other. They actually set us up. Seriously, God used you both to be his instruments to start this beautiful love story, which God had written even before we were born. Thank you for being a part of our lives — our friends, our entourage. Our ninongs and ninangs, thank you for agreeing to be our counselors and advisers. We look forward to spending more time with you as the years go by. And last but not the least, we would like to thank and acknowledge God for without him, there would be no us, there wouldn't be a marriage. And so we would like to give all the glory and honor back to Him."
Best wishes and congratulations, dear Patch and Stevie! May God be with you always. *
(Would love to hear from you at miladayjewels@yahoo.com.)