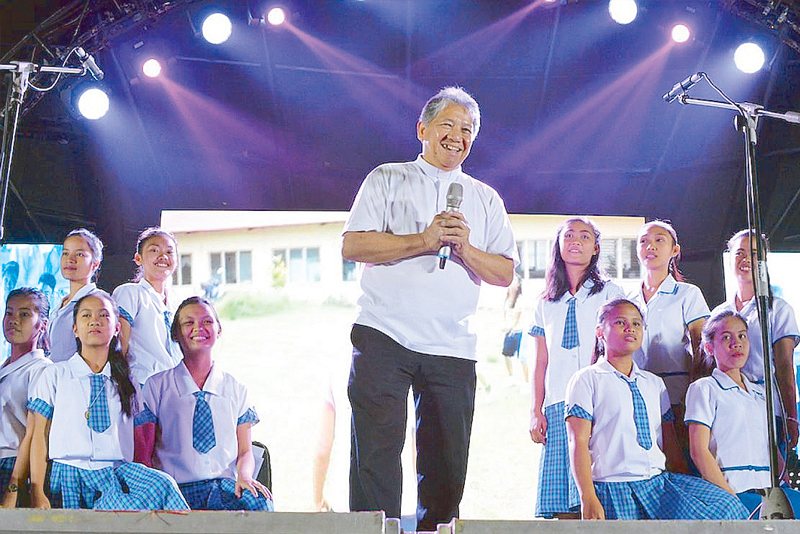 Fr. Gerard Deveza sings I Will Be Here with the students of the Divine Healer Academy of Sorsogon Ana Grace Guab, Ela Diaz, Mae Franze Jimena, Rizza Mae and Cheska Nicomedes, Carinna Ebrada, Hanna Doctor and Christine Joy Tobes, Jennylyn Docot and Jessica Gordola. Photos by Vincent Soliven
It all started with a phone call from singer Ding Mercado, who is my dear friend and co-servant at the Healing Servants Foundation. "Michelle, I have been seriously thinking of doing a sort of solo concert, which I have never done before. And I would like to do it to benefit the students of our mission school, the Divine Healer Academy of Sorsogon. I have a repertoire featuring love duets, OPM medley, dance hits and old favorites. What do you think about that?" he asked.
Upon hearing it for the first time, I enthusiastically agreed with all his show ideas. Thrilled and touched by his generosity and thoughtfulness, I said, "Ding, you must present this to our founder, Fr. Gerard Deveza, at our next servants meeting." So, he titled it "A Voice for the Children," which our members and Fr. Gerard himself gratefully approved of since the school children are the beneficiaries.
In early February, Ding flew to Sorsogon to invite some of the most talented students of the Divine Healer Academy to perform as his special guests. He stayed there for days coaching the students through his song choices, adding in his special choreography and carefully guiding them to a graceful execution.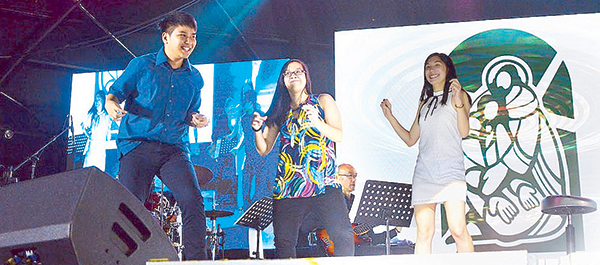 Ateneo Code dancers (from left) Harold Lim, Angela Garcia, Sam Sy
On March 3, we began our event as we always do, with a thanksgiving Mass. Fr. Gerard gave thanks to all those who have supported our mission school for the past 15 years in both big and small ways. "Our hearts are full and gratitude overflows. So, we hope you enjoy this special night prepared especially for you, our beloved friends and benefactors as our special way of saying thank you to all of you."
At 8 p.m., it was time for the show to start at the Samsung Hall of SM Aura in Taguig City. The Divine Healer Academy of Sorsogon students opened the show with a prayerful song called Il Signore, which left the audience visibly touched, some even shed tears. Fr. Gerard, who sang I Will Be Here with the children, drew so much applause from the start. A charming Pipit song-and-dance medley performance by the students drew smiling approval from the audience.
Ding Mercado welcomed guests with the song I Only Have Eyes For You followed by Pure Imagination. The talented performer dazzled with so much energy, wit and charm while performing on stage. He performed with no intermission throughout the night and left the audience loving him more.
Some highlights of his show included a salute to OPM composers as Ding performed Tuwing Umuulan, Ikaw and Kahit Na; performance of his '70s hit single See You There and a Nat King Cole medley. My favorite parts of the concert were those dancing hit songs You To Me Are Everything and the Rick Astley medley, which included Together Forever performed with the Ateneo Code dancers Maxi Tomelden, Angela Garcia, Harold Lim, Renzo Herbosa, Sam Sy, Vanessa Sy and Joji Ravina Lourence. This part made the audience get up and dance! His solo number Kiss by Tom Jones was unforgettable because it prompted my Assumption classmate Yvonne Policarpio to go up on stage to reveal dance moves we never thought she had!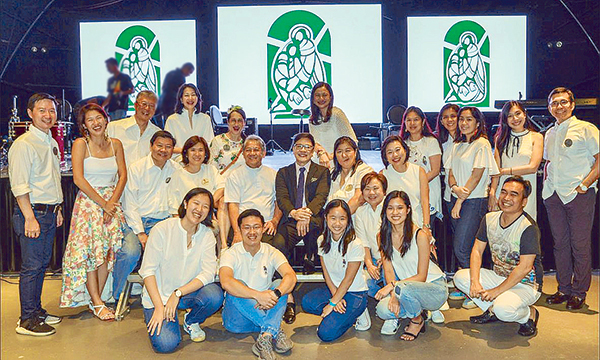 Healing Servants Foundation members (first row, from left) Anissa Tang, Wilrich Lim, Kelly and Rotina Lim, Vanessa Sy and Büm Tenorio Jr; (second row, from left) Anthony and Tasha Sy, Fr. Gerard Deveza, Ding Mercado, Lucy Lee and Joy Sy; (third row, from left) Wilbert Lim, Lilian, Edwin and Arlene Tang, this writer, Yvonne Romualdez, Christine Dayrit, Tanya and Nikka Carlos, Sam Sy and Benny Soliven.
The love duets Ding performed with singers Nica and Kharen drew laughter and surprise. Sweet Caroline and succeeding songs had the audience's heads and hands swaying to the beat because the band that played for Ding that night was excellent: musical director Jay Agustin, second keyboardist Jem Floirendo, guitarist Noel Santiago, bass guitarist Joji Magadia, drummer Lawrence Nolan and percussionist Otep Concepcion.
The rendition of What A Wonderful World by Fr. Gerard and the students, and Isang Mundo Isang Awit with Ding were a fitting finale.
Everyone was so happy at the end of the show. The audience did not stand and simply rush out. We all felt like we had just seen a feel-good movie and it was such a happy night! We are still receiving happy feedback till this very day.
Thank you, Ding, for an exuberant evening that will allow the students of the Divine Healer Academy of Sorsogon to continue their schooling.
(Would love to hear from you at miladayjewels@yahoo.com.)