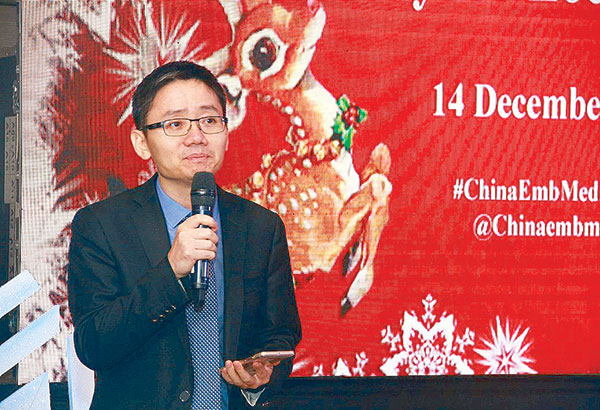 Chinese Embassy Deputy Chief of Mission Tan Qingsheng welcoming media friends.
Jugglers, acrobats at Chinese Embassy media party
(The Philippine Star) - January 7, 2018 - 12:00am
The embassy of the People's Republic of China in Manila hosted a party at the Isabella Ballroom of Makati Shangri-La to express gratitude to members of the local media.
Leading the festivities was Deputy Chief of Mission and Political Counselor Tan Qingsheng. Guests enjoyed the lavish feast and the entertainment provided by jugglers and acrobats, whose impressive balancing skills wowed the crowd.
The occasion also served as an opportunity to award the winners of the photography contest with the theme "China and ASEAN through my lens" that was launched earlier by the Chinese Embassy. A photo exhibit mounted at the ballroom displayed the works of the 18 winners with the grand prize going to Lemjay Lucas whose wife Cecile accepted the award on his behalf.
Counselor Qingsheng thanked all the attendees on behalf of his country. In his remarks, he highlighted the importance of the relations between China and the Philippines and noted the significant achievements in the relations between the two nations.
He also praised the administration of President Rodrigo Duterte for forging ahead with its "Build, Build, Build" strategy and for "pursuing social-economic progress, improving the people's welfare and securing an excellent ASEAN chairmanship."
The Chinese diplomat also reiterated China's firm support for the fight against illegal drugs and terrorism, adding that his government had provided drug-detecting and testing equipment as well as training programs for the Philippine National Police, the National Bureau of Investigation and the Philippine Drug Enforcement Agency.
For his part, Presidential Communications Operations Office Undersecretary for Operations and Legal Affairs Marvin Gatpayat emphasized the importance of advancing practical cooperation between the official media agencies of China and the Philippines to further strengthen the mutual understanding between the two nations and their people. Photos by Ramon Joseph J. Ruiz