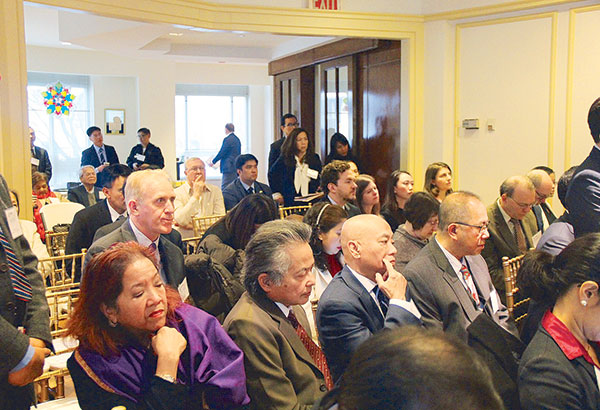 Guests during the year-end briefing at the Philippine Embassy in the US.
2017 Philippines in review: Fostering stronger ties
(The Philippine Star) - December 31, 2017 - 12:00am
A diverse audience composed of US government officials, representatives from the business sector, members of the Filipino community and the press attended the briefing we conducted at the Romulo Hall of the Philippine Embassy in Washington, DC.
Titled "2017 Philippines in Review," we provided a summary of developments in the Philippines during the first full year of the administration of President Rodrigo Duterte, with the main focus being the positive reforms and trends in the economy, which has surpassed six percent for the past nine quarters.
We also highlighted the administration's massive infrastructure project, which is projected to spur growth in many areas outside of Metro Manila especially with the construction and rehabilitation of roads, bridges and railways that can improve mobility and connectivity all over the country.
We also briefed the audience on the Philippines' successful chairmanship of the 50th anniversary of the ASEAN and its hosting of the Leaders' Summit, which is historic since it marked the first time that the leaders of the 10 ASEAN member-nations and the 10 dialogue partners (that include the US, Australia, China, the European Union, India, Japan, New Zealand and the Republic of Korea) as well as the UN Secretary General, gathered for the ASEAN Summit that emphasized the importance of a peaceful and stable Southeast Asia to the economies in the region and the United States.
We also talked about the bilateral and strategic cooperation between the Philippines and the US, noting that the partnership on political and security issues are as robust as the economic relationship. For 2018, the primary focus of bilateral cooperation will be counterterrorism and counter-narcotics, since it is in the interest of both countries to eliminate the threats posed by terrorism and the illegal drugs trade.
Considering that economic growth and prosperity are underpinned by political stability, the Philippines will be working with allies and partners to address regional security threats and challenges those involving the South China Sea and North Korea.
In terms of people-to-people relationships, we echoed the hope of Foreign Affairs Secretary Alan Peter Cayetano for members of the Filipino diaspora to view themselves as active partners for change in the Philippines and in their host communities in the US, to contribute to the positive changes that we all hope to achieve, consistent with the Filipino spirit of bayanihan and pakikipagkapwa-tao.
We ended our briefing by giving our assurance that the Philippine Embassy in Washington, DC and the consulates general throughout the US are committed to working closely with all partners and stakeholders in fostering stronger economic, political and people-to-people ties between the Philippines and the United States.