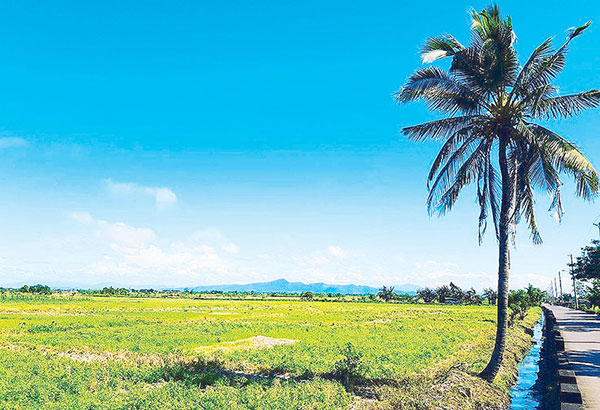 One Sunday in Gulod. Photo by Büm Tenorio Jr.
(The Philippine Star) - December 16, 2017 - 4:00pm
The ability of a man to recognize and remember good deeds done to him is called gratitude. To be grateful is to have a happy heart.
Here is my list of what I am most grateful for.
1. I'm grateful for the chance to go home every weekend, to savor the bucolic appeal of my barrio, to bask in its simplicity, to celebrate childhood memories. Gulod is my muse. When the city overwhelms me, Gulod provides me the balm to be insulated, to go back to my core, to get my bearing back. The city is mesmerizing but I don't get lost in its labyrinth because I know where I came from. I always celebrate the in me because my heart and soul, despite the many trimmings and trappings the city provides me, are proudly made and molded in Gulod.
2. I'm grateful to see kindness in almost every human being I encounter. There are bad people in the world. But the fact remains that there are also good people. In my own tally board, there are far more good ones than the bad.
For example, when American businessman Christian Mark Jacobs, who now lives happily with his beloved Francis Libiran in Makati, walked past 23 homeless people, mostly children, sleeping in a row on a sidewalk near where he stays, it did not take a heartbeat for him to decide to form Bags of Hope for Christmas. Christian does not have the delusion that he can change the world, that he is far better than others, but in his heart he wants to start something that will have a value, lasting or momentarily.
Christian and his friend Rina Neoh have decided to rally their friends and other people to be Santa Clauses this Christmas by donating non-perishable goods to be distributed to some of the estimated 3.1 million homeless living in Metro Manila. These donations will be packed in Bags of Hope. It is my hope that Bags of Hope will become an institution in the future. The world needs more kind people like Christian and Rina. And there are many kind people in our midst; some of them are just waiting for the opportunity to help. (Bags of Hope can be reached at 0917-6730315.)
Kindness is its own reward. And to quote the FB status of my brother Rod: "Kindness is an investment. Good karma is the return."
3. I'm grateful to celebrate well-meaning friendships. Man is a social being. He is expected to collaborate with others. In the process of collaboration, he concomitantly gains happiness from other's company and adds to the joy of others, too. One simply cannot hack it alone. One needs a friend to make it through.
Christmas is the season for reunions. Recently, I bonded with my UPLB college friends for lunch, that, to many, extended to dinner, that almost extended to midnight snacks. That's the beauty of UPLB Com Arts Soc friendship — we gather together and ruminate on the past as if the past is just a thing of yesterday. We draw our strength from the past, those days when all we had was a dream. The past is our compass to navigate to what we do now, to what is important to us now, to what we love now — and what we don't love. Come to think of it, every year in our reunion, we talk of the same things that transpired in the past. The past is important to celebrating friendships because without it, there is no friendship to talk about.
4. I'm grateful to mingle with people who have genuine empathy. Compassion is not very common lately. But a heart that understands is what we need now. Let us be conscious that not all are merry this Christmas. There are people who are finding the strength to weather the season. Let's cheer them up. Perhaps invite a friend who is alone this season — invite him or her to our home.
Even after the Christmas season, empathy should be observed at any given time. Everybody is going through something. We just need to have a kind and understanding heart.
5. I'm grateful for my family. If and when my world turns its back on me, I am confident I have my family to give their world to me. I celebrate my family while the moment still matters and while the time still counts. My late father taught us that the greatest legacy is always the family. "Be there for each other. Love each other. Support one another." I always hear my father. And for that I am grateful.
6. I'm grateful for my work. I'm blessed that the people I work with have become my friends. It is important to laugh while we do the grind of closing the pages. We laugh a lot — in between deadlines, in between writing, in between editing, in between everything.
I'm grateful for my work because it has helped me define my conviction. Many of the most beautiful places in the world have been presented to me because of my job. My job is a badge of honor. I guard it with my life.
7. I'm grateful for the opportunity to love unconditionally. When it is unconditional, it does not hurt. The heart is just a repository of love. It keeps on giving.
8. I'm grateful God woke me up today. For that, I have a happy heart.
(For your new beginnings, e-mail me at bumbaki@yahoo.com. I'm also on Twitter @bum_tenorio and Instagram @bumtenorio. Have a blessed Sunday!)