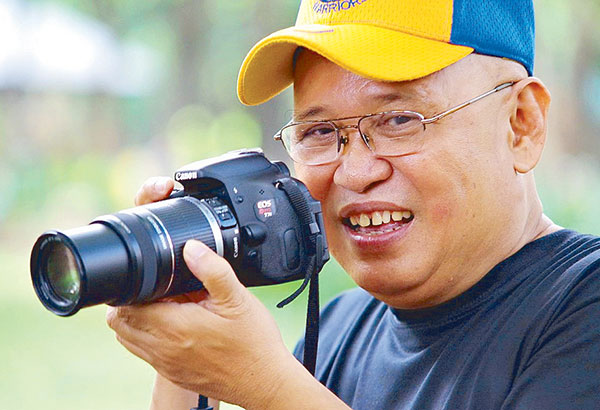 (The Philippine Star) - December 2, 2017 - 4:00pm
When I want the Peter Pan in me to resurface, all I need to do is think of UP Los Baños, my alma mater, my second home. It was in the university, located at the foot of Mt. Makiling, that many of my happiest and most beautiful memories were nurtured and nourished. These memories I chase every now and then. I smile at the sight of my 16-year-old self frolicking in the campus every time I glance at my juvenile self in my mind's eye.
To most of its alumni, UPLB is a happy pill more potent than any anti-depressant drug. The campus is alive. And we consciously keep it alive in our hearts.
One person who keeps a tab of everything UPLB is Dr. Chito Madamba. With the shutter of his mind and the lens of his heart, he chases moments that take place in the campus, captures them using his camera. The result of his "trigger-happy" passion is a visual journey of 30 photographs that are now on exhibit at the Sining Makiling Gallery of UPLB. The exhibit of DocChito is titled Chasing Moments and his every still is a landscape of hope, a moment of salutation, a heartbeat of introspection. His exhibit is a celebration of life — its natural beauty, its intricate existence, its magical lore.
His The Lady's Habitus is awash in warmth and mystery. It's a photograph that has Mariang Palayok as the focal point, for how can one savant of the art not give deference to a deity like her? The stout acacia tree, perhaps century-old, serves as the lady's sentry. The blades of unruly grass at the foreground of the picture seem to serve as sentinels, too. The photo is eerie at one turn, consoling the next. (When I was in college, the image of Mariang Palayok was a source of enigma. Though its real state depicts the lady carrying the pot by her right hand, some say they have seen her carrying the pot on her head. My wild imagination saw her dance, with her hands akimbo, the pot swirling on her head.)
The cold red bench made of cement breathes its own warm life in the camera of DocChito. In the photograph titled Seeking Company in Solitude, he is insistent and dissident in his view that being alone is different from being lonely. One's own company is one's own joy — a badge of strength, a ticket to serenity, a passport to the spiritual realm.
"The concept behind Chasing Moments came when my wife and I started to walk around the UPLB campus every morning to exercise as per doctors' orders," says DocChito, who underwent quintuple bypass more than 10 years ago. Every day, he would be awed by the scenes of reverence and revelry inside the humongous campus of UPLB. Armed with his DSLR or cellphone camera, he would take snapshots of the scenes around him — the lure of dawn, the inspiring sunrise, the bitter-sweet tinge of sunset inside the campus. Many times, he documented the lives of the students as they walked around UPLB, to their classes, on the way to their dormitories, as they settled under a robust tree for their poetry classes. He did not miss to take photos of the commencement exercises, of Loyalty Day, of garden shows and Feb Fairs. Even the cows and carabaos that found their way in the open field of the campus have their photos taken by DocChito.
His father was a rancher who owned herds of cows and carabaos in Ilagan, Isabela. He had an award system among his four children: those who would finish as first honor at the end of the school year would be rewarded with a trip to a desired destination; second honor would receive a motorcycle; third honor would get a cow or a carabao from the ranch. DocChito would always be third honor in his class so he got the livestock. He sold them and with the money he bought his first Minolta camera.
"The pictures on exhibit were taken within a period of three years or more and I usually post my pictures in an FB group for UPLB alumni and students called 'TAGA UPLB ka Kung.' And mostly my pictures are trending, getting the most number of likes and comments," he says.
Then he met Prof. Jerry R. Yapo, director of UPLB's Office for Initiatives in Culture and the Arts (OICA). Together, they conceptualized Chasing Moments because the latter, DocChito says, thought "my FB pictures merited a one-man photography exhibit."
"Doc Madamba chases moments in more ways one could imagine. He eagerly awaits the right time when the sun greets the early campus jogger, and when it reveals the chiaroscuro of an impending evening," says Jerry. (JRY, as the OICA director is known in the whole university, is solely to blame why the visual arts scene in UPLB is so alive. It takes a keen love for the art from someone to sustain the steady art attack in the university that for so long is known for its programs in sciences.)
He adds, "Chasing Moments is a visual journey, a beginner's guide in navigating UPLB as a university town, quite unlike other campuses given the expanse of its topography."
"The temporality of chased moments resonates in our collective memory. Doc Madamba's photographs speak of the geography of our identity," ends Jerry.
DocChito, who used to teach Agricultural and Food Engineering in UPLB for 35 years before he went into freelance consultancy, has documented almost all of the scenes and happenings in the campus. Those he missed to take photos of are recorded indelibly in his heart.
(Chasing Moments runs until Jan. 12, 2018.)
Artfully Araos
He who sang "A chair is still a chair even if there's no one sitting there" would have a change of heart if he only had a glimpse of Artfully Araos, the recently concluded sculpture exhibit by Jemil Araos at the Sining Makiling Gallery of UP Los Baños.
Araos elevated the chair into a functional artwork, akin to the craftsmanship of engineers and designers of Alessi, the Italian brand famous for art pieces that actually serve other functions at home.
Take for example his alembong chairs, where Araos employed ergonomics and artistry at the same time. Each of his alembong chairs, for kids or adults, is a masterful rendition of functional art that is "anthropomorphically and ergonomically correct."
Coquettish and graceful, Arao's alembong chair is a conversation piece.
(For more information, call 0921-9240424.)
(E-mail me at bumbaki@yahoo.com. Im also on Instagram @bumtenorio. Have a blessed Sunday!)