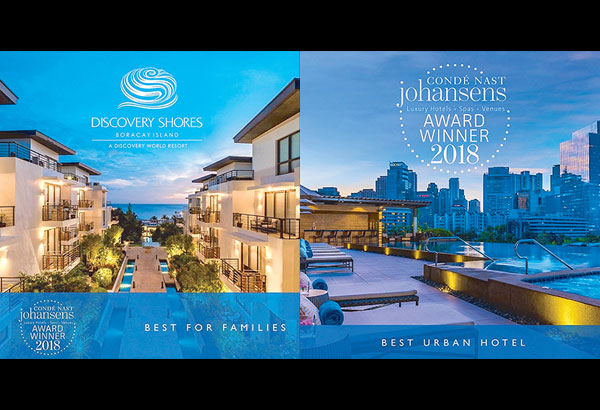 Screen grabs of the prestigious Condé Nast Johansens Awards for Excellence 2018 that both Discovery Shores Boracay and Discovery Primea in Makati recently garnered.
In the world of hotels and hospitality, international brands have always been the safe fallback option when one seeks dependability in standards and consistency in service.
This is even more pronounced when it comes to luxury hotels and spas, where particular boutique brands have blazed the trail and have been approached by property owners all over the globe when it comes to developing and managing their properties that have the potential to be luxury destinations. And for these niche travelers who don't see budget as an issue, there are "barometers" that help them decide where to go, what's the next big thing and influence their travel plans. The Condé Nast Johansens Awards is one such "barometer."
So, when the Condé Nast Johansens Luxury Hotels, Spas & Venues 2018 Award Winners for Excellence were announced in November, it was heartening to see that a homegrown Filipino brand made it to the "Rest of the World" list in two categories. Cited as Best for Families is Discovery Shores Boracay (now celebrating its 10th year) and Best Urban Hotel is Discovery Primea in Makati. There, right beside global hospitality brands that would be familiar to most seasoned luxury travelers, was our very own Discovery hotels and resorts.
And one can't help but feel a strong sense of pride that this recognition has been bestowed on a Filipino hospitality group. Condé Nast Johansens caters to that very finicky, demanding traveler demographic. While some may be happy with clean sheets, a working bathroom and cable TV in their hotel rooms, the luxury traveler cares about the thread count of the sheets, that there's a duvet or comforter, that the towels are cotton-rich and absorbent, what brand are the complimentary shampoo, body wash and body lotion, and that there's Netflix or movie channels service in their suites. For this class of tourist, it's all in the details!
While I always regarded Discovery Shores as more of a romantic getaway, being cited as Best for Families recognizes the efforts the resort has expended in making it child-friendly across a wide range of ages — from toddlers and young children, to teenagers. So, I guess my notion of it being a romantic destination leads to something the resort has also anticipated. As for Best Urban Hotel, Discovery Primea would cater, on one hand, to upper management and high-ranking executives flying in from abroad or from the provinces. With tight schedules and power meetings, Primea would have to provide advanced technology for communication and great dining options. And on the other hand, discriminating families looking for city vacation options would have a different set of requirements — and on this front, Primea similarly excels as an urban "home away from home."
For Ruben and John Tiu, this most recent set of accolades should be an extremely satisfying one, as it gives prestigious recognition to both Discovery World and Discovery Leisure. What may have started as a pipe dream of believing that a Filipino brand could enter the luxury hospitality market and gain globally recognized awards, is now a continuing reality.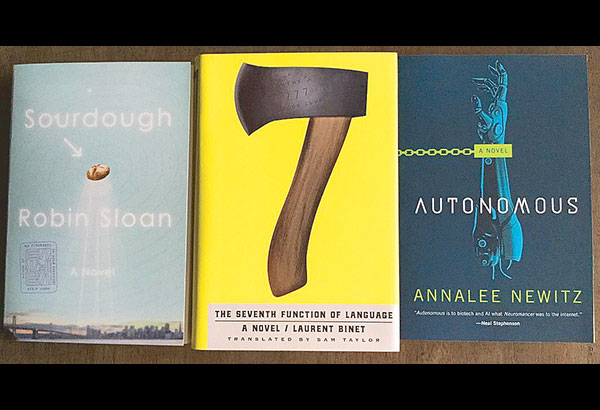 Novels ideal for taking away with us during the upcoming holidays.
h2> A mixed bag of delights
If variety is truly the spice of life, then these three novels are tasty beyond compare. Sloan connects with a story about baking bread and cooking up a business. Binet is back with his brand of historical-fantasy world building, this time taking on semiology. Newitz's is A.I. (artificial intelligence) Sci-Fi with a heart!
Sourdough by Robin Sloan (available at Fully Booked) Sloan has the uncanny measure of creating riveting stories out of the lives of people we could easily pass on the street without giving them a second glance. After Mr. Penumbra's 24-Hour Bookstore, we are now gifted with another Bay Area tale in Sourdough. Lois is a robotics programmer, who is left with a sourdough yeast culture when the two brothers who nightly deliver food and soup to her apartment encounter visa problems and have to fly back to Europe. She discovers she's a natural in creating a relationship with the culture (called "starter" in the US) and producing loaves of bread that earn praises at work. What follows is a novel about life changes, with the microcosm of food fairs and the individuals who populate them, a source of humor and empathy. A truly wonderful read.
The Seventh Function of Language by Laurent Binet (available on Amazon.com) If you loved Binet's previous novel HHhH, you'll know what to expect with this latest that takes the "accidental" death of Roland Barthes and utilizes it as a trigger for wildly speculative historical fiction. One of the great thinkers of the last century, and a "father" to semiology and social philosophy, Barthes is joined by a host of other cerebral luminaries ­— Eco, Althusser, Derrida, Levi-Strauss, et al, and then mixed up with the leading politicians of the 1980s Giscard and Mitterrand, in a conspiracy-driven story that sounds so impossible and improbable that there just might be a kernel of truth in all Binet conjures up. And if in the course of reading, we also get a refresher about semiology, I am not complaining. An erudite, complex thriller that enthralls!
Autonomous by Annalee Newitz (available at Fully Booked) It's not often that a work of science-fiction, focusing on bots and A.I. can distinguish itself as something more than a futuristic retread of the Frankenstein story. This novel of Newitz manages to achieve that. Jack Chen is a pirate in the pharmaceutical industry, creating non-patent drugs in 2144 where the drug companies hold sway over the distribution of both medical and recreational drugs for their profit. When a spate of fatalities due to a reverse-engineered drug leads back to Jack, she, in turn, moves to find an antidote and also exposes the pharma. Easier said than done as she is being hunted by a pharma agent and her indentured bot. Fast paced and distinguished by intriguing characters, this is a suspenseful page turner that is also intelligent.