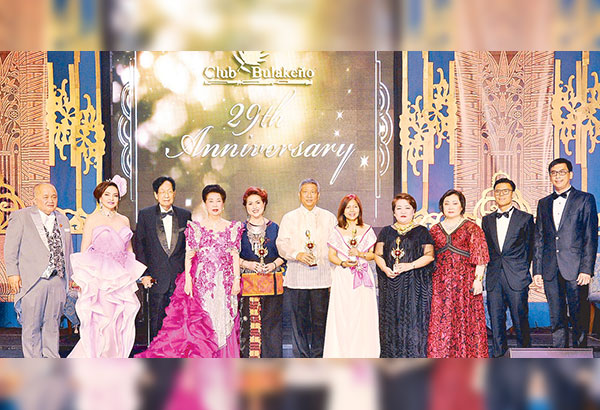 (From left) Club Bulakeño co-president, lawyer Jimmy Buhain, president Milo Bondoc and founders Gene and Lydia Reyes with 2017 Huwarang Anak ng Bulacan awardees Dr. Preciosa Soliven for education, Nicanor Tiongson for literature and cultural history, Justice Alicia Sempio-Diy for civil law (represented by her daughter Court of Appeals Associate Justice Maria Elisa Sempio-Diy) and Sandiganbayan Associate Justice Ma. Theresa Mendoza-Arcega for the judiciary, Club Bulakeño adviser and Rustan Commercial Corp. chairman and CEO Nedy Tantoco, Rustan's president Donnie Tantoco and Huwarang Anak ng Bulacan Awards screening committee chairman lawyer Jonas Cabochan.
OH YES, IT'S JOHNNY
-
Johnny Litton
(The Philippine Star) - December 2, 2017 - 4:00pm
Club Bulakeño, the socio-civic association of prominent Bulakeños in government, corporate, business and entrepreneurial sectors, recently held its Annual Charity Ball at the Grand Ballroom of the Makati Shangri-La Hotel in Makati City.
The event, with the theme "Carnival Queens of the Philippines," a modern-day reliving of the elegant Art Deco era, was spearheaded by president Milo Bondoc with the support of co-president, lawyer Jimmy Buhain, founders Gene and Lydia Reyes, and various committee chairpersons. This year's ball raised funds for Club Bulakeño's various programs for scholarship, education and disaster mitigation.
Truly a sight to behold, the ballroom was transformed into an elegant carnival, giving guests and patrons in attendance a magical evening filled with dancing until the wee hours of the morning — and all for a good cause.
Congratulations to Club Bulakeño for a successful Charity Ball!
Greetings
Happy birthday to our celebrator today, Albertito Lopez.
Advance birthday greetings to Gilda Salonga and Glenn Llamas, Dec. 4; Tony Rufino, Alain Miailhe de Burgh, Joseph Cortes, Francis Aguado, Raffy Aguado and Abeth Yu, Dec. 5; Maan Hontiveros and Angel Ramos, Dec. 6; Muebles Italiano's Eileen Gonzales, Ludy Padilla and William Llamas, Dec. 7; Nonie Basilio and Frank Evaristo, Dec. 8; O.V. Espiritu, James Go and Mari Lagdameo, Dec. 9.
Happy wedding anniversary to Rovy and Jaja Ledesma, Dec. 5. May you share many, many treasured years together.
So, how was your week?
(For comments and inquiries, please e-mail me at jjlitton@indanet.com.)