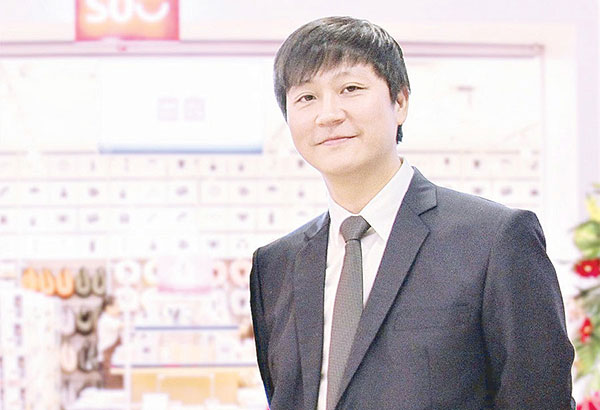 Mini Depato Corp. president Michael Hong.
(The Philippine Star) - November 11, 2017 - 4:00pm
The home is the center of one's life — whether one is a hardworking CEO or a loving homemaker. In one's home, one finds one's space, filled with the things that bring comfort, filled with love.
Life and family are the core concepts of Miniso, a trusted brand created in 2013 in Tokyo by a Japanese designer (Miyake Junya) and a Chinese businessman (Ye Guo Fu). A Miniso store is like a one-stop shop filled with stylish and affordable finds from kitchenware to electronic gadgets, from health and beauty products to stationery and office supplies.
"Life is about our home, and the home is found deep in our hearts. It is the most nostalgic place — the home," begins Mini Depato Corp. president Michael Hong.
Hong says Miniso is not just a brand name but also a way of life, a manner of style. However, he adds, every Miniso store — there are more than 2,000 stores in over 50 countries including the US, Canada, Australia, Russia, China, Korea, Brazil, India, Singapore, Malaysia and the Philippines — does not deliberately emphasize "on the so-called fashion or personality and consider that popular brands should raise their status." On the contrary, the brand develops products that have purpose, products that have function to better the lives of the consumers and not simply gather dust at home.
In the Philippines alone, there are 40 Miniso stores. And each store updates its inventory every seven days, which means new products are introduced every week. Hong is hopeful the company will have 10,000 stores in 100 countries in 2019.
"It's always back to basics, returning to the essence of life when we think of creating our products," he says.
Miniso has 11 product categories, including creative homeware, health and beauty, office supplies, sports gifts and digital accessories that cover every aspect of daily life. "We pay high attention to the design and quality of products, and make effort to maintain affordable prices. Our concept is 'quality first, price second.' We wish all consumers may find what they like in our store and buy them without hesitation. People can enjoy a higher quality of life by using less money," says Hong.
How is a Miniso store different from other stores?
Hong replies, "Many retail chains have salesmen and guides to provide so-called consumer guidance. Our stores have no salesman or guidance service, and our shop assistants are only responsible for three things: cashier, tally and prevention of burglary. We believe that 'the best service is without service,' because we aim to not interfere with the customers' shopping choices, and to create a stress-free, relaxed shopping atmosphere for them."
Hong says the more than 2,000 Miniso stores around the world follow uniform visual and decoration standards. White is its primary color, and each store is decorated like a spacious space box. The store's walls, columns, shelves are painted in milky white so "people may feel beautiful, neat and comfortable when shopping in Miniso."
"Our philosophy is very basic — elevate everyday products to elevate people's quality of life. We believe that providing high-quality, affordable, and beautifully designed products inspires people to create a more aesthetically pleasing living space for them and their loved ones," Hong adds.
In an interview with The Straits Times in January 2016, Miniso founder Miyake Junya said, "The most important thing for our products is that they are simple and natural. Simple means I do not put in additional designs to complicate a product beyond what is required. It is an integration between a meaningful functionality and an elegant design. That is the design philosophy of Miniso."
Each Miniso product is well conceived. Hong says the simple lines and subdued colors suggest the philosophy of "simplicity, nature, and good quality," three things that are signature components of Zen-inspired products.
When a product found at a Miniso store is brought to the home, life lightens up. After all, as Hong says, life is about our home. And a lovely living space is made more beautiful with a find or two from Miniso. *
(E-mail me at bumbaki@yahoo.com. I'm also on Twitter @bum_tenorio and Instagram @bumtenorio. Have a blessed Sunday!)