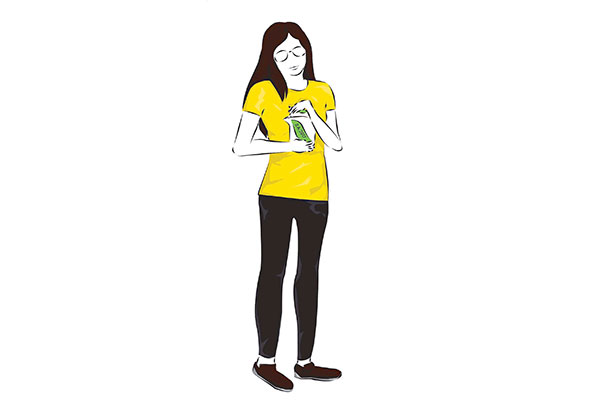 Illustration by JAYMEE L. AMORES
Gabby & her 'magic' takure
(The Philippine Star) - November 4, 2017 - 4:00pm
Gabby, my 17-year-old niece, owns a "magic" takure. It's an ordinary electric water heater that is apple green and immaculate white in color. It performs no extraordinary function except, what else, to heat water. But it creates friendship and nurtures it to become a well-meaning alliance.
Gabby is unique. She is perhaps the only student in the whole of University of Santo Tomas who goes to school with a takure. Her Grade 11 classmates in the STEM program found it weird in the beginning that a classmate of theirs — a little girl with rimmed eyeglasses — actually had a takure on her desk.
But Gabby, to this day, remains unmindful of the glaring stares of those who see her pour hot water into a ceramic mug filled with Milo, Bear Brand or Birch Tree before their first subject begins early in the morning. And by lunchtime, if she wants some soup to go with her food from the UST cafeteria, she turns to her takure again for her instant noodle soup.
Now, three months after the opening of classes, some of her classmates in UST approach Gabby for hot water. Others use the steam of her takure to heat their food. Go figure. Another classmate, on many occasions, brought chamomile or jasmine teabags to make tea — using the hot water from Gabby's takure. Even teachers have grown accustomed to a girl with a gift of gab in the classroom with a takure beside her.
At one point, a popular teacher of theirs even joyfully Tweeted about Gabby's takure. And another blogger from UST dissed Gabby for bringing takure to the classroom. The blogger, I learned, backed off with his tirade after a few of Gabby's friends defended her. Gabby remained quiet. And just offered a toast to the basher in one of her Tweets.
Here's the real score about Andrea Gabrielle "Gabby" Tenorio and her water heater.
Gabby is the elder of two daughters of my younger brother Odick, who works in a factory in Cabuyao, and his wife Arlene, who mans their sari-sari store in Gulod. When I was in college in UP Los Baños, Odick, with two of our elder brothers Ronnie and Gaddie, helped me with my allowance in school by working in a factory. Life was hard and Odick did not reach college. But he is happy and fulfilled that he helped me with my dreams. When I finished college, I promised my parents that I would help send to school the children of my siblings.
It is the first time of Gabby, a proud, mirthful and full-of-life promdi girl, to live in Manila, in a dorm that is close to the high school building of UST. All her life, she is used to having a hot drink for breakfast, usually prepared by her mother. This time, on P. Noval Street in Manila, no one is there to prepare her chocolate drink or her milk. She fends for herself. On her own. Alone.
It's Gabby's choice to study in UST. She did her research and just fell in love with the university. In Grade 7, she already knew what she wanted: to study in UST for senior high up to college. And there, she wants to pursue Medicine, too. At an early age, she knew she wanted to become an OB-Gyn.
She goes to school early — she's afraid to be late — and there she brings her takure, opens a sachet of Milo from their sari-sari store in the barrio, pours it into a mug. By the time her classmates arrive in the room, she is halfway finished with her drink. She brings her own drink because "it is more expensive to buy it in the stores in España or Dapitan or in the canteen of the school." Sure, she saves only a few pesos but Gabby believes a thousand-peso saved begins with a single centavo. This early she shows financial literacy.
"I'm not a rich girl. I will not pretend to be one. It's always good to be who I am. So, if I can save money by bringing my own takure to school, hayaan na (let it be)," she told me. She does not self-pity if some of her classmates or friends in school are rich kids and can buy whatever they want. She's self-assured and cordial to everyone she meets. She has what she needs. She's her own person. And for that she is a rich girl.
She saves money because she is far away from her family. Her allowance is just enough for her one-week sustenance in school before she goes home for the weekend. She wants to be assured that she has a little extra just in case the need arises — a book to be photocopied, a project in school, extra money for her fare if she needs to watch a required play outside UST.
When some students in the university found it weird that she was bringing takure to her classroom, she just shrugged it off. And smiled. She wouldn't be defined by other people's opinion about her. "What's so big deal about a girl bringing a water heater to her room? Mas gusto kong may laman ang sikmura ko bago ako magklase. (I'd rather that I put something in my stomach before the classes begin)." She gets the water she boils in her takure from the water fountain. For free.
Now, she leaves the takure in her classroom, secure in a corner. She cleans it before she goes home and cleans it again in the morning. She and her classmates are the only ones who use the classroom from Monday to Wednesday. On days that other students use the room, Gabby has takure "care takers." Her friends from high school in Canossa School in Santa Rosa (who occupy the room from Thursday to Saturday) are the ones looking after her water heater.
Gabby's takure has performed magic in building friendships and fostering relationships. She did not intend to attract the attention of her 45 classmates but the takure has given her beautiful friendships. When one is far away from home, the friends she makes are the family she keeps at bay. She's grateful for the friends she has met in school. And for them, she gives the key, so to speak, to her takure.
The takure reminds her of home sweet home. In it she finds the warmth. It does not define her totality but it reveals her persona.
And out of the ordinariness of Gabby's takure, a future extraordinary girl is being formed.
(For your new beginnings, e-mail me at bumbaki@yahoo.com. I am also on Twitter @bum_tenorio and Instagram @bumtenorio. Have a blessed Sunday!)