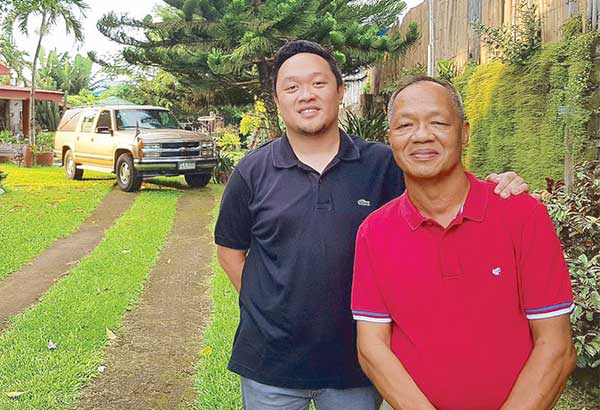 Christian and Ramon Bermudez. Photos by Büm Tenorio Jr.
Life in the business of death
(The Philippine Star) - October 28, 2017 - 4:00pm
This is not for the fainthearted but I might as well tell their story.
An eerie bequest is in the offing for a son who is nonetheless ready to step up to what his father will leave behind — a legacy that deals with death. And the son is bent in keeping this legacy alive.
Christian Ramon Bermudez, 27, since he was in grade school, has been joining his father, Ramon "Monet" Bermudez, in the latter's business. Monet owns a 17-year-old "fun home," that's short for funeral home. (There's actually a musical called Fun Home whose title is derived from the nature of the business of the characters, which is funeral home.)
So, there, Monet owns the Santa Rosa City-based San Ramon Funeral Homes, which services the whole of Laguna. Its services are deemed to be topnotch that Monet and his team are even tapped for funerals in Manila and other provinces in the country, including Visayas and Mindanao.
While other father-and-son tandems are nurtured in amusement parks, Monet and Christian foster theirs in memorial parks. What playroom is to many father-and-son bonding activities, the morgue is to Monet and Christian.
"Early on, my father taught me that this is the business that I should work on. And he taught me that I should love this job. It's unique in a sense that, for example, embalming is not for everyone," Christian says, his smiling eyes squint. He joined the "fun home" business in 2012.
"My classmates found it weird that we own a funeral home. I was teased in school. I let them be. I have learned to love what my father does, even at an early age."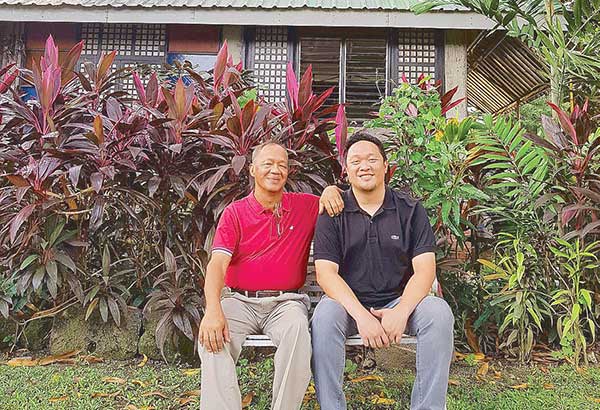 While other father-and-son tandems are nurtured in amusement parks, Monet and Christian foster theirs in memorial parks.
In high school, Christian already knew how to put on makeup on dead people. "Except that I used Dodge makeup, which was specific for dead people," he says, matter-of-factly. "I was the assistant helper of my father."
Monet hastens to add, "My son is also now expert in airbrushing."
Soon, Christian will head to a funeral school — yes, there is such a thing — in Philadelphia to further study funeral management. He finished a short course on funeral business given by the Philippine Mortuary Association.
Both Monet and Christian are licensed embalmers. Both finished a degree in Business Management. And both can drive, if the need arises, any of their 20 karos (hearses) in their high-end fleet (Monet was just renting one hearse when he started).
The karos are maintained well at the family's almost a hectare farm filled with dendrobiums. They, too, personally choose the caskets in their inventory, with P15,000 as the cheapest and P2 million as the most expensive "because it is made of solid bronze or copper."
"It was a hard start when I ventured into the business in 2000," shares Monet. It became doubly hard because his own mother did not welcome his business venture. His mother wanted her son to stick to construction, hardware and trucking business, which Monet gave up for a funeral home. Before she passed away, she had learned to like the "fun home" business of her son.
"My mother did not like it that my business deals with dead people. And to many, death is an unwelcome thought, an unwelcome sight," says Monet, adding that when he was in college, on the bus to Adamson University, he would crane his neck to follow the path of a hearse that would appear on the highway. He was a sacristan when he was young and one of the highlights of his responsibility was assisting the priest in the requiem Mass. After college, he would join in police investigation of cases involving casualties in a train crash in Laguna among others.
"Hindi ako madirihin. Hindi rin ako matatakutin (I don't easily get disgusted. I also don't get easily spooked)," Monet says.
He adds, "I see God in death. I also see art in death."
"I am grateful my father showed me the way to this business. It's a hard job because it entails so much of my time," Christian says. There are times when a family of the deceased will request either Monet or Christian to be present as the wake is being readied either at the chapel or the home of the bereaved loved ones.
"Kapag wala kasing interes ang mga anak sa ganitong negosyo, mamamatay din ito (If the children do not have an interest in keeping the funeral home business alive, it will also just die)," Monet says. He notes that many "fun homes" close shop not because of lack of funds — "Though the ROI in this business really takes a long, long while" — but because no one from the family wants to continue the business.
"Not everybody will like this business. But somebody's got to do it. I decided funeral home is the business for me. And this is the business my wife and I will leave to our children." His daughter Cristina is still deciding whether she will tread the pathway to the "fun home" business. Monet's wife Gina ably helps her husband in running San Ramon. Gina, according to Monet, also ventures into selling suits, dresses and gowns that can be worn by the deceased on their trip to the afterlife.
Like all stakeholders in many businesses, Monet and his son Christian also lock horns when it comes to business decisions. But there is nothing that an understanding heart cannot resolve. Monet is more traditional in his approach. Christian wants to apply modern touches to the business — new equipment, new lights, digital display of wake paraphernalia among others. They meet halfway. Or sometimes, the father just gives in to the style of Christian. And vice versa.
"The bottom line is, our clients must be satisfied with our service," Monet says.
"And it is just heartwarming to know that we are able to make the emotional burden of the bereaved bearable with our service," Christian says. "We have a very demanding job. It's a 24/7 job. Sometimes, I have to cancel my date with my girlfriend because I have to set up a wake. Or stay a little bit longer in a wake after setting up all the lights."
The "fun home" may not be for everyone but Monet and Christian are thankful because of their business, their tandem has been solidified.
While other fathers and sons bond in movie houses or in basketball courts, Monet and his son Christian discover the strength of their relationship at function rooms attending seminars on funeral management.
Theirs is a beautiful relationship that always has a front-row seat to the sweet hereafter called eternal life.
(For your new beginnings, e-mail me at bumbaki@yahoo.com. I am also on Twitter @bum_tenorio and Instagram @bumtenorio. Have a blessed Sunday!)