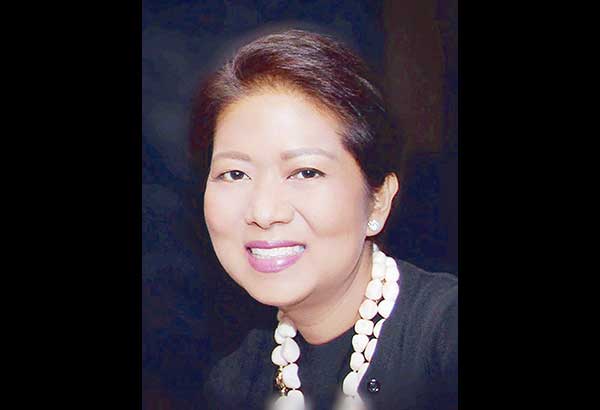 The late lawyer Chinky Santiago.
(The Philippine Star) - October 21, 2017 - 4:00pm
The ultimate secret of life is in its beginning and end. There's a time to be born, and a time to die, according to the Book of Ecclesiastes. They are the seasons of life. These seasons are constant — in a sense that we are aware that life and death always come together. Predictable — in a sense that we know ultimately that for every beginning, an end looms, until a new life springs again. Paradoxical — in a sense that we don't know when the seasons will come or end.
The mystery of life is further unraveled when one takes a close look at what happens in between the beginning and the end. In between these two seasons, joy and pain meet. Where happiness begins, sadness ends. But even sadness is its own joy. For after the pain, the eyes are cleared of tears. And even tears are the eyes' lubricant to see clearer. In between the starting point and the finish line are journeys, challenges, gifts, blessings, miracles. Memories.
Life and death are opposite poles that meet in time. From each point of life is a celebration. Every day since her daughter's passing two years ago, former Supreme Court Justice Consuelo Ynares Santiago, whom I fondly call Tita Elo, chooses to celebrate her daughter's life — and looks at her passing as a gift from God, too, because in Chinky Santiago's passing, she left memories that her mother can hold on to in times when Tita Elo misses her. Two years ago, Chinky, a no-nonsense lawyer like her mom and late dad Tito Santiago, succumbed to the Big C. Chinky was the head of Santiago Cruz and Associates Law Offices.
"Chinky's passing is against the law of nature. You see, we, mothers, have never imagined the possibility of burying our children. We always believe that it would be our children who would preside over their parents' transition to the next life," begins Tita Elo.
Tita Elo knows fully that in essence, life and death are the same. Life continues to be the gift that keeps on giving. Death is a springboard of life to those who are left behind.
"It is my deep faith in God that helps me cope with the loss of Chinky. I believe that God has a reason for everything that happens in our life. That God is all-knowing, all good and knows what is best for us. It has been two years since Chinky left us. After the shock, the numbness, the feeling of emptiness, comes the realization that God's ways are different from man's ways. That God writes in crooked lines — He alone knows what is best for us. As the saying goes, man proposes but God disposes," she says. It helps that in her loss, she still has three loving children — Jonas, Gina and Jenny — who constantly shower her with affection and care.
She gets to smile now when she thinks of Chinky. Her thought meanders as she celebrates the many beautiful memories of her eldest child Chinky.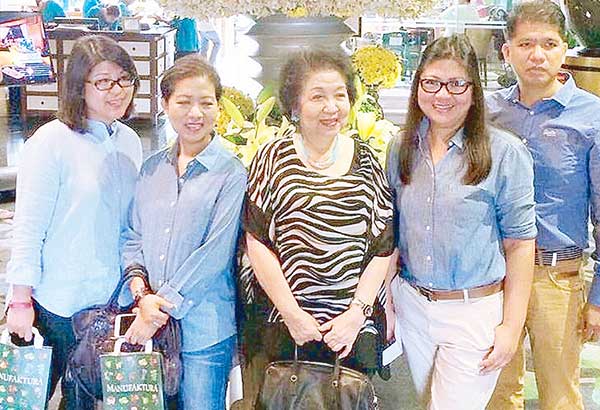 Former Supreme Court Justice Consuelo Ynares Santiago is flanked by her children (from left) Jenny, Chinky, Gina and Jonas.
"Chinky and I complemented each other. We spoke the same language, having both graduated from UP College of Law. I discuss with her cases up for decision. I advised her on what course of action to take regarding her clients' problems," she recalls.
What do you think is the best lesson you had inculcated in Chinky? I ask Tita Elo.
"That nothing takes the place of sheer hard work, diligence and dedication to work. That a lawyer has a responsibility to her clients and to the public in general."
And how has Chinky's life influenced her mother's life? "Her deep faith in God — her courage and fighting spirit, never to give up on causes she believes in," Tita Elo quips quickly.
One of the causes Chinky believed in was the access to education of the marginalized students. In her wake, groups of teenagers and their parents came to pay their last respects for Chinky who helped them in their education. These were people that Chinky's family only met on that day. And it was only on her death that Chinky's family became totally aware of the extent of her very generous heart.
"That life is short and that you must live each day as if it were the last day of your life. That what is important is not wealth or power but whether you have made a difference in the life of your fellow men," Tita Elo says of the lessons she has learned from the life and works of her daughter.
She adds, "Chinky's sterling quality was her obedience, filial piety as others would call it. Underneath the feisty countenance, was a loving, caring, and thoughtful daughter. She obediently set aside her dream of becoming a writer, which was her passion. She set aside that dream to follow in the footsteps of her parents in the legal profession."
When the Santiagos would travel abroad, Chinky would break from the group and return only when she had found a peluqueria (salon). She knew the soft spot of her mother's heart. A bad-hair day, literally, is a no-no for Tita Elo.
"As a friend, she was one you can trust with anything and would give you that security that she would always be there for you; she was very proper in every way, a totally beautiful person. She was a shoulder to cry on. There was no hidden agenda with Chinky. Her best trait was her ability to listen without judgment. She was a source of wisdom and strength especially during crisis moments. She was a person with a big heart. Someone who loved fiercely, someone who had the innate ability to forgive and forget. She was a very generous soul."
With beautiful memories of her daughter, Tita Elo initially found it hard to let go. Somehow, along the way, she discovered that she also needed to help herself in coping with her loss. And she has devised ways to ease a mother's broken heart. She goes to Mass daily and pray for strength, for grace of acceptance of God's will. She has become more active in church-related activities. She joins volunteer groups doing hospice care for the sick and dying. She opens the avenue to meet new friends. And together, they visit orphanages, home for the aged and elderly.
Everybody will experience life and death. Those who have experienced death in the family will agree that a certain kind of grief is felt — sometimes fleeting, but many times, especially in the beginning, lounging. But in time, pain and sorrow are turned into memories that serve as anchor for the loved ones left behind. The best thing about memories is that they become the lighthouse on nights when the heart and mind ache for illumination. Memories are a moral compass, they point to your inner mantle and fortify your core. Memories are bankable fortresses when we need to make important decisions, when we need to smile, to reconnect, to fall in love, or fall out of it. Memories give us a perspective of the destiny we wish to pursue, of an ambition we still want to accomplish.
For Tita Elo, beautiful memories bring her closer to Chinky. She reminds herself that "To every thing there is a season, and a time to every purpose under the heaven: a time to be born, and a time to die; a time to plant, and a time to pluck up that which is planted…a time to weep, and a time to laugh."
"I miss her. I miss Chinky a lot. But my memory of my daughter is so beautiful I get to celebrate her in my heart," Tita Elo ends, with a smile. It is a smile that says a mother's heart will never forget the memories of her daughter, memories that are carved perpetually in her heart. Her heart remembers fully and gratefully the seasons of life.
(For your new beginnings, e-mail me at bumbaki@yahoo.com. I'm also on Twitter @bum_tenorio and Instagram @bumtenorio. Have a blessed Sunday!)