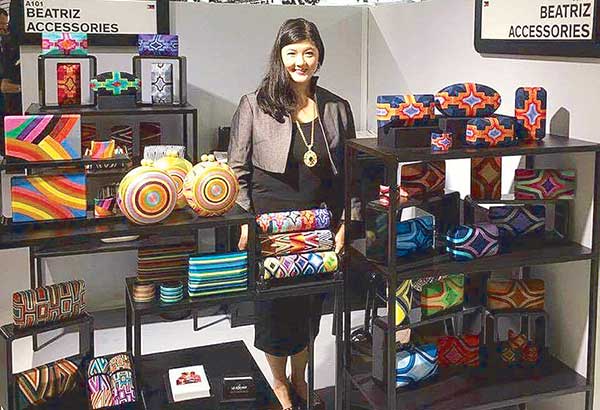 Carissa Cruz-Evangelista in her Beatriz booth, A101, at Premiere Classe.
PARIS — Filipino pride was shining through at the recently concluded global fashion accessories trade show Premiere Classe at the Tuileries Garden during Paris Fashion Week. Included in the esteemed roster of Filipino brands participating this year were Aranaz by Amina Aranaz-Alunan and Beatriz by Carissa Cruz-Evangelista, newcomers to the prestigious trade show.
Last Sunday, we trained the spotlight on Aranaz's road to Premiere Classe and how excited Amina was to introduce Filipino products to the world. Today, Multiple Choice focuses on Beatriz, a brand of beautifully handmade thread clutches that are meticulously put together to create patterns that make a statement.
Two years ago, Beatriz began participating in international trade shows. The brand's first showcase was in New York NOW with the Center for International Trade Expositions and Missions (CITEM) delegation in 2015. This was followed by Canvas Show by ENK Showroom in New York, a show in Miami and Maison et Objet 2016 and 2017 in Paris as part of CITEM's delegation. According to Carissa, being able to join this season of Premiere Classe "marks a milestone for my brand."
"We were so happy just to qualify for Premiere Classe Tuileries in Paris," Carissa says. "I did not realize how amazing the show was until I walked three tents at the Tuileries and saw all the vendors and their products and met quality upscale buyers worldwide. I was so proud to have the Philippine flag beside our Beatriz brand and say that our products were proudly Philippine made."
To showcase in Premiere Classe is both an honor and prestige. Thousands of brands apply every season to get a spot in the most important fashion accessories show where top department stores, boutiques and global press and media take a peek into the future of fashion. Carissa also says Premiere Classe is the best show to be in to learn and sell.
Carissa's bags and clutches were a hit at the show, thanks in part to her agent in Europe — Agence Le Bon Mot (owned by Filipino partners Bianca Monzon-Cueva and Michealle Torres-Descolonges). Months were dedicated in preparation for Beatriz's exhibition in the international arena.
Carissa highlights the importance of design and brand identity. "To be able to compete globally, you need to make items of global design and quality. One has to know that each market is different so you have to learn to be flexible to each market or type of buyer. But you also need to stand your ground as to what you really can do or not do."
The brand's successful showing at Premiere Classe is a great step in its vision to create global recognition and presence. "We had to look up to brands that believe in this show like Bea Valdes, Rafe Totengco, Zacarias 1925 and Joanique who have paved the way for Philippine accessories brands to be known worldwide!"
Determined to bring pride to our nation and local artisans, the brand is driven to produce the best it can offer the world. "It had been a dream to bring our brand worldwide and now that we qualified for this show, it's such a huge opportunity for us just to show again."
This is just the beginning of a bright future for Beatriz that's set to brave new horizons and conquer new style territories. Armed with fresh insights and humbled by a great trade show experience, Beatriz's distinct handmade pieces in a variety of captivating patterns and hues are ready to make their mark in global fashion.
With the brand's accomplishment, Carissa remains grounded as Beatriz moves fashion forward to an exciting and optimistic future. "Be humble, have faith and do the work you need to do to make it. There is no magic formula for all brands or even for all of us. Each brand will have its own journey, we just have to keep working, moving forward and hoping for the best," she concludes. - Photos by Carissa Cruz-Evangelista