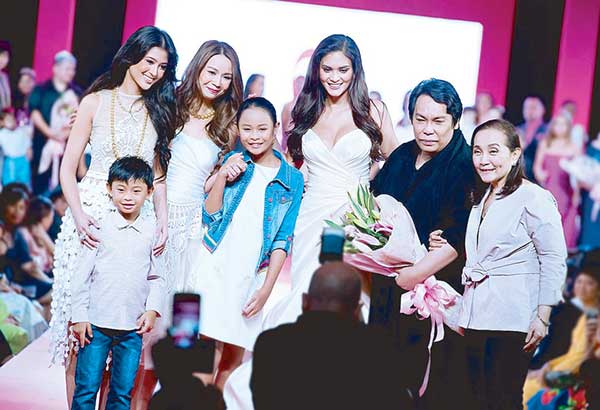 At the Fashion Can Serve curtain call are (from left) Asia's Next Top Model Season 5 winner Maureen Wroblewitz, Tootsy Echauz Angara with her children Javier and Ines, Miss Universe 2015 Pia Wurtzbach, fashion designer Cary Santiago and ICanServe's Tang Singson.
Favorite Fashion Can Serve moments
The fashion-dedicated pages will no doubt write about this year's Fashion Can Serve, highlighting on the creations of the six designers who so generously made themselves available for this year's edition — in no particular order, Mia Arcenas-Branellec, Rosenthal Tee, Vania Romoff, Ito Curata, JC Buendia and Cary Santiago.
As for myself, having been intimately connected with the event since the first Fashion Can Serve in 2015, helping my sister/survivor ICanServe's chairperson Libet C. Virata and her committee members (they joke and thank me, calling me an honorary sister), it is I who must thank them, as the event has made my last three Octobers — the month of breast cancer awareness — suffused with special meaning. My mom passed away from cancer of the uterine wall in 1996, and with the scare of breast cancer my sister had to undergo, anything I can do to raise awareness for breast cancer and promote early detection will have my all-out support.
A fundraiser for the year-round activities of ICanServe, Fashion Can Serve is traditionally held at Raffles Makati Hotel, highlighted by "muses" for each participating designer. These muses are either survivors or personalities demonstrating support for the advocacy. And on this third year, with the theme of #WhyWeFight, my sister reluctantly "walked" with her grandchildren, who were such "stars," smiling and waving. A far cry from the backstage scene of a wailing Lovisa who, earlier, was not in the mood. I guess the lights and glitter of the catwalk beckoned, and she responded!
Another precious behind-the-scenes moment was when our auction mistress, Tessa Prieto-Valdes, was looking for someone to walk beside her, showcasing the special edition Philip Stein watch (the Jewelmer necklace would have Marion Branellec holding the case). As desperation set in, the suggestion that I take on that duty was made. More desperate, I espied Libet's son, Alonzo, and drafted him to take my place. Done with the ushering duties he had volunteered for along with my son, Matteo, it was especially apropos Alonzo take on this duty, expanding the family affair element of the evening for my sister.
Here now comes the inevitable roll call of sponsors and donors who make these events a worthwhile reality. Partners this year were the returning Philip Stein, and first-timer Jewelmer. These two, along with major sponsor Manulife, crafted wonderful videos that should help spread the message of women empowerment and breast cancer awareness. Other major sponsors were Del Monte and Security Bank; while minor sponsors included PAGCOR, Mercedes-Benz, Mundo Design and Ideal Vision. Among the media sponsors were 2nd Avenue and ETC, Summit Media and The Philippine STAR. Donors for the silent auction held at the Raffles Ballroom foyer are too many to mention, but do know that you all contributed to the raising of funds for the activities of ICanServe.
As my sister mentioned in her short speech, and I loosely paraphrase, every Fashion Can Serve is about hope, about renewal and strength in the face of one of the greatest challenges women today have to face. As survivors, they are neither victims nor statistics; but rather, they are beacons of hope for those similarly afflicted. It remains a discomforting reality that among ASEAN nations, the Philippines leads in deaths resulting from breast cancer. Obviously, there is still so much fear and ignorance ruling the "conversation" and it is through the efforts of such entities as ICanServe that educating the populace, and ameliorating this situation, can happen. - Photos by Bruce Casanova, Patrick Uy and Lizzy Razon