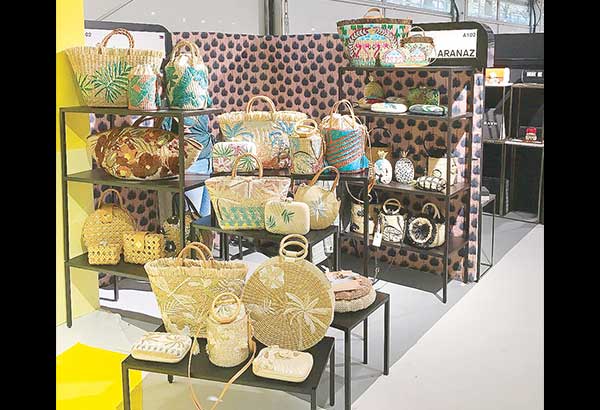 Aranaz booth at Premiere Classe.
Premiere classe 2017: Pinoy accessories shine in City of Light
PARIS — The recently concluded Paris Fashion Week showcased the Spring/Summer 2018 collection of the biggest, most prestigious and immortalized designer brands and labels. Almost everyone relevant in the world of fashion flocked to the City of Light to witness the unveiling of the new, now and next in the world of style.
Coinciding with the Paris Fashion Week was Premiere Classe, the bi-annual trade show where future brands from all over the world showcased their collections. This trade show, considered a gold standard in the world of fashion accessories, is known as the pinnacle and most discerning of all shows where at least 20,000 designers/brands apply and only a few hundreds make the cut.
Through the years, Premiere Classe has seen an increasing number of notable Filipino designers that have taken part in this exposition held at the historical Tuileries Gardens: Bea Valdes, Celestina, Monique Lhuillier, Zacarias 1925, Rafe (New York), Arnel Papa, Ivy Kirzhner (New York), Mele+Marie and Harvey Santos (London). This year, two notable names were added to the prestigious roster of participants through Agence Le Bon Mot (a Paris-based agency run by Filipinas Bianca Monzon Cueva and Michelle Torres Descolonges) — Aranaz and Beatriz.
The Filipino participants' design-forward aesthetic has captivated this global platform. Pinoy artisanal products are highly appreciated and lauded for their contemporary design, outstanding craftsmanship and brilliance as everything is made by hand.
Amina Aranaz-Alunan, whose Aranaz brand has made waves in the local and international scene, shares that being able to participate in Premiere Classe was a great experience especially that there are also other Filipino brands presenting in the same platform among worldwide brands. For Amina, it was also exciting to introduce Filipino products to the world.
"It has always been a dream to join the show since it is known as the most important fashion accessories show in Europe. Aranaz has been in the international market for a couple of years now, and we are constantly getting questions from global buyers if we are showing in Paris. So, we knew that Paris is a go-to place for the buyers that are attracted to our products. It was great to finally meet with stores and buyers that we have been working with for a couple of seasons such as Selfridges and Beymen in Turkey, as well as stores/buyers that we have been in touch with for quite some time through e-mail," she shares.
Amina admits that it was a long road to Premiere Classe, which included years of preparation. Though she was set on making the 15-year-old Aranaz an international brand, Amina wanted to make sure that her products were ready and good enough for the global market first.
"We only started bringing the brand globally in the last couple of years. It took us quite a while to muster the courage to take a financial investment and apply for the show. It helped that we already have some major stockists in the UK and US to boost our confidence. We had heard that there was quite a stringent application process to be accepted into the show. Our agents in Paris — Agence Le Bon Mot run by Filipinas Bianca Monzon Cueva and Michealle Torres Descolonges — facilitated the application process for us and managed to also get us a strategically located booth right by the show entrance!" Amina says.
When asked for advice to aspiring brands/designers who would like to participate in trade shows like the Premiere Classe, Amina has this to say: "First and most important is make sure that your brand and product is ready. You need to have a very strong aesthetic and brand position that will stand out. Second, make sure that your business and production structures are sound and ready to accept orders. Study your wholesale and retail pricing, mechanics of exporting, etc. And lastly, (joining trade shows) is really a financial risk but the gains can be amazing. It can really open doors beyond the Philippine market."
It is without a doubt that the premier fashion capital of the world has welcomed and embraced the beauty and value of Philippine fashion. A testament to this is the increasing number of participants season after season. In Premiere Classe Versailles, which happened a few weeks before fashion week, there were around eight to 10 participants represented by Agence Le Bon Mot. At a showroom held in the Westin Paris simultaneous with Premiere Classe, Fashion Exchange International (led by Carmina Sanchez Jacob and Robby Carmona) showcased outstanding designs by Rhett Eala, Ivar Aseron, Dennis Lustico and Rajo Laurel, which also did really well. In other trade shows, Tali handmade was in Tranoi while Charina Sarte was in Paris Sur Mode.
There are more than 7,100 reasons to love Philippine fashion. From the raw materials to design and its influences; from the masterful hands that create a collection for days and months, the outstanding artistry, and the determination and vision to be part of the global market are enough reasons to be "premiere classe." - Photos by Carissa Cruz Evangelista, Bianca Monzon Cueva and Amina Aranaz Alunan