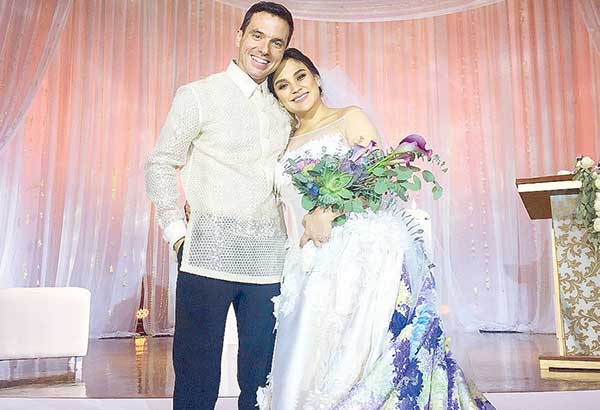 Miquel and Jerika Aguilar. Photos by Büm Tenorio Jr.
'Love comes when you are ready for it'
(The Philippine Star) - October 7, 2017 - 4:00pm
There were tears of joy shed when Jerika Ejercito and Miquel Aguilar tied the knot through a Christian wedding celebration at Manila Hotel. Two months after they wed, tears of love again flowed when the couple discovered they were anticipating twins!
"Love comes when you are ready for it," Jerika told Allure at the sidelines of her wedding. She repeated the line when she found out she was pregnant with twins. For children, like her three-year-old son Isaiah, are love — and loved.
The couple, who met in 2016 because of the Cupid-like insistence of their well-meaning friend Ferdi Salvador ("When I introduced them to each other, it only took just a minute for the connection between the two to unfold."), are excited for their twins. "Our hearts are overflowing with gratefulness that God deemed us suitable parents for the twins and of course Isaiah. The feeling is indescribable!" said Jerika, director of Be Healed Foundation (an advocacy that helps individuals battling depression) and program director of Ilaw Ng Maynila (an organization that uplifts the well-being of mothers and women in Manila).
The feeling of love and excitement is indeed indescribable. Many times, tears are the only symbols to communicate them. Just like when former President and now Manila Mayor Joseph Estrada tried to compose himself when he walked his "princess" Jerika down the aisle. His eyes welled with silent tears when he gave his daughter away to Miquel, whose moist eyes also glistened with love.
Or how Laarni Enriquez, the beauteous mother of Jerika, in between controlled tears, confessed further her love for her eldest child during the wedding. "Dear Jerika, just when you were almost ready to give up and pursue a life alone with Isaiah, God, in His own perfect time, answered my prayers for a righteous lifetime partner for you and a loving and responsible father to Isaiah. The hands of God moved into your life and bestowed upon you His loving kindness and mercy. He sent you Miquel, who showers you with so much love and respect, a man who embraces and believes in your faith."
The union of Jerika and Miquel, GM and country manager for Porcelanosa, a Spanish tile company, is a blessed covenant between two people who are not only in love with love each other but are also in love with God.
"I promise to love you, to respect you, to honor you and to protect you with all my heart every day of my life," Miquel told Jerika at their wedding. "I will always follow you wherever you go. I completely believe in us, in our journey, in our future family."
"I stand before you fearless. For in your eyes I see my future so clearly. After all these years I no longer fear my past that you so willingly and lovingly accepted. I want to thank you for the sense of protection that I am feeling. For the trust and for giving me hope. But most of all, thank you for giving us the gift of family that I so longed for. Thank you for loving our son, Isaiah. Thank you for giving us the gift of family that I so longed for…all my life," answered Jerika, resplendent in her Inno Sotto wedding gown.
In a few months, in the new home of Jerika and Miquel, a twin bundle of joy will be added. They say they have an overpowering feeling of being blessed, of being loved. "Being parents to Isaiah is one of the best parts of both our lives so to have this chance to be parents again is truly wonderful. God has once again surpassed our expectations and prayers," Jerika said.
Everybody who loves Jerika and Miquel is happy and excited for them. Miquel's parents, Jose Aguilar and Alejandra Garcia, are already booking their flights from Barcelona "to be with us for a few months to help us with whatever we need once the babies are out."
May God continue to love and bless Jerika and Miquel and the family they will build.
(For your new beginnings, e-mail me at bumbaki@yahoo.com. I'm also on Instagram @bumtenorio. Have a blessed Sunday!)