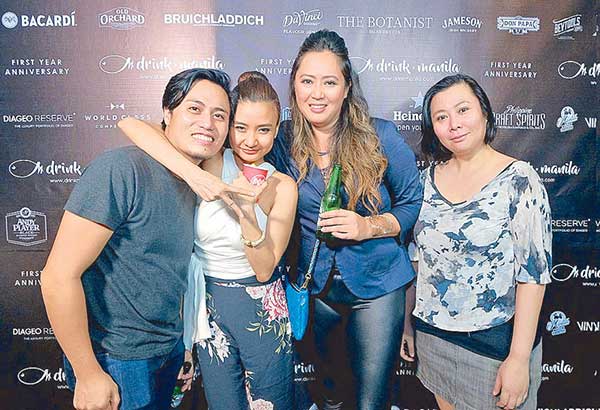 The DrinkManila team: Photographer Star Sabroso, editor-in-chief Tatum Ancheta, mixology expert Icy Mariñas and writer Chrysmas Gawaran.
(The Philippine Star) - September 9, 2017 - 4:00pm
The Philippines' first and only online magazine about drinks, DrinkManila.com, recently celebrated its first anniversary at the new site of Vinyl on Vinyl Gallery in Makati City.
Guests from the beverage industry and beyond came in droves to party with the go-to online drink destination, with free-flowing booze adding to the fun-filled evening.
Helmed by Tatum Ancheta as editor-in-chief and restaurateur/mixology expert Icy Mariñas, the website has developed a large following for its features on products and events pertaining to both alcoholic and non-alcoholic beverage categories, as well as its stories about the unique local drinking culture. DrinkManila.com also offers over a hundred (and counting) easy-to-follow drink recipes and videos featuring a variety of ingredients.
Partygoers enjoyed the impressive array of libation during the event, which also saw the debut of the DrinkManila pop-up bar featuring six cocktails found on the site. Diageo Reserve brand ambassador Rian Asiddao wowed guests as he took on a two-hour shift behind the DrinkManila bar with cocktails specifically made for the event.
The Destileria Limtuaco bar featured cocktails with products from their Philippine Craft Spirits line, and Monkey Shoulder's super cool cart had Monkey Shoulder 2017 Ultimate Bartending champion Lester Ligon behind the bar. Heineken, the beer sponsor for the evening, set up a beer bar for those who were craving beer amidst the deluge of cocktails.
Adding to the excitement were the numerous bottles, cases and other prizes raffled off, with performances from acoustic artist Robin, Lucas Floyd and The Crashers. "Mental Assassin" Justin Piñon showed off his mind-reading skills. Funky beats from DJ Samantha Nicole also got the crowd dancing the rest of the night.