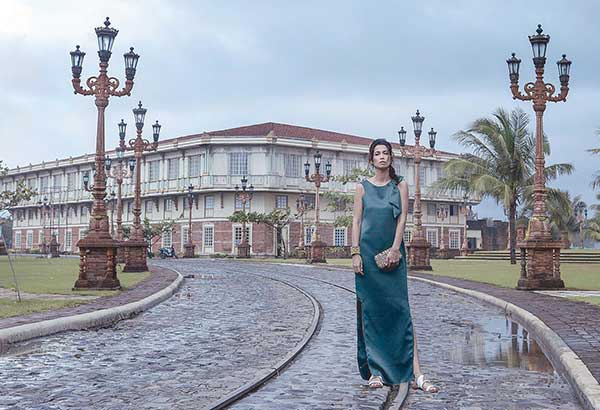 Future Glam by Michelle Anne Sepe. Green dress with bow detail by Sofie B, starfish enamel earrings by Ken Samudio, clutch by Beatriz and slip-ons with leather wooden sole by Tali.
MULTIPLE CHOICE
-
Luis Espiritu, Jr.
(The Philippine Star) - August 19, 2017 - 4:00pm
The Filipino artisan is one of the finest in the world. The masterful and outstanding creations made by homegrown hands have captivated the world of fashion, art and design ­— from the most discriminating platforms of exhibitions to global fashion stalwarts such as Vogue. The Filipino talent has brought pride and integrity to our nation.
ArteFino, a visionary movement that celebrates the Filipino artisan, is a channel to showcase the Filipino's brilliance of craftsmanship and genius creativity.
ArteFino was initiated by notable and highly regarded women namely Cedie Vargas, Susie Quiros, Maritess Pineda, Mita Rufino and Marimel Francisco. These patriotic women, who are in pursuit of excellence and global appeal for Filipino products, make up the fair's screening committee that created a standard based on aesthetic, craftsmanship and narrative of the products. Everyone is welcome to apply to be a presenter at the fair. The fair opens its doors to applicants yearly.
"We screen all exhibitors and try to get a sense of their products and the stories behind the craftsmanship," Vargas explains. "Each exhibitor must be unanimously agreed upon and judged according to its readiness to be a presenter at the fair. There is a certain discipline to being a yearly participant."
Quiros adds, "A perfect example of inspiration is Zarah Juan, who we rejected twice as her items then were lacking a good aesthetic. She took this positively and worked harder to improve her products."
This curated exposition of artisanal works at ArteFino is a presentation of some of the country's best to offer to the world. Its list of exhibitors include names that have since become staples in global trade shows. Its fashion roster includes SC Vizcarra, Filip+Inna, Joanique, Betina, Adante Leyesa, Michelline Syjuco, Beatriz, Natalya Lagdameo, Zarah Juan, Gabbie Sarenas and Casa Mercedes. For pottery, there are Lanelle Abueva Fernando and Joey De Castro; for furniture, E. Murio Inc.; for handwoven products are Kaayo Modern Mindanao, Al Valenciano of Balay ni Atong, Anthill Fabric Gallery by Anya Lim, Chill by Nooks and Barong Batik, among others.
Today, there is an undeniable awareness and optimistic attention to everything local as seen and felt through bazaars and pop-ups that support the movement. Also, more brands are bravely coming out and making their way onto the retail landscape. With the countless platforms available in Manila to showcase local products, ArteFino is more than just an avenue of exposition.
"ArteFino stems from the belief that our local items have the potential to be world-class. Because of that, we commit our time year-round to organize the fair, bringing together more than 70 vendors from all over the country in one accessible venue — 8 Rockwell. This is the biggest crafts fair you will find after Manila Fame," Francisco says.
Though fashion in general can be fleeting, the commitment of ArteFino is no passing fancy or trend of the moment. It has a noble purpose and soul for local artisans.
"I look at this as part of our heritage in making the public aware of what we have and what we can do. The Philippines is a very rich country both in natural resources as well as cultural heritage," Rufino says.
Local is global. Our rich culture is an outstanding tapestry of artisanal pieces we can share to the world. We take pride in the talent of these masters-in-the-making and believe in their potential for greatness.
Recently, Multiple Choice traveled to Bagac, Bataan and shot at the astounding picture-perfect setting of Las Casas Filipinas de Acuzar. This marvelous heritage park is home to restored colonial-era buildings, noteworthy for their architectural, historical and cultural value, which somehow has a vision similar to ArteFino's.
Furthermore, the heroes behind the restoration of these beautiful heritage homes inside Las Casas are found in the in-house workshop: wood and metal sculptors, craftsmen, construction workers, architects and artists — local artisans. The bigger picture is in its conservation, preservation and propagation of Filipino culture and heritage.
ArteFino supports the constant pursuit of excellence and global competence. "We need to improve on their designs to be at par or even better in quality globally," Rufino shares.
(ArteFino celebrates Filipino artisans at their finest, Aug. 25 to 27 at the Penthouse of 8 Rockwell, Makati City. For more information, visit Artefino.com or @artefinoph on Facebook and Instagram.)
Photography by Mau Aguasin • Creative direction by Luis Espiritu Jr. • Makeup by Ria Aquino • Hairstyling by Kierlo Velasco •Styling by Advanced Fashion Styling students of the School of Fashion and the Arts (SoFA) • Model: Anja Peters (IM Agency) • Shot on location at Las Casas Filipinas de Acuzar
(Brgy. Ibaba, Bagac, Bataan. For inquiries, visit www.lascasasfilipinas.com.)