Weaving wonders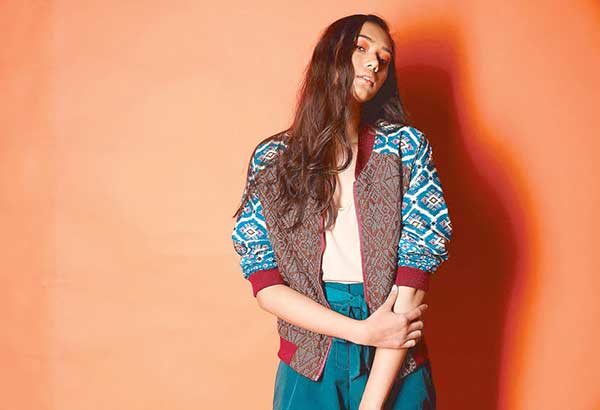 Philippine fashion is brimming with bright new things. The current spotlight on artisanal works and products has brought about the rise of brands made by hand.
In the past two years, some artisans were born, others came out of the shadows and the rest popped out of nowhere. Nowadays, trade and trunk shows alike have become the visionary platform for the up-and-coming artists to get noticed. Both the Davids and the Goliaths in the fashion landscape have come together in a unified voice to promote local. Even social media platforms such as Facebook, Instagram and Pinterest have positively become a showcase of these handmade and handcrafted pieces.
Aside from their visual appeal, most of the new brands are fashioned by beautiful stories.
Narratives of history, culture and tradition are woven, stitched and sewn into amazing creations, adding more depth to the substance of fashion. One of latest up-and-coming names has a beautiful story to tell. A story about origins, roots, family, hometown and culture all rolled into a vision born of love and passion — Herman & Co.
It all started when sought-after celebrity and fashion stylist Bea Constantino was on a trip to Europe and wanted to create something that would combine two things that embody her persona — heritage and fashion. Her journey through self-discovery brought her feet back to Jolo and Zamboanga, the hometowns of her parents, where a treasure trove of ideas was awaiting to be tapped. Digging deep into her Mindanao roots, Bea unearthed a rich threshold of ancestral heritage. After her trip abroad, Bea had the desire to trace back her lineage.
"I started doing research by going home to Zamboanga City and Jolo to really immerse myself in the traditions, culture and everyday way of life. Not only did I learn so much about the Chavacanos (Zamboanga City people) and the Tausugs (tribe members of Sulu), I also understood so much about my family and myself," says Bea.
The story that Bea unearthed runs deeper as it goes back to pre-colonial times when her great-great grandfather Capt. Herman Leopold Schück, a German sea captain was commissioned to sail and dock in Sulu. He became the Sultan's right-hand diplomat and helped the Tausugs from the invading Spanish, British and Dutch colonizers. His loyalty and good relationship with the Sultan was sealed by blood compact, making the Schück family and 44 generations after as part of the Sultanate. Bea is a proud fifth generation descendant.
She adds, "That's what I love about Capt. Schück's story. He didn't try to overtake the Tausug people but instead assimilated himself into the culture. And here we are today, still in Sulu."
Herman & Co. is barely a year old yet it has gotten a favorable attention from the industry. Well-supported by the fashion community, style personalities and celebrities, its limited edition pieces of modern wardrobe staples have become a byword among insiders. Handmade by tribal women, the company's authentic designs are art forms handed down from generation to generation. This is no easy task for Bea, a stylist extraordinaire, who passionately travels to geographically challenging places to source and produce the weaves.
"It's tedious because the weaves are made by hand and ordering takes time so a lot of planning is involved. Sometimes, even going to some places to source the materials can get dangerous. Once I went to a high-risk location in Sulu inlands just to meet the weavers," Bea shares.
These distinct statement pieces are stylish and practical. Beyond the beauty of each weave's colors and patterns, there is a mission-vision besides the fusing of indigenous materials to every piece. "We would like the fashion consumers to support more local textile and we can achieve that by integrating it into everyday wear that bears current designs. But foremost for us is to create an awareness of the traditions. People should have utmost respect for the history and usage of these textiles," Bea notes.
For this teacher at the School of Fashion and the Arts (SoFA), each collection is a narrative that has a soul and that's ready to wear. She says, "I would like to help tell the story of our people through clothes — for people to get inspired to know more about Mindanao and the Philippines."
Herman & Co. is more than just a fashion brand. It is a noble tribute to two cities that have greatly influenced who Bea is today.
"This made me want to tell the story of heritage, encouraging people to learn more about their roots and origin and be proud of where they're from." Furthermore, the brand's uniqueness, Bea adds, lies in the stories that the people tell and the dreams that they weave for the future. It is an advocacy that creates livelihood for the country's precious tribal women. The brand itself is a visionary effort to continue centuries-old traditions and preserve the priceless culture of Mindanao.
"We keep wearing, so they keep weaving," Bea concludes.
Photography by Sara Black • Styling by Bea Constantino • Makeup by Amanda Padilla • Model: YAOFA DELA CRUZ of MERCATOR • For more information, visit @hermanandco on Instagram or e-mail [email protected]