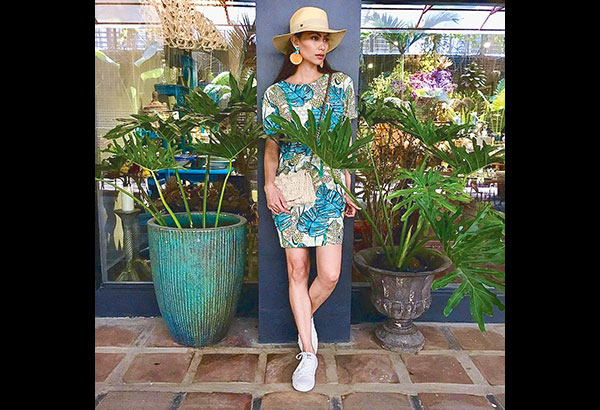 Monsterra and Yakan illustrated weave dress, hat by WANAhat, earrings by Ken Samudio and bag by One & Only.
Anywhere in the world, fashion thrives on the new. This is a reality that happens season after season. As forecasts and trends unfold the latest, the soon-to-be "hippest" is revealed. Fueled by creativity, the concept of design is auto-refreshed as it transcends to color, fabrication, silhouettes, technology and even to the minute details to present current RTW apparel, bags, shoes and accessories.
Fashion in the Philippines is no exception. With the great amount of overflowing talent and brilliant artistry, new things arise and add color to our thriving local landscape.
New-kid-on-the-block Mari Mari is a brand that makes and innovates beautiful prints translated into clothing. The distinctly kitschy and quirky-sounding brand comes from the names of the three owners and friends Julia Marie Morales, Alessandra Marie Libongco Lanot and Margaret Beatrice Tongco. Since these women conceptualized Mari Mari in June 2016, they have been creating beautiful "works of art" that reflect their refined and stylish aesthetics. After almost a year of perfecting their art and craft, their dream has finally become a reality as they have started selling almost two weeks ago. They modestly pride themselves in making their own Philippine-inspired prints, each with a story to tell.
In every print story, there is a beginning and an end. No easy task for partners Julia, Alessandra and Bea who spend a lot of time on research and development of their masterpieces. The process begins with Alessa, a brilliant multi-artist who's a graphic and typography designer and teacher of arts and crafts, who paints with watercolor and gouache as her medium. "I paint the floral design using watercolor and gouache. I draw the patterns inspired by Philippine weaves. Then I digitize them and turn them into repeat patterns for fabric. The prints are directly printed onto the fabric," she explains the process.
Despite the tedious process, there is no stopping the women of Mari Mari from their passion in exploring and developing the medium. The brand's soul and inspiration is anything homegrown that reflects nature and Pinoy culture.
Mari Mari, originally made for women who love color and bold prints, is a well-thought-out process that focuses not only on style preferences but more on immortalizing local traditions on prints. Unlike others who take influence from abroad, the team behind the brand takes an introspective inspiration on what is genuinely Filipino. Its current noteworthy prints are taken from the beauty of our local flora and fauna.
There is a belief nowadays that nothing is original anymore. This notion is not completely set in stone because as years pass, new things are being created. Lots of ideas are realized; things are invented and reinvented. The concept of new unfolds on refreshing takes and endless interpretations of an idea breathing life into the now and the next.
Prints have come a long way since ancient civilization and they have continued to survive through the times. Design evolution constantly continues to take many forms, styles and shapes as it moves to the future.
For Mari Mari, fashion is a style reflection of Filipino tradition and culture. From a point of inspiration to painting patterns to realizing modern fashion, Mari Mari is a reflection of the beauty of uniqueness, brand individuality and Pinoy identity.
And beyond the surface of it all, every print has a story.
(Mari Mari is having an exclusive trunk show on July 6 to 9 in Lanai located at Karrivin Plaza, Pasong Tamo extension, Makati City.)
Photography by Luis Espiritu Jr. • Model: Ann Umali • Shot on location at Lanai • Wardrobe by Mari Mari • All accessories available at Lanai • Visit shopmarimari.com