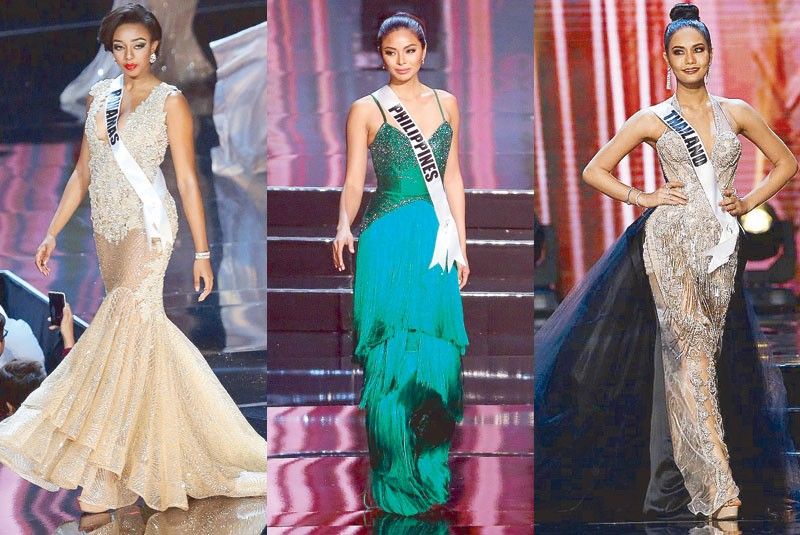 From swimming with pigs to walking on live colas, Miss U bets bare their uniqueness
If and only if the winner at the 65th Miss Universe would be based on the most unique hobby, hands down it would be Miss Bahamas — "her favorite pastime is swimming with the pigs."
Or maybe Miss Jamaica, because "she loves to hunt sea predators using a spear."
Then again, Miss Panama "once jumped out of the plane." Not clear though if it was for skydiving. I can only assume.
Or Miss India "who once walked on a bed of burning coals." Maybe Miss Nicaragua because "she grew up planting tomatoes."
Or the love for life of Miss Switzerland because "she was hit by an 18-wheeler truck when she was a kid."
These and more are just some of the interesting and intriguing snippets about the lives of the 86 beautiful contestants — bookended by Miss Albania and Miss Vietnam — at the 65th Miss Universe as revealed during the preliminary judging Thursday night at the MOA Arena. The contestants paraded in their swimsuits, evening gowns and national costumes.
Who best stood out among the bevy of beautiful ladies? My brother Rod said, "Walang tulak-kabigin. They are all beautiful!" So, Rod, a public high school teacher, seated comfortably at the Arena, recorded on his phone the whole proceedings that night.
According to him, if and only if the next Miss Universe would be based on being a "first-timer" in this and that category, the crown should go to Miss Sierra Leone; it is the first time her country is joining the beauty tilt.
But Miss Guam would not be last in the game of "first-time." She had never worn heels before until she joined Miss Universe.
It was also maybe the first time for Miss Venezuela to celebrate her birthday in a foreign country. On the night of the preliminary competition, she was celebrating her 21st birthday. She was one of the crowd favorites. She was confident. At times, uhm, over confident. Just like when she sashayed the ballroom of SMX Convention for the Governor's Ball already with an air of a declared winner.
Last Thursday, Miss Venezuela was the resident eksenadora and kabugera. In the evening gown competition, she entered the stage with a skirt that oddly covered her gown. Then when she stepped on center stage, she took out the skirt to reveal her elegant form in an elegant gown. But her elegance was short lived because she looked cocooned in her national costume gown that had layers and layers of fabric that did not allow her to walk properly on stage. "Carry mo yan, girl!" Rod cheered her on. But she could still not decently walk alone to the back stage. Until someone helped her. That guy in black from back stage should get a Samaritan award, if not from the Miss U organizer, at least from Miss Venezuela.
If and only if the next Miss Universe would be based on the noise, err, energy, created by fans the night of the prelims, hands down it would be Miss Philippines. The home court advantage worked well for Maxine Medina, who displayed courage and confidence that night. Rod, pretending as a judge, gave Maxine perfect scores in swimsuit and evening gown. He reserved his best in national costume for Miss Myanmar. Boy, Miss Myanmar carried to the stage what looked like a puppet theater with heavy poles and she acted like a puppet replete with strings and the works. The Arena crowd went gaga.
The national costume competition was dominated by themes of birds and flowers. At some point, while at the thick of the national costume derby, my brother and I thought we were watching Miss Gay contests in this and that barangay in the Philippines. Don't get me wrong; the Miss Universe national costume category had the same energy and creativity that we saw in many a gay beauty contest in the Philippines.
Going back to Maxine, her emerald evening gown took a life of its own. She carried it with style and sophistication that in a sea of silver and gold gowns, Maxine shone her best in her emerald gown that danced on stage as she walked. (I was so sure that night that fashion designer Rhett Eala's heart was also dancing because he created the gown.)
Maxine became controversial among netizens as she, on a VTR played at the prelims, wrongly attributed the invention of the terno to Imelda Marcos, wife of the late dictator.
The fans of Miss Colombia should also get an award for bringing to the Philippines the nicest sounding vuvuzelas. Every time Miss Colombia would enter the stage, her countrymen honked their horns that would bring joy, smile, confidence, buoyancy to the contestant's aura.
A man from Ecuador jovially roamed around the VIP and patron area carrying a flag of his country before the prelims program started at 7:12 p.m.
The Thai community of about 30 people unfurled their country's gigantic flag with a cheer master also draped in the flag of Thailand. Miss Thailand, by the way, is also a crowd favorite. Ditto with Miss France, Miss USA, Miss Indonesia, Miss Malaysia, Miss Haiti. Ahh, I should mention 80 more countries in this paragraph!
Tripping on stage proved inevitable that night. Miss Indonesia tripped during the evening gown competition; Miss Turkey and Miss Dominican Republic during the national costume.
Speaking of Miss Dominican Republic, methinks she also slayed all the categories in the prelims. The audience thought so, too, with the adulation they gave her. And if she would be this year's Miss Universe, my gay heart would celebrate.
Then again, she needs to contend with 85 more equally beautiful ladies from the universe.
Who would be this year's Miss Universe? Your guess is as good as mine. Meanwhile, allow me to imagine myself swimming with the pigs — with Miss Bahamas. *
(E-mail me at bumbaki@yahoo.com. I'm also on Instagram @bumtenorio. Have a blessed Sunday!)