Comelec issues show cause orders vs 3,784 BSKE bets
October 2, 2023 | 12:00am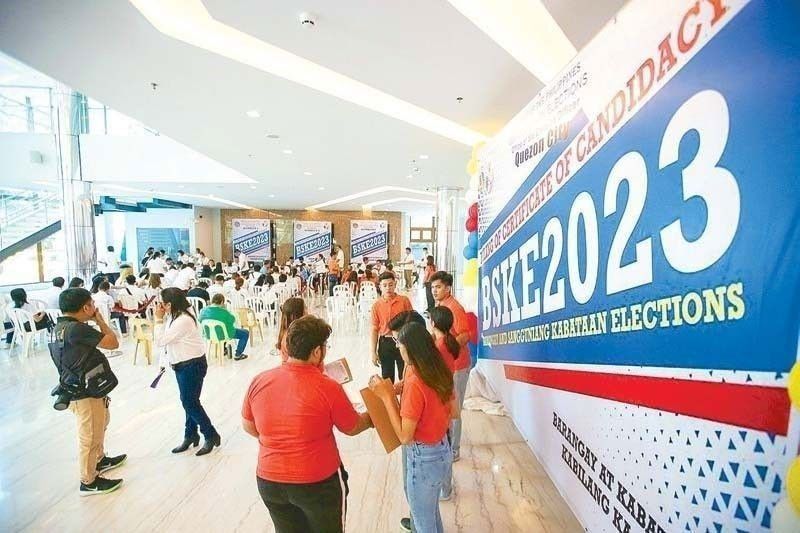 MANILA, Philippines — The number of barangay and Sangguniang Kabataan election (BSKE) candidates who are facing allegations of premature campaigning is now nearing 4,000.
Commission on Elections (Comelec) Chairman George Garcia reported that as of last Saturday, the poll body had issued show cause orders to 3,784 BSKE candidates.
Garcia said 542 of those who were served show cause orders have submitted their explanations to the Comelec.
Last Saturday alone, the poll body issued 243 show cause orders to erring BSKE candidates, according to Garcia.
"Upon initial assessment, the commission is likely to file 214 disqualification cases among those who were given show cause orders," he noted.
The Comelec has also dropped 237 complaints due to lack of basis.
In a radio interview last Saturday, Garcia said the number of disqualification cases to be filed by the poll body against BSKE candidates may exceed a thousand.
He added that today, the Comelec is set to file 40 disqualification cases and will continue filing in the succeeding days.
Security beefed up
Meanwhile, the Philippine National Police is actively engaged in security planning and preparations for the coming BSKE, PNP public information officer Col. Jean Fajardo said yesterday.
The PNP, as one of the Comelec's deputized agencies, is working closely with the poll body in coordinating its efforts, according to Fajardo.
"The role of the PNP is to provide assistance to the Comelec during the enforcement aspect of the violations of the guidelines they issued," she said in Filipino during an interview aired over dzBB.
On early campaigning, she noted that while the PNP has received guidelines and issued show cause orders to address violations related to early campaigning, no significant violations have been reported, so far.
She said that the PNP is collaborating with the Comelec to ensure that show cause orders are duly received and processed.
The PNP has also been monitoring various areas, especially those initially identified as having intense political rivalries.
These areas are currently categorized as "red," and security measures are in place.
The final list of categorized areas will be determined by the Comelec en banc after a thorough assessment.
Fajardo said that at least 1,000 individuals had been arrested for violating the gun ban imposed by the Comelec, while 654 firearms had been confiscated.
She added that the PNP recognizes the heightened tensions during barangay elections, given that candidates often have personal ties and affiliations in the same communities.
The PNP official also noted that the transfer of police personnel who have relatives running in the elections has been carried out to prevent any potential conflicts of interest.
The Comelec, however, retains the authority to transfer personnel to address security concerns, especially in areas categorized as "red." — Mark Ernest Villeza