House panel recommends stiffer penalties vs Teves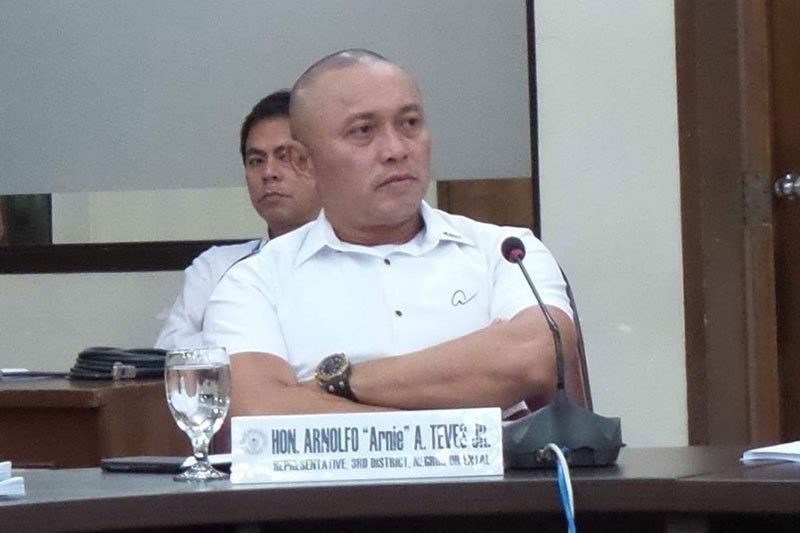 MANILA, Philippines — The House committee on ethics and privileges will recommend the imposition of a "stiffer disciplinary action" on suspended Negros Oriental 3rd District Rep. Arnolfo Teves Jr.
This was announced yesterday by committee chair and COOP NATCCO party-list Rep. Felimon Espares after emerging from a three-hour executive session of the panel to discuss Teves' fate.
"The committee ... unanimously decided to recommend to the plenary the imposition of a stiffer disciplinary action to our colleague Arnolfo 'Arnie' Teves Jr. for violating the Rules of the House of Representatives," he told reporters.
Espares noted that Teves had particularly violated Rule 20, Section 142 of Sub-section A and B of the Code of Conduct and for "disorderly behavior."
Sub-section A provides that a "member shall at all times (act) in a manner that shall reflect creditably on the House" while Sub-section B states that a "member shall adhere to the spirit and the letter of the Rules of the House and to the rules of the committees."
Asked if such "stiffer" penalty pertains to Teves' expulsion, the lawmaker refused to elaborate but claimed it is "higher" than the panel's last recommendation – the 60-day suspension imposed on Teves after he failed to return to the Philippines despite the expiration of his travel clearance. The suspension ended on May 22.
"We exhausted our discussions on this because it's not an easy decision for the committee because we are all members and we are willing to ensure appropriate protection of our colleagues here in the House of Representatives," he added.
The panel is expected to submit a committee report containing the recommendation to the committee on rules and then to the plenary or the whole House.
"Despite the call of the House leadership from the very first imposition of suspension, there was a continuing defiance on his part and that is why the House took an action," committee vice chair and Ako Bicol party-list Rep. Raul Angelo Bongalon said.
Espares said the panel also considered Teves' claims of death threats "but during the deliberation in the committee, the stand to require Teves to be present at the House of Representative was still unanimous."
"Our call is for Teves to come back and report to the House ... But then so far, as I read it, our members here want to see him… If he comes back… maybe our recommendation will no longer be pushed through by the plenary if he is here and he behaves," Espares added.
According to House Secretary General Reginald Velasco, there are congressmen who have been expelled in the past but Teves' case does not have a precedent. "This is a new path for us on what to do with Congressman Teves," he added.
Velasco pointed out that earlier cases of expulsion involved criminal cases with conviction. In Teves' case, there is no conviction but there are expulsion proceedings.
Teves will remain overseas
However, Teves remained adamant and promised yesterday that he will stay overseas – regardless of retreating witnesses – for as long as he thinks he will not be accorded due process in the country.
"With or without recantations, there is still threat to my life and there is still no semblance of fairness. What I'm only asking is semblance of fairness, if I can see that, then most probably I will come home," he declared in a Zoom press briefing organized by his handlers.
Teves said retractions of suspect-witnesses will not be enough to force him to return to Manila even if no less than President Marcos and Speaker Martin Romualdez assured him of tight security.
What he wants instead is for Justice Secretary Jesus Crispin Remulla to "retract" his statement to the media that he masterminded the March 4 murder of governor Roel Degamo.
PNP: Evidence strong
Despite numerous recantations, the Philippine National Police (PNP) voiced confidence that the cases filed against the suspects in the killing of Degamo are still strong.
At a press briefing yesterday, PNP chief Gen. Benjamin Acorda said that while the cases are handled by the National Bureau of Investigation (NBI,) the PNP can still gather testimonies or affidavits, as well as other material evidence.
"These could support these cases being handled by the NBI, and in line with the recantation of witnesses, I am confident that the case can still stand," Acorda said.
A number of witnesses in the Degamo murder case recanted their statements, saying they supposedly suffered in the hands of authorities.
The PNP said they are looking into the torture claim of one of those who recanted their statement. Five suspects turned witnesses have recanted their testimonies.
Higher penalty eyed for perjury
Senators want to impose a higher penalty for lying under oath, after several witnesses recanted their testimonies in the Degamo murder case.
"If they lie, they should be punished. If they were tortured, the person who tortured them should be charged? Let us not allow them to just play around," Sen. Alan Peter Cayetano manifested during yesterday's session.
"I am in favor of increasing the penalties and the jail time because it is becoming a norm now – they recant, they refuse to answer, they are giving us hard time, roundabout answers. Just like in the US, when you give your affidavit, and if you recant your affidavit, they will file perjury charges against (you)," Senate President Juan Miguel Zubiri added.
"So this goes to both sides of the political fence, this happened to (former senator) Leila de Lima, Degamo, these crossed political lines, they are under oath, they should be charged with perjury," he said.
Sen. Francis Tolentino suggested amending the Rules of the Senate and several provisions of the Revised Penal Code with regard to witnesses giving false testimony during Senate investigations, in aid of legislation.
Tolentino said rules should be stricter insofar as the treatment of witnesses "acting with malice and malicious intent and lying" in violation of several articles of the Revised Penal Code.
Sen. Robinhood Padilla said tougher penalties should be imposed on government officials and employees who lied under oath as they took the oath to serve the public. – Delon Porcalla, Ralph Edwin Villanueva, Cecille Suerte Felipe