Smuggled white onions to undergo phytosanitary inspection for Kadiwa
December 6, 2022 | 12:00am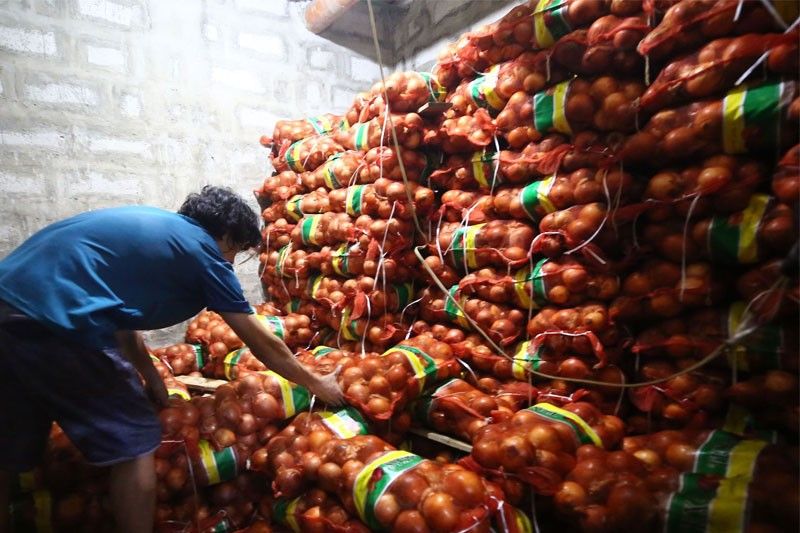 MANILA, Philippines — The smuggled white onions seized by the government will undergo phytosanitary inspection for possible sale in Kadiwa centers amid shortages and price spikes on onions, according to the Department of Agriculture (DA).
Last week, the government confiscated a cargo of 100,000 kilos of white onions valued at P30 million, which were misdeclared as "bread/pastries."
Normally, smuggled agricultural products are destroyed and disposed of after confiscation because they have not undergone any food safety regulations, which poses a great risk to consumers and threatens the local agriculture and fishery industries, as cargoes may be carriers of transboundary diseases.
The DA, however, has called for these confiscated onions to go through inspection to check for transboundary diseases, DA deputy spokesman Rex Estoperez said at the Laging Handa briefing yesterday.
"The order of the Bureau of Customs (BOC) and Bureau of Plant Industry (BPI) is to destroy the products, but we recommended for these to undergo phytosanitary inspection as DA Senior Undersecretary (Domingo) Panganiban ordered to check them for microbes that can affect the industry and health of the public," Estoperez added.
If the confiscated onions are cleared as safe, these will only be sold through Kadiwa centers.
Kadiwa is a marketing initiative of the DA, which seeks to empower the farming community by providing a direct and effective farm-to-consumer supply chain.
As to pricing, these could be sold below prevailing prices of other onion products in wet markets.
"If they are smuggled and we are allowed to sell them, they can be (priced) lower," Estoperez said.
The DA is looking to complete the phytosanitary inspection and come up with a decision to sell these onions within this week or next week.
"That will be decided by our team. We have a monitoring team to decide carefully on the lot volume and location to sell these onions. As observed, some of the onions are already rotting, but nevertheless, we will submit it to the phytosanitary inspection," Estoperez said.
"If they're free of microbes, we can decide on the timeline (to sell them). For the timeline, it should be this week or next week," he added.
The DA reminded the public that it is illegal to sell white or yellow onions at public markets.
The country has had no supply of white or yellow onions since July and no importation permits have been issued for the commodity, according to the agency.
Also, the BPI has not issued any permit to import white or yellow onions.
"All white onions in the country are illegal. Because the BPI did clear any onion importation. Therefore, if there are no documents, they are smuggled," Estoperez said.
He urged the public to report any entity selling white or yellow onions in markets or online to the BOC and BPI.
"The DA will support any action by authorities on those selling white onions," Estoperez said.
As for red onions, their prices remain elevated, to as high as P280 per kilo.
The DA said the current onion supply is sourced from Nueva Ecija.
The agency has called for the inspection of cold storage facilities not only in Metro Manila, but also in onion-producing areas to determine the country's stocks.
"If they don't cooperate with us, worse comes to worst, we will import," Estoperez said.
Pork overpricing
Meanwhile, the DA warned traders over overpricing of pork products as the demand for the meat is expected to increase this Christmas season.
At the same Laging Handa briefing yesterday, Estoperez noted that the retail prices of pork remain steady as supply continues to be sufficient.
"So far, we have not seen an increase in (the prices of) pork because there is a lot of supply, even frozen," he said.
"We don't want to speculate, but when the holiday season comes, there will be a slight increase, but the increase should not be too big to recover their expenses," he added.
The DA official, however, stressed that most consumers prefer fresh pork, which are priced higher, to frozen products.
Based on the agency's monitoring, fresh pork are priced over P300 per kilo while frozen pork are priced below P300 per kilo.
"The farmgate price is low, but when it reaches the market, the traders have to cover transport costs. There are incidental expenses so they increase the retail price," Estoperez said.
The country's pork supply remains sufficient until the first quarter next year, according to the Samahang Industriya ng Agrikultura (SINAG), citing government data that showed that cold storages for pork imports are overflowing.
Data from the National Meat Inspection Service (NMIS) showed that as of Nov. 21, the inventory of frozen pork in accredited cold storages had reached 113,267.19 metric tons, up 47.19 percent from 76,953.26 MT in the same period last year.
Imported frozen pork accounted for the bulk, or 97.87 percent, of the total inventory at 110,850.43 MT.
The volume of imported pork increased by 47.33 percent from 75,240.95 MT last year.
In contrast, local frozen pork only had a share of 2,416.76 MT in the inventory, but the contribution of local pork increased by 41.14 percent from 1,712.31 MT last year.
"Importers and traders continue to dominate the retail market and rake in profits at the expense of the producers, consumers and the foregone revenues of the government," SINAG chairman Rosendo So said earlier.
In another development, the BOC thwarted the entry of P63 million worth of smuggled frozen goods that arrived in the country last month from Hong Kong and China, an official said yesterday.
The agency will be seizing about two containers from Hong Kong and two others from China declared to have thousands of kilograms worth of prawn balls, according to BOC Commissioner Yogi Filemon Ruiz.
"But in reality, these four containers contained other frozen foods that the consignees did not declare in their manifest. I have personally expressed my confidence to the team and thanked them for their relentless pursuit of these smugglers," Ruiz said.
"We are simply complying with the directive of our President to continue our drive against the smuggling of agricultural products and protecting our markets and the prices of our products," he added.
The shipment from Hong Kong arrived in the country on Nov. 17 while the containers from China arrived on Nov. 18 – both at the Manila International Container Port (MICP) and each container is said to have an estimated worth of P15,750,000.
BOC Deputy Commissioner retired Maj. Gen. Juvymax Uy said the agency issued two Alert Orders (AOs) last Nov. 17 against the importer/exporter of two containers from Hong Kong, each with declared 25,000 kilograms of frozen prawn balls.
Upon inspection, however, the first container had frozen tofu, chicken paws and boneless beef, while the second container also had frozen tofu, Vietnamese suckling pig and beancurd skin.
Two other AOs against two containers from China were issued last Nov. 18.
These two containers were declared to have frozen prawn balls, but actually had frozen fish tofu and frozen beef cheek meat.
"These operations ensure that we are sending the right message to these smugglers – we are not going to back down. I encourage our team members to remain committed to this goal and use their experiences to be one step ahead of these people we want to put behind bars," Uy said. – Neil Jayson Servallos