Bypassed Cabinet officials sworn in anew
October 5, 2022 | 12:00am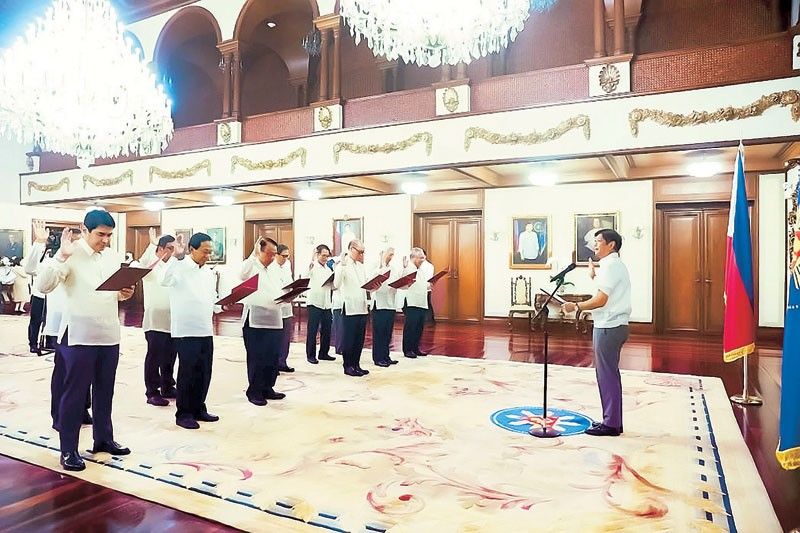 MANILA, Philippines — Bypassed last week by the Commission on Appointments (CA), 11 Cabinet officials took their oaths yesterday after getting reappointed by President Marcos.
Reappointed were Executive Secretary Lucas Bersamin and Secretaries Benjamin Diokno of finance, Manuel Bonoan of public works and highways, Alfredo Pascual of trade, Erwin Tulfo of social welfare and development, Jaime Bautista of transport, Renato Solidum Jr. of science and technology, Raphael Lotilla of energy, Susan Ople of migrant workers, Arsenio Balisacan of the National Economic and Development Authority and Jose Rizalino Acuzar of human settlements and urban development.
Information and Communications Technology Secretary Ivan John Uy was not included in the list of reappointed Cabinet members released by the Office of the Press Secretary. He is reportedly in Romania on official business.
Also not in the list was press secretary Trixie Cruz-Angeles, who resigned yesterday.
The CA, composed of lawmakers from both chambers of Congress, failed to complete its deliberations on some Palace appointees before it went on recess on Sept. 30. Congress will resume session on Nov. 7.
The CA is a constitutional body chaired by the Senate president and composed of 12 senators and 12 House members. It has the power to approve or disapprove appointments made by the President.
Meanwhile, Senate President Juan Miguel Zubiri defended yesterday the CA from criticism of its failure to decide on the status of Marcos' appointees on time, saying the constitutional body acted expeditiously on the President's nominees to the Cabinet without compromising its independence.
"The Commission carried out its constitutional duty to confirm the President's appointees in the most expeditious and efficient manner. Lest it be forgotten, the function of the commission is never ministerial, perfunctory nor clerical," Zubiri said in a statement.
"The commission's constitutional duty to consent or to confirm appointments calls for the judicious and careful scrutiny of the appointees to ensure the fitness and qualifications of nominees or appointees," he said.
He said the CA held hours-long hearings to swiftly act on the appointees' confirmation and records would show that Senate hours meant for legislation were considerably affected and pushed back to accommodate the conduct of marathon hearings.
He explained the body confirmed a relatively large number of appointees – eight Cabinet members, two members of constitutional commissions, 28 diplomats and 113 military officers – despite the fact that senators were simultaneously deliberating on the proposed P5.268-trillion national budget for 2023 and various bills of equal importance.
"This is because we take the confirmation process seriously," Zubiri said.
Between July 25 and Sept. 30, the CA confirmed eight Cabinet members out of 21 or 38 percent of appointments received, he said.
In comparison, the 17th Congress confirmed 31 percent of appointments received; the 15th Congress did not receive any appointments for confirmation for the same period, while the 13th Congress only received and confirmed one appointment, he said.