Philippines, Niue establish diplomatic ties
September 29, 2022 | 12:00am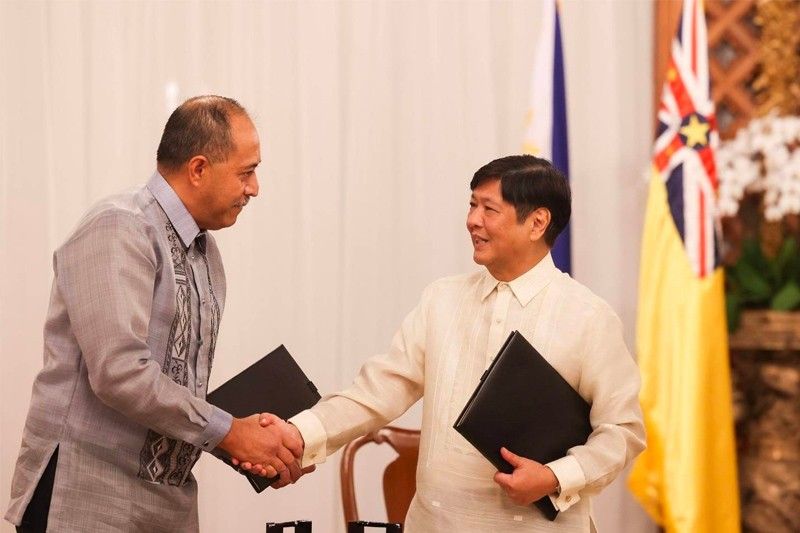 MANILA, Philippines — The Philippines has established diplomatic relations with Niue, an island country in the South Pacific Ocean.
President Marcos and Niue Prime Minister Dalton Emani Makamau Tagelagi signed a joint communiqué for the formal establishment of bilateral relations between the two countries in Malacañang last Tuesday.
"Today marks the historic establishment of diplomatic relations between the Philippines and Niue as we signed a joint communiqué with Prime Minister Dalton Emani Makamau Tagelagi," Marcos said in a post on Twitter.
"We are optimistic that stronger cooperation between our countries will lead to a better future for our people," he said.
Tagelagi, in a post on Twitter, said: "We look forward to growing this relationship and bringing together our people."
Niue has a land area of 261 square kilometers and an exclusive economic zone (EEZ) of 450,000 square km. Its nearest neighbors are the Cook Islands, Samoa and Tonga.
Dubbed the "Rock of Polynesia," Niue is one of the largest coral atolls in the world. It has a population of approximately 1,700 people.
It is a part of the New Zealand realm and is self-governing in free-association with New Zealand since 1974.
All Niue people born on the island are New Zealand citizens, in line with the Niue Constitution Act 1974.
Meanwhile, Marcos received the ambassadors of Argentina, Brazil, Chile, Colombia, Mexico and Panama at the Palace on the same day as he pushed for stronger ties with South American nations.
Among those present during the courtesy call were Ambassadors Ricardo Luis Bocalandro of Argentina, Antonio Jose Maria de Souza e Silva of Brazil, Claudio Alberto Rojas Rachel of Chile, Marcela Ordoñez Fernandez of Colombia and Gerardo Lozano Arredondo of Mexico. – Pia Lee-Brago