Chief Justice Gesmundo to keynote FLP Awards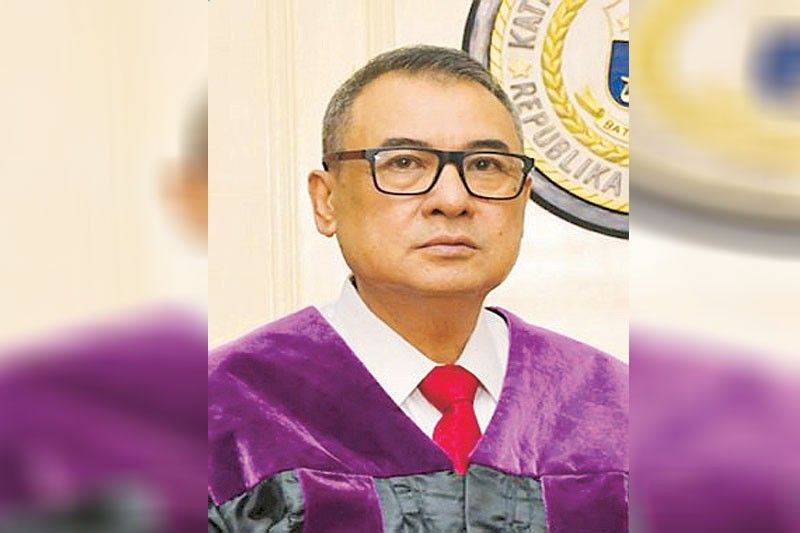 MANILA, Philippines — Chief Justice Alexander Gesmundo will be the guest of honor and speaker during the annual awards ceremony of the Foundation for Liberty and Prosperity (FLP) to be held on Aug. 11 at 5 p.m. via Zoom. To be awarded are 21 law scholars, 10 dissertation writing winners and five MBA fellowships.
In partnership with the Tan Yan Kee Foundation (TYKF), the FLP will honor 21 legal scholars composed of 10 in their senior year and 11 in their junior year. The 10 fourth year scholars are Allan Crisostomo (Far Eastern University), Cecilia Joahna Laza (Saint Louis University), Anton Gabriel Leron (University of the Philippines or UP), Mary Therese Maurin (University of Cebu), Louis-Mari Opina (University of Santo Tomas), Daverick Angelito Pacumio (UST), Maria Paula Ramos (University of the Cordilleras), Robert Jhon Salazar (FEU), Erielle Sibayan (UCordilleras) and Shalimar Hillary Taongan (De La Salle University or DLSU Manila).
The 11 third year scholars are Shergina Grace Alicando (UCebu), Laine Marie Bringuelo (DLSU), Frances Mickaella Noreen Chavez (UST), Ian Christian Cosido (UCebu), Almira Bianca De Guzman (DLSU), Patrizia Anne Garcia (DLS-Lipa), Shandrei Allen Guevarra (DLSU), Blessie Ngeteg (UCordilleras), Maria Lovelyn Joyce Quebrar (UP), Dana Mae Tadea (FEU) and Kyle Christian Tutor (UP).
Each of the 21 scholars will receive P200,000 divided into P100,000 maximum for tuition, P80,000 for monthly stipend and P20,000 for books.
They were selected by the FLP board of judges composed of Gesmundo as chairman with former education secretary Edilberto de Jesus, TYKF vice chairman Harry Tan, Dean Gemy Festin (president of the Philippine Association of Law Schools) and lawyer Joel Emerson Gregorio (FLP trustee and corporate secretary) as members.
In partnership with the Ayala Corp., the FLP will also award the winners of its dissertation writing contest. The major cash prizes were won by First Prize - Patricia Anne Alarios (Ateneo de Manila University), P320,000; Second Prize - Breden Arcayos (University of San Carlos), P220,000; and three Third Prizes - Brian Pineda (ADMU), Francis Mabutin (UP), Nicole Carreon (USC) at P120,000 each.
Their faculty advisers will also receive cash gifts: for First Prize - professor Ma. Araceli Habarabas, P100,000; Second Prize - professor Rashid Pandi, P75,000; and three Third Prizes - professor Francis Temprosa, Judge Raul Pangalangan and professor Noel Felongco at P50,000 each.
Ten finalists at P20,000 each were Monica Elijah Carlos (Angeles University), Edward Emilio (USC), Mikko Al Rashid Ringia (ADMU), Chrisha Ver Romano-Weigel (USC) and George Mariano Soriano (UP), and the above five major prize winners.
The winners were chosen by the FLP board of judges composed of Justice Ramon Paul Hernando (chairman), attorney Solomon Hermosura, Dean Maria Anna Abad, De Jesus and Gregorio (members).
Starting this year, the FLP, in partnership with the Metro Pacific Investments Foundation, will award five fellowships for students taking Master of Business Administration (or equivalent) majoring in what FLP calls "ESMEL" or "entrepreneurship, sustainability, management, economics and business law" courses.
Each fellowship is worth P450,000. The winners are John Paul Abrina, MD (Asian Institute of Management), Jacob Barbosa (AIM), Aibar Rabi Rashad Bibi (DLSU), Jella Marice Salarda (UP) and George Martin Samaco III (AIM).
They were chosen by the FLP board of judges chaired by former Bangko Sentral governor Amando Tetangco Jr., with members June Cheryl Cabal-Revilla (chief financial officer of Metro Pacific Investments Corp.), Cezar Consing (former president of BPI and of the Bankers Association of the Phils.), Marilen Yaptangco (president of Baron Travel Corp.) and Gregorio.
During the first decade of its existence (2011-2022), the FLP concentrated on its liberty programs. But during the next decade, 2022-2032, it will include programs to promote the prosperity side of its philosophy starting with the ESMEL fellowships.
Retired Chief Justice Artemio Panganiban, FLP founder and chairman, said that the ultimate project for the liberty side of FLP's philosophy is a Center for Liberty and Prosperity where an interactive and immersive Museum for Liberty and Prosperity would be constructed in cooperation with the Supreme Court.
On the other hand, its ultimate project for the prosperity side is what he calls the "Entrepreneurship Fund" of at least one billion pesos with the aim of investing in and helping manage micro, small and medium enterprises, with the active assistance of the ESMEL fellows. FLP believes that the key to national prosperity is to help people help themselves through private entrepreneurship.