Mandatory military training in schools pushed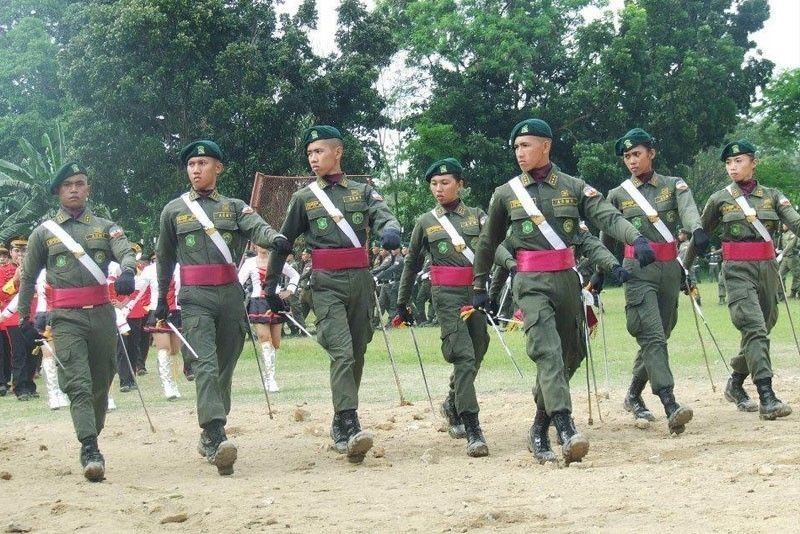 MANILA, Philippines — The National Youth Commission (NYC) has urged President Marcos to issue an executive order making military training a requirement in college and senior high school.
The NYC also wants mandatory scouting program in elementary schools, saying the training will instill nationalism and discipline among students.
NYC Chairman Roland Cardema said the Philippines is a disaster-prone archipelago battered by typhoons, floods, earthquakes and communist insurgency.
He cited the need to start training the millions of Filipino youth toward disaster preparedness, good citizenship and national defense as well as for them to have "a strong sense of nationalism."
Cardema said the youth programs were prioritized during the time of Marcos' father, the late president Ferdinand Marcos Sr.
"It (program) created a sense of nationalism, discipline and preparedness among the generations of young Filipinos that can easily be tapped by the government to help the country in times of need," he said.
The programs, he said, "went into limbo" after the first Marcos administration. He noted that Congress had failed to pass bills seeking to make the youth programs mandatory for 20 years.
Cardema cited the national service program in Singapore, which he said helped it transform into a first world country.
He noted that in South Korea, all boys including movie stars and sons of tycoons are required to serve in the frontlines for two years, an experience that he said "gives a sense of pride and military preparedness among all their male citizens, all of whom are reservists and veterans."
"In Israel, even with all neighboring countries united in invading Israel were no match for the mandatory military training of all Israel citizens, girls and boys, all their citizens are soldiers and defenders," Cardema said.
The population of the Philippines is far bigger than Singapore, South Korea or Israel, he said.
In 2002, former president Gloria Macapagal-Arroyo signed the National Service Training Program (NSTP) law, abolishing the mandatory Reserve Officers Training Corps (ROTC) program.
Under the law, students may choose one of three NSTP components: ROTC, Civic Welfare Training Service and Literacy Training Service.
Calls to scrap the mandatory ROTC mounted after the murder of Mark Chua, a student of the University of Santo Tomas who exposed the alleged irregularities in his unit.
Vice President and Education Secretary Sara Duterte has expressed hope that bills on mandatory ROTC would be included in the administration's priority measures.